CSET Art Practice Test
The California Subject Examinations for Teachers (CSET) are exam taken by those who wish to become licensed teachers in the state of California. A successful completion of these is required by the state for licensure. This CSET and its two subtests are for those who will teach the subject of Art in various forms.
Who Can Take It?
Anyone who is preparing to earn their teaching license in the state of California can register to take this exam. During registration, you will fill the appropriate forms online. Based on the information provided in these forms you can be granted access to schedule this exam.
You will be expected to pay exam fees during registration. The exam fees for CSET: Art are as follows:
Subtest I – $133
Subtest II – $134
Both subtests taken together – $267
Where is it Taken?
The CSET: Art is made of two subtests (I and II). These may be taken separately or in a single testing session. Exams are scheduled through Pearson VUE and are taken at one other their many testing facilities located throughout the U.S. and its territories, Canada, and some international sites.
A complete list of available dates, times, and locations will be provided during your exam registration.
Check Out Mometrix's CSET Art Study Guide
Get practice questions, video tutorials, and detailed study lessons
Get Your Study Guide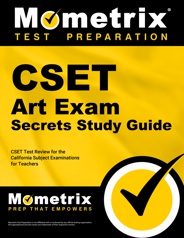 What Should Be Brought?
Plan to arrive at the testing center at least 30 minutes before your scheduled exam. This will make sure that you have proper time to complete the sign-in process before the exam begins. Those who show up late will not be allowed to test that day and will have to reschedule.
You will need to bring at least two forms of current and valid personal identification. Your primary form should include your name that matches your application information, your signature, and a recognizable photo. Your secondary ID should have a signature and your full name matching your application information.
The CSET: Art and both of its subtests are taken via a computer. This means that no other personal belongings will be needed at the testing center. Study materials, pencils, scratch paper, calculators, and any electronic devices are prohibited and will be kept in a designated locker until the exam is complete.
What Does it Cover?
The CSET: Art's subtests are given two hours and 45 minutes to complete separately or five hours and 30 minutes to complete if taken in a single testing session.
Below is a brief outline for each subtest, including the content areas or domains covered as well as subtest structure and number of questions in each domain.
Subtest I is made up of 50 multiple choice questions and four constructed response questions. The constructed response questions will be handwritten and scanned into the computer testing system.
Domains covered:
Aesthetic Valuing (20 multiple choice questions and 1 extended response)
Historical and Cultural Context of the Visual Arts (15 multiple choice questions and I focused question)
Artistic Perception (15 multiple choice questions, 1 focused, and 1 focus drawing question)
Subtest II consists of 50 multiple choice questions, four constructed response questions, and a portfolio submission. This includes at least six photos of your artwork. If these photos are not submitted or do not meet the criteria requirements you will not pass this subtest or a rating of "Unscorable" will be given.
Domains covered:
Creative Expression (30 multiple choice questions, 1 extended portfolio-based concentration question, 1 focused portfolio-based breadth question, and 1 focused drawing question)
Connections, Relationships, and Applications (10 multiple choice questions and 1 focused question)
History and Theories of Learning in Art (10 multiple choice questions)
How is it Scored?
You will receive your official score report within seven weeks after you have taken the exam.
Your test results report will include your pass/fail status and for those that did not pass, a total subtest score for each subtest taken. The backside will contain diagnostic information about each subtest taken, including your strengths and weaknesses.
You must receive a scaled score of at least 220 on each of the subtests of the CSET: Art to pass.
Check Out Mometrix's CSET Art Flashcards
Get complex subjects broken down into easily understandable concepts
Get Your Flashcards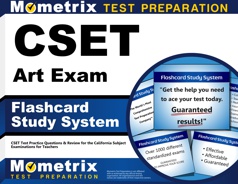 How To Prepare?
Here at Mometrix, we understand the importance of this exam. That is why we want to partner with you to make sure this testing experience is successful and that it positively effects your future. We have a study guide, set of flash cards, and sample questions to prepare you for the CSET: Art exam.
With these tools, you will not only understand what content you will be expected to know but also how the exam is structured. Our sample questions mirror those seen on the actual exam, with the same formatting and wording style. Let us help you take your best exam yet.
CSET Art Study Guide
Mometrix Academy is a completely free resource provided by Mometrix Test Preparation. If you benefit from our efforts here, check out our premium quality CSET Art study guide to take your studying to the next level. Just click the CSET Art study guide link below. Your purchase also helps us make even more great, free content for test-takers.