CSCS Practice Test
For those wanting to work in the strength and conditioning of athletes in a team setting, the Certified Strength and Conditioning Specialist (CSCS) exam is likely something to look into. This credential shows that one has the knowledge to design and implement strength and conditioning programs in a team setting while promoting safe and effective training and nutrition.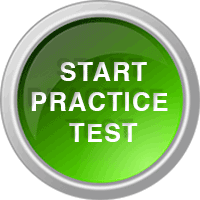 If you are looking for material to prepare you for this exam, our free CSCS practice test will test you over all of the subjects on the exam. From the wording to the difficulty of each question, our practice test will simulate the CSCS test. This allows you to see exactly where you are at in your preparation. What about the layout of the exam? Let's take a look. The complete written examination contains 190 scored multiple-choice questions and 30 non-scored multiple-choice questions. These non-scored questions are trial questions that will not count for or against your final score. The CSCS certification is broken into two subsections with different time limits.
The first NSCA CSCS exam section covers the scientific foundations of exercise sciences. This subsection contains 80 scored questions and 15 non-scored questions that must be completed in 1 1/2 hours. The second subsection covers practical and applied knowledge over strength and conditioning. This section has 110 scored questions and 15 non-scored questions that must be completed in 2 1/2 hours. The raw score (or number of correctly answered questions) is turned into a scaled score which must then reach the minimum scaled score of 70 for each exam. With this in mind, gear your study toward these subjects for proper preparation. If you are looking for material to study for your strength and conditioning certification test, check out our CSCS practice test that will ensure you are ready to encounter each and every question on test day!
CSCS Exam Prep
CSCS Study Guide
Mometrix Academy is a completely free CSCS certification resource provided by Mometrix Test Preparation. If you find benefit from our efforts here, check out our premium quality CSCS study guide to take your studying to the next level. Just click the CSCS study guide link below. Your purchase also helps us make even more great, free CSCS study material content for test-takers.
CSCS Study Guide Customer Success Stories
Our customers love the tutorial videos from Mometrix Academy that we have incorporated into our CSCS study guide. The CSCS study guide reviews below are examples of customer experiences.
I love how it breaks down each important subject to the point and not a lot of extra wording around it. I love how it explains why the answer is what it is. This will help me pass my CSCS test.
CSCS Secrets Study Guide – Carissa
This guide is genius.. I extremely recommend it to whoever is pursuing get their CSCS. It gives you an idea on the many topics you should focus on and I just read them from the chapters in the book to better prepare myself!
CSCS Secrets Study Guide – Razim
I love how you condensed the entire book to make it simpler. Your book makes it easy for me to study the material. – Tyler
CSCS Secrets Study Guide – Customer
This book is really straight forward and goes into just enough depth. I really like the practical questions in the book which feel very realistic. Based on what i have read regarding the test, it uses a lot of practical questions so this book really makes me feel as if it is leading me in the right direction.
CSCS Secrets Study Guide – Customer
The product is a life saver for me. Not only did it save me money, but the breakdown of the materials that will be on the test saved me a wealth of time.
CSCS Secrets Study Guide – Frank
I like how condense the material is summed up 700+ pages into 80 pages. The practice questions give great examples and hopefully translate well into actual test. The tips are great to not overthink the question and apply good study habits.
CSCS Secrets Study Guide – Matthew
This study guide was amazing. I liked how it highlighted the main vocabulary needed and separates things rather than looking at a textbook that has information all over the place. I also enjoyed the practice questions in the back so I knew what topics I needed to focus more on.
CSCS Secrets Study Guide – Customer
I've found your study guide to be an indispensable tool to prepare me for my new career in Personal Training.
CSCS Secrets Study Guide – Customer
I find it to be very well-organized and informative. The study guide is an excellent resource for a busy person like me.
CSCS Secrets Study Guide – Customer
Learn more about the Mometrix CSCS Secrets Study Guide.

Mometrix Academy – Home