CSCS Practice Test
For those wanting to work in the strength and conditioning of athletes in a team setting, the Certified Strength and Conditioning Specialist (CSCS) exam is something to look into. This credential shows that one has the knowledge to design and implement strength and conditioning programs in a team setting while promoting safe and effective training and nutrition.
Click "Start Test" below to take a free CSCS practice test!
CSCS Exam Eligibility
To be eligible to take the CSCS exam, you must meet the following requirements:
You must have at least a Bachelor's degree or currently be enrolled as a college senior.
You must have a current CPR/AEF certification.
CSCS Exam Outline
The CSCS exam contains 220 multiple-choice questions, 30 of which are unscored, and you will be given a time limit of 4 hours. The unscored questions are used by the exam administrators to evaluate the quality of those questions for use in future versions of the exam, and you will not know which questions are scored or unscored.
The exam is split into two sections:
1. Scientific Foundations (95 questions)
The questions in this section of the exam assess your knowledge of anatomy, biomechanics, exercise physiology, and other areas of exercise sciences. You will also be tested on your knowledge of sports psychology and nutrition.
Exercise Science (55%): The 44 scored questions in this domain cover anatomy and physiology, neuroendocrine physiology, biomechanics, differences among athletes, bioenergetics and metabolism, physiological adaptations, and scientific research and statistics.
Sport Psychology (24%): The 19 scored questions in this domain cover motor learning, mental health issues in athletes, psychological foundations of performance, and skill acquisition techniques.
Nutrition (21%): The 17 scored questions in this domain cover performance maximization, nutritional factors that affect health, and common performance-enhancing substances and supplements.
2. Practical/Applied (125 questions)
The questions in this section of the exam assess your knowledge of testing and evaluation, exercise techniques, organization/administration, and program design. Between 30 and 40 of the questions in this section are video/image-related.
Exercise Technique (36%): The 40 scored questions in this domain cover speed/sprint technique, recovery techniques, movement preparation, agility technique, resistance training technique, energy systems development, Olympic weight-lifting, and plyometric exercise.
Program Design (35%): The 38 scored questions in this domain cover exercise election, work/rest periods, programming during injury/reconditioning, needs analysis, exercise order and intensities, training methods and modes, recovery and unloading, training volumes, periodization concepts and models, and exercise progression.
Organization and Administration (11%): The 12 scored questions in this section cover professional practice, design and organization of strength and conditioning facility, organizational environment, and common litigation issues.
Testing and Evaluation (18%): The 20 scored questions in this domain ask you to select appropriate tests, administer the tests, implement appropriate monitoring procedures and protocols, and evaluate and interpret the test results.
Check out Mometrix's CSCS Study Guide
Get practice questions, video tutorials, and detailed study lessons
Get Your Study Guide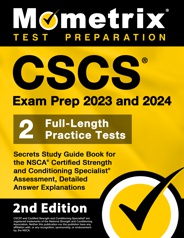 CSCS Registration
To register for the CSCS exam, you will need to create an NSCA account on their website. From there, you can apply and register for your exam.
To apply, you will need to submit all of the necessary documents and transcripts, as well as the $25 application fee.
Once your application is approved, you can log in to your account to register for and schedule your exam. You will need to pay the exam fee at this time, which is $340 for NSCA members and $475 for non-members.
Once the registration process is complete, you will need to schedule your exam with Pearson VUE. The exam is administered at Pearson VUE testing locations all across the country.
Test Day
You should arrive at the testing center 15-30 minutes before your exam is scheduled to begin. Once you arrive, you will be asked to provide a valid, government-issued photo ID. If you fail to bring your ID or if your ID is expired, you will not be permitted to take the exam. For security and identification purposes, your palm will likely be biometrically scanned.
Once the check-in process is complete, you will be asked to leave all personal items in a secure locker outside the testing room. Personal items are things such as your cell phone, bags, books, food, pencils, and jackets.
Once the proctor has determined you are ready, you will be led into the testing room and given a small whiteboard and marker to use as scratch paper for notes.
Once the exam begins, you will be able to take a break at any point. However, the timer will not be paused during your break, so be aware of how long you are away.
How the CSCS Exam is Scored
You will receive two types of scores on your score report: raw and scaled. The minimum scaled score you need to pass the exam is 70. The raw score is simply the number of questions you answered correctly.
As of 2021, the pass rate for this exam is 57%.
Check out Mometrix's CSCS Flashcards
Get complex subjects broken down into easily understandable concepts
Get Your Flashcards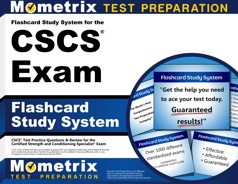 How to Pass the CSCS Exam
How to Study Effectively
Your success on CSCS test day depends not only on how many hours you put into preparing but also on whether you prepared the right way. It's good to check along the way to see whether your studying is paying off. One of the most effective ways to do this is by taking CSCS practice tests to evaluate your progress. Practice tests are useful because they show exactly where you need to improve. Every time you take a free CSCS exam practice test, pay special attention to these three groups of questions:
The questions you got wrong
The ones you had to guess on, even if you guessed right
The ones you found difficult or slow to work through
This will show you exactly what your weak areas are and where you need to devote more study time. Ask yourself why each of these questions gave you trouble. Was it because you didn't understand the material? Was it because you didn't remember the vocabulary? Do you need more repetitions on this type of question to build speed and confidence? Dig into those questions and figure out how you can strengthen your weak areas as you go back to review the material.
Answer Explanations
Additionally, many CSCS practice tests have a section explaining the answer choices. It can be tempting to read the explanation and think that you now have a good understanding of the concept. However, an explanation likely only covers part of the question's broader context. Even if the explanation makes sense, go back and investigate every concept related to the question until you're positive you have a thorough understanding.
Comprehend Each Topic
As you go along, keep in mind that the CSCS practice test is just that: practice. Memorizing these questions and answers will not be very helpful on the actual test because it is unlikely to have any of the same exact questions. If you only know the right answers to the sample questions, you won't be prepared for the real thing. Study the concepts until you understand them fully, and then you'll be able to answer any question that shows up on the test.
Strategy for CSCS Practice
When you're ready to start taking practice tests, follow this strategy:
Remove Limitations. Take the first test with no time constraints and with your notes and CSCS study guide handy. Take your time and focus on applying the strategies you've learned.
Time Yourself. Take the second practice test "open book" as well, but set a timer and practice pacing yourself to finish in time.
Simulate Test Day. Take any other practice tests as if it were test day. Set a timer and put away your study materials. Sit at a table or desk in a quiet room, imagine yourself at the testing center, and answer questions as quickly and accurately as possible.
Keep Practicing. Keep taking practice tests on a regular basis until you run out of practice tests or it's time for the actual test. Your mind will be ready for the schedule and stress of test day, and you'll be able to focus on recalling the material you've learned.
FAQs
How hard is the CSCS exam?
The exam is considered to be moderately difficult, with a pass rate of 57%.
How long is the CSCS exam?
The time limit for this exam is 4 hours.
How many questions are on the CSCS exam?
There are 220 multiple-choice questions on the exam.
How much does the CSCS exam cost?
The examination fee for this exam is $340 for NSCA members and $475 for non-members.
What is the passing score for the CSCS exam?
To pass the exam, you need a scaled score of at least 70.
CSCS Study Guide Customer Success Stories
Our customers love the tutorial videos from Mometrix Academy that we have incorporated into our CSCS study guide. The CSCS study guide reviews below are examples of customer experiences.
I love how it breaks down each important subject to the point and not a lot of extra wording around it. I love how it explains why the answer is what it is. This will help me pass my CSCS test.
CSCS Study Guide – Carissa
This guide is genius.. I extremely recommend it to whoever is pursuing get their CSCS. It gives you an idea on the many topics you should focus on and I just read them from the chapters in the book to better prepare myself!
CSCS Study Guide – Razim
I love how you condensed the entire book to make it simpler. Your book makes it easy for me to study the material.
CSCS Study Guide – Tyler
This book is really straight forward and goes into just enough depth. I really like the practical questions in the book which feel very realistic. Based on what i have read regarding the test, it uses a lot of practical questions so this book really makes me feel as if it is leading me in the right direction.
CSCS Study Guide – Customer
The product is a life saver for me. Not only did it save me money, but the breakdown of the materials that will be on the test saved me a wealth of time. In all, I would recommend this product to a friend that is taking the exam.
CSCS Study Guide – Frank
I like how condense the material is summed up 700+ pages into 80 pages. The practice questions give great examples and hopefully translate well into actual test. The tips are great to not overthink the question and apply good study habits.
CSCS Study Guide – Matthew
This study guide was amazing. I liked how it highlighted the main vocabulary needed and separates things rather than looking at a textbook that has information all over the place. I also enjoyed the practice questions in the back so I knew what topics I needed to focus more on.
CSCS Study Guide – Customer
I've found your study guide to be an indispensable tool to prepare me for my new career in Personal Training.
CSCS Study Guide – Customer
I find it to be very well-organized and informative. The study guide is an excellent resource for a busy person like me.
CSCS Study Guide – Customer
I'm very impressed with the material and it's met my needs with the in-depth vocabulary and difficulty of questions. I feel that this book will help me be very prepared for my exam.
CSCS Study Guide – David
I have found your product to be VERY helpful and I can't thank you enough for putting me in a better position to succeed as I study and push through for my CSCS test exam date. The overall information presented has helped me in better identifying what to do and what not to do from start to finish in studying for the CSCS exam
CSCS Study Guide – Customer
I'm very impressed with the material and it's met my needs with the in-depth vocabulary and difficulty of questions. I feel that this book will help me be very prepared for my exam.
CSCS Study Guide – David
The book is full of great information and a helpful study guide as I progress. I would definitely recommend this to other people preparing for their exam.
CSCS Study Guide – Customer
I have been having a hard time studying for this exam and this guide has helped me with getting a better way to understand what I need to know for this test. I have 2 other certifications and this one is the hardest for me. This secret study guide has helped me tremendously!!
CSCS Study Guide – Customer