CSC Exam
The Cardiac Surgery Certification Exam is to certify nurses to care for adult cardiac surgery patients who are acutely/critically ill.
This exam can be computer-based or a paper and pencil exam. The exam is 2 hours long. There are 90 multiple-choice questions, with 75 being scored. The exam focuses on clinical judgment.
In order to be eligible to take this exam, you must have a current RN or APRN license.
For examinees with conditions covered under the Americans with Disabilities Act (ADA), special accommodations may be requested.
Some testing accommodations include small group setting, Braille test materials, large print test materials, ability to take prescription medications with water, hand-held magnifier, and seat cushion.
Check out Mometrix's CSC Study Guide
Get practice questions, video tutorials, and detailed study lessons
Get Your Study Guide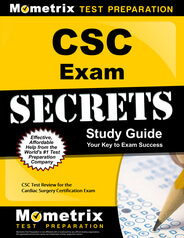 What categories and topics are covered on this exam?
Procedures – 19%
Complications – 31%
Therapeutic Interventions – 36%
Monitoring and Diagnostics – 15%
Cardiovascular and thoracic procedures will be addressed within the Procedures category.
Cardiovascular, pulmonary, endocrine, hematology/immunology, neurology, gastrointestinal, renal, multisystem, and behavioral/psychosocial complications will be addressed in the Complications category.
Cardiovascular, pulmonary, endocrine, hematology/immunology, neurology, renal, multisystem, behavioral/psychosocial, and postoperative care therapeutic interventions will be addressed in the Therapeutic Interventions category.
Hemodynamic monitoring, other forms of monitoring, and various diagnostics are addressed in the Monitoring and Diagnostics category.
What is the most convenient way to register for this exam?
Online registration is the most convenient way. You can pay via Visa, MasterCard, Discover, or American Express. If you do not have access to online registration, you can do so via a paper application, which can be paid with a credit card, check, or money order. Online registration is done same day. Paper registration takes 2-3 weeks to process.
What is the cost of the exam?
The first computer-based attempt at the Cardiac Surgery Certification Exam is $130 for AACN members, and $215 for non-members. A re-take of the exam is $110 for members and $155 for non-members.
If taking the exam using paper and pencil, the initial attempt costs $195 – $275, depending on how many examinees are taking the test. When taking the paper/pencil exam in Canada, the cost is $195 – $305, again depending on the number of examinees testing.
In order to be eligible to take the paper/pencil exam, you must live 3 hours or more away from the nearest testing center that offers the computer-based exam.
What are the testing dates and locations?
Once your registration has been approved, you will receive an email stating that your 90-day testing window is open, and that you can schedule your exam.
Testing is offered at over 300 sites in the United States and Canada, twice daily, Monday – Friday. 9 a.m. – 1:30 p.m. Most of the testing sites also offer Saturday testing, by appointment.
What should I do the day of the exam?
Be sure to arrive at the testing site on time. Arriving late could prevent you from being admitted to the test.
Ensure you bring two valid forms of identification. Your primary form of ID must include your name, signature, and photo. A passport and driver's license are examples of acceptable forms of primary ID.
The second form of identification must have your name and signature. A credit card or social security card can be used as a secondary form of ID.
Items such as reference materials, purses, and coats are prohibited from the testing area.
What happens after I take the exam?
If taking the computer-based exam, you will receive your score at the testing center, immediately after taking the exam. Within 3-4 weeks after passing the exam, you will receive your wall certificate. If taking the paper/pencil exam, your score report will be mailed to you 3-4 weeks after taking the exam.
Check out Mometrix's CSC Flashcards
Get complex subjects broken down into easily understandable concepts
Get Your Flashcards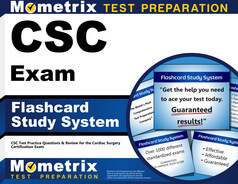 What happens if I do not pass the exam?
You are allowed a total of four attempts at this exam, in a 12-month period.
When studying for the Cardiac Surgery Certification Exam, don't forget to purchase Mometrix's study guide and flash card set. These resources provide you with the knowledge you need to do well, in an easy-to-understand format.
Our test-writing experts have spent a lot of time making sure of this. Make this small investment to gain a big reward.
Order you test preparation materials today!
CSC Study Guide
Mometrix Academy is a completely free CSC test resource provided by Mometrix Test Preparation. If you find benefit from our efforts here, check out our premium quality Cardiac Surgery Certification Study Guide and Cardiac Surgery Certification Flash Cards to take your studying to the next level. Just click the CSC study guide link below. Your purchase also helps us make even more great, free test content for test-takers.
Upgrade your studying with our CSC study guide and flashcards:
CSC Study Guide
CSC Flashcards
CSC Study Guide Customer Success Stories
Our customers love the tutorial videos from Mometrix Academy that we have incorporated into our CSC study guide. The CSC study guide reviews below are examples of customer experiences.
I'm a CTS nurse and have my CCRN. I'm reviewing for the CSC and couldn't find any other books to match the profile of what I needed for study material, I even purchased some material from the AACN website to study with, but so far this book has been my best resource in terms of identifying a need to know basis for the exam. I highly recommend this for anyone who is studying for their CSC/CMC.
CSC Study Guide – Customer
I was so excited to finally find a study guide for this exam! There is very limited material to study for the CSC. Everything else is long, wordy, and dull. This book is short, sweet, and to the point! Exactly what I was looking for.
CSC Study Guide – Customer
I felt it very helpful in preparing for the CSC Exam, and also a great refresher before panel interviews for CRNA school. Specifically, the refreshers on common cardiac medications, the receptors they affect, and their effects on various hemodynamics I found very helpful.
CSC Study Guide – Kristina
I love the books and feel they have excellent material. I work in a CVICU and utilize the information to teach other nurses.
CSC Study Guide – Customer
The study guide is straightforward and allows you to simply focus on the key points to pass the exam. The study skills outlined were also very helpful. Great review!
CSC Study Guide – Customer