COHN-S Practice Test
The American Board for Occupational Health Nurses, Inc. (ABOHN) administers the Certified Occupational Health Nurse Specialist (COHN-S) examination, which is given to nursing candidates who wish to be qualified as occupational health nurses. The exam showcases the candidate's skills and knowledge in the proper nursing applications needed as an occupational health nurse.
This page covers the COHN-S examination, what information the exam covers, the number and type of questions you can expect, the score you need to pass, and everything you need to register for the assessment.
Eligibility
There are a few requirements that must be met to be eligible to take the COHN-S exam. You must have:
An RN license that is current and not restricted
3,000 hours of occupational health nursing work experience gained within the five years before applying for the COHN-S examination
A bachelor's degree or higher (it does not have to be a nursing degree)
An alternative to the work-hours requirement is obtaining 2,000 hours in a baccalaureate or graduate degree program that is related to occupational health and is completed in the five years before applying to take the examination.
Check Out Mometrix's COHN-S Study Guide
Get practice questions, video tutorials, and detailed study lessons
Get Your Study Guide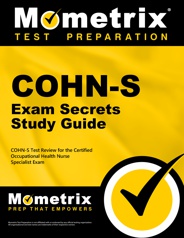 Exam Outline Review
There are a total of 160 multiple-choice questions on the examination, 25 of which are unscored pre-test questions. You will have 3 hours to complete all 160 questions.
The 25 pre-test questions are considered to be experimental questions and have never been used on an exam before. You will not know which of the questions are included in the experimental questions.
The contents of the exam cover Occupational Health Nurse (OHN) roles as they pertain to the following five major categories:
Clinician
Manager
Educator
Consultant
Case manager
The test material also uses the Occupational Health Nurse's four process steps or methods used in the care of a patient that must be applied.
Assessment is the process of collecting data, verifying the data, and communicating the data gathered to the patient in a way that they understand.
Planning involves the process of establishing the desired outcome for the patient by designing strategies that will achieve those outcomes upon completion.
Implementation is the process of initiating the correct nursing actions to accomplish a specific outcome.
Evaluation is the process of measuring the way a patient responds to treatments, including medications they are taking and other nursing actions.
Core Content Areas
The core content is a compilation of subject matter that the questions on the test can pertain to. This core content is vital to the practice of occupational nursing, so you should learn as much about it as possible to be prepared for the exam and real-life nursing practice.
These are the core content areas and what they cover:
Chemical Hazards
The reproductive hazards caused by solvents and cutting oils such as benzene
The carcinogens like asbestos, silica, and cotton dust
Latex allergies related to heavy metals like lead, cadmium, nickel, chromium, and mercury
How the toxicology terms of acute, chronic, dose, and PEL apply to carbon monoxide and methane gas
The exposure routes of cyanide, hydrogen sulfide, and similar chemicals (absorption, ingestion, and injection)
The chemical hazards related to pesticide
Biological Hazards
Bloodborne pathogens
Bioterrorism
Salmonella
Food and water-borne pathogens
Animal hazards
Communicable diseases
Physical and Ergonomic Hazards
Excessive noise and vibration and the potential for hearing loss
Radiation exposure
Back conditions
Stress from exposure to extreme heat or cold
Psychophysiology
Violence
Drug screening
Fitness and job placement according to fitness levels
Disaster planning
Cultural differences
Shift work and the stresses related to shifting work
Aging workers
Employee assistance programs
Safety and Hygiene Issues
Safety inspections
Emergency response planning and procedures
Routes of exposure
Indoor air quality concerns such as radon
Personal protective equipment
Root cause analysis
Behavioral safety programs
Standards and Regulations
DOT
MSDSs
Confined space
NIOSH
FMLA
HIPAA
FDA
ADA
OSHA
Emergency Response
Disaster planning
Eye injuries
Burn assessment and care
Strains and sprains
Head injuries
Crush injuries/amputations or excessive bleeding
Cardiovascular emergencies
Disease Management
Cholesterol
Hypertension
Dermatitis
Occupational asthma
Diabetes
Wound care
Case management
Chronic pain management
Clinical Practice
Screening tests
Pre-placement evaluation
Absenteeism program
Counseling
Return to work strategies
Clinical assessments
Health Education/Promotion
Smoking cessation
AIDS education
Counseling process
Health risk assessment
Literacy and language issues
Management Principles
Program design
Legal and ethical
Leadership skills
Project management
Precepting
Program evaluation
Outcomes management
Information Management/Recordkeeping
Confidentiality
Workers' compensation
Policy and procedure
Record-keeping
Research principles
Risk communication
Registration
To register for the exam, visit the ABOHN website.
You will be requested to provide the supporting documents listed below once the submission of your application is complete. The supporting documents can be faxed to 630-789-8901 or sent via email to info@abohn.org.
Supporting Documents
Your RN license. On the license, your current name just like you put on the application must be present. The expiration date of the license must be visible and the name of the agency that issued the license must be visible.
Previous employment information. If you are using past employment to prove your experience, you must have a job description for each place of employment with contact information, length of employment, duties performed and position held.
Confirmation of your degree. A diploma is preferred, but you can use a final transcript from the college or educational institution if your diploma is not available.
Exam Fees
The application fee is $150.00, which is non-refundable. The examination fee is $400. This fee must be paid in full within 90 days of receiving the invoice from ABOHN and is good for a period of 120 days.
If you cannot take your examination within 120 days of paying your examination fee, you can apply for an extension, which costs $50. If approved, the extension will be for 60 days. You can only apply for an extension one time.
Scheduling Your Exam
You must schedule an examination appointment with PSI. This can be done online or by calling PSI at 888-519-9901.
If you call to schedule your appointment before 3:00 pm, you will probably be able to take the test within the next two days. The tests are given Monday through Saturday.
| If you call before 3:00 pm CT | You may be scheduled as early as |
| --- | --- |
| Monday | Wednesday |
| Tuesday | Thursday |
| Wednesday | Friday/Saturday |
| Thursday | Monday |
| Friday | Tuesday |

You will be allowed to select from several different testing centers. Make note of how far away your chosen testing center is from your home; you should plan to leave early so you are at the testing center at least 30 minutes before the test is scheduled to begin. This will give you enough time to find your seat, store your items in the locker provided for you, and go to the restroom before testing begins.
Rescheduling
PSI does allow you to reschedule one time at no extra charge as long as you reschedule at least 2 business days before your schedule to test.
| If exam is scheduled for | ABOHN must be notified of your plans to reschedule by 3:00 pm the previous |
| --- | --- |
| Monday | Wednesday |
| Tuesday | Thursday |
| Wednesday | Friday |
| Thursday | Monday |
| Friday | Tuesday |
Check Out Mometrix's COHN-S Flashcards
Get complex subjects broken down into easily understandable concepts
Get Your Flashcards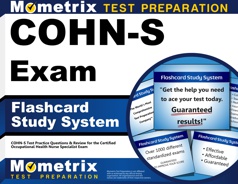 Test Day
What to Bring
Two forms of valid ID are the only things you need to worry about bringing to the testing center.
One of these must be a government-issued photo ID. This could be a driver's license, passport, military identification card, alien registration card, or state identification card.
The other identification must have your name and signature. Examples of second identifications that will be accepted are a credit card, a social security card with your signature, an employee identification card, and a school identification card.
What NOT to Bring
Cell phone (if you have a cell phone and it rings or makes noise during the test, you will be asked to leave and there will be no refund of your examination fees)
Tablets, smartwatches, or other electronic devices
Heavy coats
Purses or bookbags (if you bring them, they will be stored in your locker until the test is complete)
Scratch paper (you will be given 5 sheets of scratch paper by the test proctor)
Hats
Watches
Food or drink
Hooded clothing
Shawls
Good-luck items
Reference materials
Reading materials
Misconduct
If you are found guilty of any of the following, you will be asked to leave and your examination fees will not be refunded.
Creating a disturbance
Being uncooperative with the proctor
Using abusive language
Giving help to another test-taker or accepting help from another test-taker
Attempting to smuggle in any of the forbidden personal belongings
Leaving the test center during the examination
Talking with one of the other test-takers
Attempting to take the examination for someone else
Attempting to make records of the examination questions
COHN-S Scores
The passing score does vary, but generally, you will need to get 71% of the questions correct to earn a passing score for the examination. That means you need to answer at least 96 questions correctly.
If you do not know an answer, you are allowed to skip the question and come back to it at the end of the test. If an answer is left blank, that question is considered to be answered incorrectly.
Receiving Your Score
The score you earn will be mailed to you within 8 to 12 weeks following the examination. Scores will NOT be reported in any way other than a written examination delivered by mail.
Retaking the Exam
If you do not pass the exam on your first attempt, you can apply to retake the examination as soon as you would like.
How to Study for the COHN-S Exam
How to Study Effectively
Your success on COHN-S test day depends not only on how many hours you put into preparing but also on whether you prepared the right way. It's good to check along the way to see whether your studying is paying off. One of the most effective ways to do this is by taking COHN-S practice tests to evaluate your progress. Practice tests are useful because they show exactly where you need to improve. Every time you take a free COHN-S exam practice test, pay special attention to these three groups of questions:
The questions you got wrong
The ones you had to guess on, even if you guessed right
The ones you found difficult or slow to work through
This will show you exactly what your weak areas are and where you need to devote more study time. Ask yourself why each of these questions gave you trouble. Was it because you didn't understand the material? Was it because you didn't remember the vocabulary? Do you need more repetitions on this type of question to build speed and confidence? Dig into those questions and figure out how you can strengthen your weak areas as you go back to review the material.
Answer Explanations
Additionally, many COHN-S practice tests have a section explaining the answer choices. It can be tempting to read the explanation and think that you now have a good understanding of the concept. However, an explanation likely only covers part of the question's broader context. Even if the explanation makes sense, go back and investigate every concept related to the question until you're positive you have a thorough understanding.
Comprehend Each Topic
As you go along, keep in mind that the COHN-S practice test is just that: practice. Memorizing these questions and answers will not be very helpful on the actual test because it is unlikely to have any of the same exact questions. If you only know the right answers to the sample questions, you won't be prepared for the real thing. Study the concepts until you understand them fully, and then you'll be able to answer any question that shows up on the test.
Strategy for COHN-S Practice
When you're ready to start taking practice tests, follow this strategy:
Remove Limitations. Take the first test with no time constraints and with your notes and COHN-S study guide handy. Take your time and focus on applying the strategies you've learned.
Time Yourself. Take the second practice test "open book" as well, but set a timer and practice pacing yourself to finish in time.
Simulate Test Day. Take any other practice tests as if it were test day. Set a timer and put away your study materials. Sit at a table or desk in a quiet room, imagine yourself at the testing center, and answer questions as quickly and accurately as possible.
Keep Practicing. Keep taking practice tests on a regular basis until you run out of practice tests or it's time for the actual test. Your mind will be ready for the schedule and stress of test day, and you'll be able to focus on recalling the material you've learned.
FAQs
How many questions are on the exam?
There are 160 multiple-choice questions on the COHN-S exam, 25 of which do not count toward your final score.
How long is the exam?
The time limit for the COHN-S exam is 3 hours.
What type of questions are on the exam?
All of the questions on the COHN-S exam are multiple-choice.
How much does the exam cost?
The COHN-S exam fee is $400.00. This must be paid in addition to the application fee of $150.00.
What is a passing score on the COHN-S exam?
A passing score on the COHN-S exam varies, but correctly answering at least 71% of the questions is recommended.
When will I receive my scores?
Scores for the COHN-S are mailed to you within 8-12 weeks after completing the exam.
What is an occupational health nurse?
An occupational health nurse (OHN) provides for and delivers health and safety programs and services to the community, or workers in a specific workplace. These nurses address work-related and environmental hazards, often working with employers and their employees to identify risks and help maintain a healthy working environment.