Certified Occupational Health Nurse Exam
In order to be eligible to take the Certified Occupational Health Nurse Exam, you must have a valid RN license or equivalent, as well as 3,000 hours of paid work in occupational health nursing, within the last 5 years.
If you do not have 3,000 work hours within the past 5 years, you must have completed an occupational health nursing certificate program OR had been in a graduate program related to occupational health, within that same 5-year time period.
The exam consists of 160 questions, with 25 being pre-test, and 135 being scored. All questions use the multiple-choice format. You are given three hours to complete the exam via the computer.
Special testing accommodations are available for those who have conditions that are approved by the Americans with Disabilities Act
Some testing accommodations include extended testing time, additional breaks, small group setting, Braille test materials, large print test materials, ability to take prescription medications with water, hand-held magnifier, and seat cushion.
What subjects are covered on this exam? How many questions are there for each subject?
The questions of this exam are based on the four categories of clinician, coordinator, advisor, and case manager. In addition, the nursing process steps that are tested are assessment, planning, implementation, and evaluation.
There will be 48 questions on the clinician role, 41 questions for the coordinator role, 22 questions for the advisor role, and 24 questions for the case manager role.
The core content areas are:
Chemical hazards
Biologic hazards
Physical hazards/Ergonomics
Psychophysiologic/Stress
Safety and industrial hygiene issues
Standards and regulations
Emergency response
Disease management
Health education/Promotion
Management principles
Information management/Recordkeeping
Clinical practice
How can I register for this exam?
You can register online or via a paper application. Online registration requires payment by credit card. With a paper application, payment can be made using a credit card, check, or money order.
Check Out Mometrix's COHN Study Guide
Get practice questions, video tutorials, and detailed study lessons
Get Your Study Guide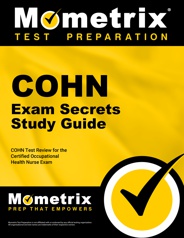 What is the cost of the exam?
The cost of taking this exam is $400.
What are the testing dates and locations?
COHN is offered at more than 300 test centers in the U.S., on a continuous basis. Testing appointments can be made for various times, Monday – Saturday, within your 120-day testing window. There may slight differences in normal business hours among test centers, so be sure to confirm availability.
What should I do the day of the exam?
Report to the testing site on time, to ensure you have enough time to go through the check-in process. You will not be admitted to take the exam if you arrive 15 or more minutes late.
Bring two forms of identification. Be sure the name on your IDs is the same name on your registration. If a name change has occurred, bring proof that this was a legal change. Documents such as a marriage license or divorce decree would suffice as proof.
Do not bring a calculator or pencils into the testing area. In addition, personal items such as a watch, hat, or keys will not be allowed in the testing area, they must be stored in a locker at the test site.
What happens after I take the exam?
The proctor at the site will give you a report that states if you passed or failed the exam. If you pass, you will receive an official score report, wall certificate, and digital badge via mail.
What happens if I don't pass the exam?
You can re-take the exam as many times as necessary, but you must wait until you have received your score report before you can apply to retake the exam. You will have to submit a new application, supporting documentation, and application fee.
Mometrix has developed a study method that includes secret keys to doing well on the COHN Exam. We not only focus on knowing the material, but having an in-depth knowledge of how to apply this material.
We teach you what will help you, as well as the strategies you were using before purchasing our resources, that have not been effective. This is so you don't waste any more time on such strategies.
For the times when you need to review the major concepts of the exam while on the go, our flash cards will deliver that service.
We've got you covered to be successful. Acquire your test preparation sources right now.
Check Out Mometrix's COHN Flashcards
Get complex subjects broken down into easily understandable concepts
Get Your Flashcards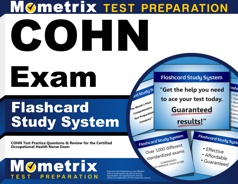 Certified Occupational Health Nurse Study Guide
Mometrix Academy is a completely free COHN test resource provided by Mometrix Test Preparation. If you find benefit from our efforts here, check out our premium quality COHN Study Guide and COHN Flash Cards to take your studying to the next level. Just click the COHN study guide link below. Your purchase also helps us make even more great, free test content for test-takers.
Upgrade your studying with our COHN study guide and flashcards:
Certified Occupational Health Nurse Study Guide
Certified Occupational Health Nurse Flashcards
COHN Study Guide Customer Success Stories
Our customers love the tutorial videos from Mometrix Academy that we have incorporated into our COHN study guide. The COHN study guide reviews below are examples of customer experiences.
I purchased this study guide a week ago. Already I learned a lot. It is precise. Simple language. This study guide meets all my needs to prepare myself for COHN exam. What I like about this guide is that it familiarized me with the important topics, and the type of questions asked during the exam. I could say this study guide is thorough, and very insightful. I read the entire study guide, and was able to answer the questions listed at the very end of the book, which made me confident to take the exam.
COHN Study Guide – Customer
Book is well written, easy to read, print style is nice due to writing is large text. Shipping was fast and customer service is excellent.
COHN Study Guide – Customer
It's an easy read, simplifies things and covers everything that I already knew and things I had no idea about. I think I'm much more likely to pass after studying with this.
COHN Study Guide – Jennifer
This seems to be a really good study guide, simple and direct to the point! As busy as one can be, this guide will help me accomplish my goal sooner than later.
COHN Study Guide – Customer
I love the study guide.! I have successfully used your product before when studying for my CHPN. I have made a major career change and would like to become certified in COHN. Most recently, I took a course as an Occupational Hearing Conservationist and this study guide was helpful, I passed! I love the layout of the guide, it reads simply and is very comprehensible. The test questions are great and the "General Strategies" are so helpful, I have horrible test anxiety and really require adequate test preparation in order to feel prepared. The product is also so reasonably priced.
COHN Study Guide – Cassandra
I like it so much that I now have ordered the Flash card secrets to compliment the book! I just completed a course on the Fundamentals of Occupational Health Nursing and your book is all inclusive of that material as well as other topics I am not as familiar with! I feel like I am being prepared to be successful on my COHN exam.
COHN Study Guide – Customer
I have found the study guide to be set up well. I like that each section gives you the information you need without a lot of unnecessary reading. The practice questions have been helpful.
COHN Study Guide – John