The American Board for Occupational Health Nurses (ABOHN) administers the Certified Occupational Health Nurse (COHN) examination, which is given to nursing candidates who wish to be qualified as occupational health nurses.
Click "Start Test" above to take a free COHN practice test, and check out our premium-quality COHN test prep resources by clicking the links below!
Eligibility
To be eligible for the COHN exam, you must meet the following requirements:
You must hold a current, active RN license in the US
You must have accrued at least 3,000 hours of occupational health nursing practice within the last five years
Exam Outline Review
The Certified Occupational Health Nurse exam contains 160 multiple-choice questions, 25 of which are unscored, and you will be given a time limit of 3 hours. The unscored questions are used to evaluate questions on future versions of the exam, and you will not know which questions are score or unscored when taking the exam.
The test material uses the Occupational Health Nurse's (OHN's) four process steps or methods used in the care of a patient that must be applied.
Assessment is the process of collecting data, verifying the data, and communicating the data gathered to the patient in a way that they understand.
Planning involves the process of establishing the desired outcome for the patient by designing strategies that will achieve those outcomes upon completion.
Implementation is the process of initiating the correct nursing actions to accomplish a specific outcome.
Evaluation is the process of measuring the way a patient responds to treatments, including medications they are taking and other nursing actions.
Exam Contents
The contents of the exam cover OHN roles as they pertain to the following four major categories:
1. Clinician (42%)
Assessment (15%)

Obtaining an occupational and environmental health history
Conducting health assessments
Assessing health needs of workers and worker populations
Identifying laws and regulations affecting nursing practice
Monitoring new developments related to emerging health care issues
Assessing workers with work restrictions or limitations and making appropriate job placement recommendations
Identifying physical requirements to fulfill essential job function
Identifying ethical issues in practice
Identifying health surveillance of individuals/groups for specific hazards
Planning (7%)

Interpreting results of screening tests and health history
Recommending changes in work to accommodate workers' health status and history
Recommending programs and testing based on worker health needs
Formulating a response to emerging healthcare issues
Implementation (14%)

Using and maintaining a health recordkeeping system
Recognizing and responding to ethical issues in practice
Providing treatment of work-related injuries or illnesses
Providing direct care for non-work-related injuries and illnesses for workers
Providing health promotion and disease prevention screening tests
Referring workers to an employee assistance program
Providing individual counseling services for worker
Performing medical surveillance and regulatory compliance testing/screening
Assuring confidentiality of personal health information
Complying with OSHA occupational injury and illness recording and reporting requirements
Evaluation (6%)

Evaluating the quality of care provided by internal and external health services
Evaluating injuries, illnesses, and incidents using root cause analysis
Demonstrating the value of clinical services by internal occupational health services
Interpreting medical surveillance and regulatory testing and screening
2. Coordinator (27%)
Assessment (5%)

Monitoring laws and regulations affecting nursing practice
Analyzing injury, illness, and incident data
Referencing safety data sheets
Determining staffing requirements
Identifying hazards through work site walk-through surveys
Assessing ergonomic needs
Assessing and reporting on the organization's regulatory compliance with applicable standards
Planning (5%)

Collaborating with other disciplines to protect and promote worker health and safety
Identifying appropriate personal protective equipment
Coordinating medical testing for DOT compliance
Developing occupational health and safety policies and procedures
Developing the components of a drug and alcohol screening program
Establishing goals and objectives for an occupational health and safety program
Developing nursing protocols
Incorporating knowledge of cultural beliefs and practices in implementing programs and services
Establishing guidelines related to workplace violence
Utilizing principles of ergonomics for worksite design
Developing emergency preparedness plans
Implementation (11%)

Coordinating health promotion and disease prevention strategies and programs
Coordinating surveillance programs
Incorporating computer technology for occupational health practice
Using software applications for health information management
Recommending control measures to reduce or eliminate exposures/hazards
Applying regulatory standards and guidelines
Preparing and provide testimony or documentation for legal proceedings
Participating in administrative proceedings related to occupational health
Preparing business reports for management
Adhering to policies and procedures for confidentiality
Implementing laws and regulations affecting nursing practice
Implementing workplace substance abuse programs
Establishing and monitor compliance with infection control guidelines
Coordinating and serve on interdisciplinary committees and teams
Providing resources and information to meet the health and safety needs of the organization
Developing programs based on health and safety management principles
Participating in audits
Evaluation (6%)

Conducting quality management/improvement program for occupational health and safety
Demonstrating the value of services provided
Interpreting the data obtained during a work site walk-through survey assessment
3. Advisor (13%)
Assessment (3%)

Assessing education and training needs
Determining management support for health, wellness, and safety programs
Assessing for opportunities for workplace, professional, and community involvement
Planning (3%)

Interpreting needs assessment results
Selecting teaching methods and content based on the characteristics of learners
Developing educational strategies to effectively communicate risks to workers
Planning new worker occupational health and safety orientation programs
Developing education and training programs
Developing business case to enlist management support
Implementation (5%)

Educating and training workers about health and wellness
Educating management at all levels about occupational health and safety programs
Educating and training occupational health and safety staff
Serving as a preceptor or mentor for students and health care professionals
Training workers on proper use and care of personal protective equipment
Serving on professional and community boards
Evaluation (3%)

Communicating the results and outcomes of educational and training programs
Evaluating value added service
Measuring program outcomes
4. Case Manager (18%)
Assessment (4%)

Identifying work-related cases that are appropriate for case management
Identifying non-work-related cases that are appropriate for case management
Identifying legal, labor, and regulatory implications related to case management
Planning (4%)

Developing case management plans for individuals
Developing and coordinating a network of resources for case management
Developing a multidisciplinary plan of care in collaboration with the worker and their support systems
Implementation (7%)

Managing short-term or long-term disability cases
Administering and managing integrated disability management strategies
Managing workers' compensation cases
Referring workers for rehabilitation as indicated
Coordinating administration of case management with vendors and community resources
Communicating essential job functions information to providers
Recommending modified duty based on work restriction and fitness for duty
Evaluation (3%)

Analyzing workers' compensation data
Monitoring treatment plan and outcomes
Evaluating health care delivery to workers provided by external providers
Core Content Areas
The core content is a compilation of subject matter that the questions on the test can pertain to. This core content is vital to the practice of occupational nursing, so you should learn as much about it as possible to be prepared for the exam and real-life nursing practice.
These are the core content areas and what they cover:
Chemical hazards

Solvents, cutting oils
Reproductive hazards
Asbestos, silica, and cotton dust
Carcinogens
Heavy metals
Latex allergy
Carbon monoxide and methane
Toxicology terms
Cyanide, hydrogen sulfide
Exposure routes
Chlorine and toluene isocyanates
Target organs
Ethylene oxide
Medical surveillance
Pesticides
Biologic hazards

Food- and water-borne pathogens
Bloodborne pathogens
Tuberculosis
Travel medicine
Immunizations/tetanus
Physical hazards/ergonomics

Noise vibration/hearing loss
Upper extremity disorders/algorithms
Radiation
Back disorders
Heat/cold stress
Work station design
Electrical
Job task analysis
Psychophysiologic/stress

Violence
Drug screening/chain of custody/hair samples
Shift work
Aging workers
Fitness for duty/job placement
Cultural differences
Stress/time management
Disaster planning
Employee assistance programs
Safety and industrial hygiene issues

Safety walkthrough
Personal protective equipment
Splash exposure
Engineering controls
Sampling
Administrative controls
Indoor air quality/radon
Standards and regulations

Hazard communication
OSHA standards
MSDSs
ADA/ADAAA
DOT
FMLA
Confined space
HIPAA
Lock out/tag out
Bloodborne pathogens
Emergency response

Burn care
Strains and sprains
Eye injuries
Crush injuries/amputation/bleeding
Cardiac emergencies/AEDs
Head injuries
Emergency response

Dermatitis
Cholesterol
Occupational asthma/acute respiratory distress
Hypertension
Pulmonary function testing
Disease state management
Case management/clinical outcomes
Chronic pain management
Diabetes
Wound care
Asthma
Health education/promotion

Smoking cessation
Adult learning theory
Counseling/health promotion
Levels of prevention
Confidentiality
Literacy/language issues
AIDS education
Communicating risk
Counseling
Health risk assessment
Management principles

Ethics
Legal/regulatory practice aspects
Principles of management/communication
Information management/recordkeeping

Confidentiality
Recordkeeping
Workers' compensation
Research designs
Policy and procedures/protocols
Clinical practice

Pre-placement evaluation
Clinical assessment
Screening test results analysis
Return-to-work assessment
Performing screening tests
Work restriction management
Check Out Mometrix's COHN Study Guide
Get practice questions, video tutorials, and detailed study lessons
Get Your Study Guide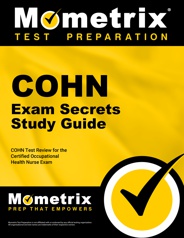 Registration
To register for the exam, you must submit an application via the ABOHN website. Your application must include any necessary eligibility documentation and the nonrefundable $!50 application fee.
Once your application is approved, you must schedule your examination appointment and pay the nonrefundable $400 examination fee within 90 days.
If you cannot take your examination within 120 days of paying your examination fee, you can apply for an extension, which costs $50. If approved, the extension will be for 60 days. You can only apply for an extension one time.
Test Day
On the day of your exam, you should arrive at the PSI testing center about 15-30 minutes early. If you are more than 15 minutes late, you will not be admitted, and your test will be canceled. Refunds are not provided for individuals who do not make their scheduled exam appointment.
Before the exam begins, you must secure any personal items in a provided locker. A pencil and a sheet of paper are provided, so there is no need to bring those items with you to the testing center.
During the exam, you can take a break whenever you need to, but the timer will keep going during your break.
How the Exam is Scored
The passing score does vary, but generally, you will need to get 71% of the questions correct to earn a passing score for the examination. That means you need to answer at least 96 questions correctly.
If you do not know an answer, you are allowed to skip the question and come back to it at the end of the test. If an answer is left blank, that question is considered to be answered incorrectly.
Receiving Your Score
The score you earn will be mailed to you within 8 to 12 weeks following the examination. Scores will NOT be reported in any way other than a written examination delivered by mail.
Retaking the Exam
If you do not pass the exam on your first attempt, you can apply to retake the examination as soon as you would like. You must submit a new application and pay the applicable fees for each retake.
Check Out Mometrix's COHN Flashcards
Get complex subjects broken down into easily understandable concepts
Get Your Flashcards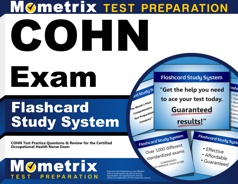 FAQs
Q
How many questions are on the COHN exam?
A
There are 160 multiple-choice questions on the exam.
Q
How long is the COHN exam?
A
The time limit for the exam is 3 hours.
Q
What is the passing score for the COHN exam?
A
There is not set passing score, but you should aim to answer at least 71% of the questions correctly.
Q
How much does the COHN exam cost?
A
The application fee is $150, and, the examination fee is $400.