CJBAT Exam
This is a resource that will help you prepare for the Criminal Justice Basic Abilities Test (CJBAT) exam. Whether you're testing for law enforcement (LEO) or the correctional officer (CO) version, our goal is to provide you with details and background on the test, and give you a better idea of what to expect when you take the exam.

Exam Purpose and Background
The CJBAT exam is a determining factor in assessing your readiness and whether you have the basic skills and knowledge needed to enroll in Florida Commission-certified training centers, and for becoming an employee in Florida as a correctional or sworn law enforcement officer.
Costs/Payment Options
The exam testing fee is $50. You can pay using either a credit card or cash.
Registration/Times/Locations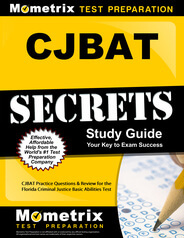 Check Out Mometrix's CJBAT Printed Study Guide
The CJBAT exam is administered through a wide range of colleges and educational institutions throughout the state. Your current educational facility or local law enforcement center can assist you with registration, time, date and location details.
Test Duration: The CJBAT examination period is two and a half hours.
What to Bring:
Two forms of Identification, showing your name, signature and photo (including IDs such as a current passport, a driver's license, state/province ID, national ID or military ID).
What Not to Bring:
In general, avoid bringing any personal items with you. If you bring a handbag, backpack or other personal item with you, it will be placed on the floor beneath your work area. You will not be allowed to open these items during the testing period.
Calculators
Spelling aids
Photographic devices
Electronic devices
Beepers, cell phones and other communication devices
CJBAT Exam Practice Test
What to Expect During Your CJBAT Exam
Format/Number of Questions: The test is available to be taken via paper and pencil or with a computer and consists of 120 multiple-choice questions.
Types of Questions and Ability Areas Covered in the Exam
In general, the CJBAT will look at your knowledge in three general areas, including:
Language ability
Visualization ability
Reasoning ability
Here are the types of questions, along with the number of each question type that you can expect when you take the CJBAT test. Please note that the weight of different types of questions are the same whether you're sitting for the LEO or the CO exam.
Written Comprehension (15 questions) — Covers your ability to read and comprehend written words and sentences, similar to the knowledge you'll need to read legal bulletins, ordinances, statutes, and other policies and procedures.
Written Expression (15 questions) — Looks at your ability to write words and sentences that others will comprehend. This tests your competency for on-the-job tasks, including preparing reports, memos, affidavits, and other key documents.
Problem Sensitivity (15 questions) — Assess your ability to sense if something is wrong or if there's a likelihood of something adverse happening. This innate ability is a key part of the day-to-day work that officers carry out.
Inductive Reasoning (15 questions) — Assesses your ability to blend or piece together different pieces of information or details to arrive at a conclusion. Officers must often provide a logical reason for events that may seem separate from each other.
Deductive Reasoning (15 questions) — Covers your ability to apply broad concepts to specific situations or problems to come up with a logical conclusion. This skill allows officers to apply laws, policies, and procedures to actual situations.
Information Ordering (15 questions) — Looks at your ability to correctly follow rules to arrange actions or elements into a specific order. These may include numbers, words, procedures, letters, pictures, logical operations, and sentences. Officers rely on this skill set when they make arrests, transport prisoners, conduct drills or issue warrants.
Spatial Orientation (15 questions) — Reviews your ability to know where you are in relation to the location of another object, or where that object is in relation to you. This is important as you prepare for a job where you must be able to remain oriented as you change locations or directions as part of your job.
Memorization (15 questions) — Looks at your ability to recall details. During your career, you will need to be able to remember key details from Florida statutes, legal bulletins, BOLOs, shift briefings, along with other descriptions and details involving people, addresses, codes, descriptions, etc.
Calculating Your Passing Score: A score of 70% correct or better is needed to achieve a passing score on the exam. Your CJBAT score is valid for four years.
CJBAT Study Guide
Mometrix Academy is a completely free CJBAT test resource provided by Mometrix Test Preparation. If you find benefit from our efforts here, check out our premium quality CJBAT Study Guide and CJBAT Flash Cards to take your studying to the next level. Just click the CJBAT study guide link below. Your purchase also helps us make even more great, free test content for test-takers.
CJBAT Study Guide Customer Success Stories
Our customers love the tutorial videos from Mometrix Academy that we have incorporated into our CJBAT test study guide. The CJBAT study guide reviews below are examples of customer experiences.
I love your product and all the hard work you put in it shows. I have already learned so much from the little time I have had to read the book. I was able to pass the exam!
CJBAT Study Guide – Omar
What I like most about your study guide is the detail you provide and that you explain what the questions are testing, the question format, and the strategies or techniques the reader can use to do well in that specific area. The practice questions, practice test, and secret keys make your book better than the others available.
CJBAT Study Guide – Lisa
I love the material, I like it how it explains the answers at the answer key, so you can get a better understanding of the question.
CJBAT Study Guide – Ruben
I love this study guide! Many examples, excellent tips and valuable lessons for the test takers. CJBAT SECRETS helped me a lot to prepare myself and to calm me down. I like that this book is not a tiny book and there are plenty of sample questions.

CJBAT Study Guide – Kayla
They give you plenty of information to prep you on your study skills with plenty of hints. The answers give you a good explanation of why it was that answer to help you understand.
CJBAT Study Guide – Mark
MUCH worth the purchase! I would recommend this book to anyone taking a CJBAT test, it is definitely a pretty well study guide for the basics.
CJBAT Study Guide – Brandon
Mometrix's test preparation guide is by far one of the best books to purchase when studying for the CJBAT. This book is very informative and organized. You won't regret purchasing this great book.
CJBAT Study Guide – Rony
I would like to thank you for the amazing book you guys where you offer great knowledge and experience. It's effective and Affordable. Such a great book.
CJBAT Study Guide – Customer