CHSPE Exam
The California High School Proficiency Exam (CHSPE) was established via California law to allow students to earn the equivalent of a high school diploma. If you are eligible to sit for the CHSPE and pass it successfully, the California State Board of Education will issue you a Certificate of Proficiency. The Certificate of Proficiency is legally equivalent to a high school diploma. Passing the CHSPE is not equivalent to completing the requirements for high school graduation; however, the Certificate of Proficiency awarded subsequent to passing the CHSPE can be used for both federal financial aid, for the purposes of attending college, and federal civilian employment in which a high school diploma is required.
What are the eligibility requirements to take the CHSPE?
In order to sit for the CHSPE, you must be able to demonstrate that you are at least 16 years of age and have been enrolled in the tenth grade for at least one academic year, or plan to complete at least one academic year of tenth grade enrollment at the end of a regular fall or spring administration period. You can demonstrate your eligibility by using one of two methods, either online or by mail:
Method A: submit a document demonstrating your name, birthdate, or grade level, if you are in the eleventh grade or higher

Eligible documents include: a copy of a DMV-issued driver's license; passport; birth certificate; DMV-issued, military-issued, high school/college-issued, or government-issued ID card; Permanent Resident Card, foreign birth certificate, or Consular Report of Birth Abroad; or a school transcript with a school seal.

Method B: submit verification of your eligibility via the School Eligibility Verification Section of the registration form completed by a school principal, vice principal, registrar, counselor, or school administrator identified on an R-4 Private School Affidavit or statement. If you are under the age of sixteen when registering for the CHSPE, you must use Method B.
Check Out Mometrix's CHSPE Study Guide
Get practice questions, video tutorials, and detailed study lessons
Get Your Study Guide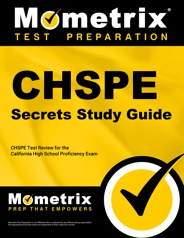 What fees are associated with the CHSPE?
The CHSPE will cost $162 for regular registration; $187 for late registration; and $212 for emergency registration. The CHSPE testing fee is non-refundable and must be submitted as either a bank-issued cashier's check or money order. For those who qualify, there are also foster youth and homeless youth fee waivers available. See the CHSPE website for more information on potential fee waivers.
What does the CHSPE cover?
The CHSPE consists of an English Language Arts section and a Mathematics section. Passing both sections is required in order to pass the CHSPE and receive your Certificate of Proficiency. The content sections, topics, and number of questions per section are as follows:
English Language Arts

Reading Subtest (84 total questions)

Comprehension

Initial Understanding: 10 questions
Interpretation: 20 questions
Critical Analysis: 14 questions
Strategies: 10 questions

Vocabulary

Synonyms: 12 questions
Multiple Meaning Words: 6 questions
Context Clues: 12 questions

Language Subtest (48 total questions, 1 writing task)

Mechanics

Capitalization: 8 questions
Usage: 8 questions
Punctuation: 8 questions

Expressions

Sentence Structure: 10 questions
Prewriting: 5 questions
Content and Organization: 9 questions

Writing: 1 writing task

Mathematics (50 total questions)

Number Sense and Operations: 9 questions
Patterns, Relationships, and Algebra: 15 questions
Data, Statistics, and Probability: 12 questions
Geometry and Measurement: 14 questions
Test Preparation
Now that you have a better understanding of the eligibility requirements, content, and overall structure of the CHSPE, it's time to prepare. The most effective way to ensure you pass the CHSPE and earn your Certificate of Proficiency is by using the most comprehensive test preparation materials you can find. Mometrix Test Preparation's CHSPE Secrets study guide contains everything you need. In the CHSPE Secrets study guide, you get real CHSPE content, as well as expert tips for reducing test anxiety, remembering information, and enhancing test performance. In addition to the CHSPE Secrets study guide, Mometrix has designed a comprehensive CHSPE Practice Test, as well as a complete set of CHSPE Flashcards. Read the CHSPE Secrets study guide, assess your knowledge using the CHSPE Practice Test and CHSPE Flashcards, and earn your California Certificate of Proficiency. Earning your Certificate of Proficiency is the key to your future, so don't delay—let Mometrix Test Preparation help you today.

Check Out Mometrix's CHSPE Flashcards
Get complex subjects broken down into easily understandable concepts
Get Your Flashcards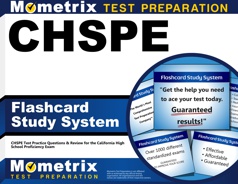 CHSPE Study Guide
Mometrix Academy is a completely free CHSPE test resource provided by Mometrix Test Preparation. If you find benefit from our efforts here, check out our premium quality CHSPE Study Guide and CHSPE Flash Cards to take your studying to the next level. Just click the CHSPE study guide link below. Your purchase also helps us make even more great, free test content for test-takers.
CHSPE Study Guide Customer Success Stories
Our customers love the tutorial videos from Mometrix Academy that we have incorporated into our CHSPE test study guide. The CHSPE study guide reviews below are examples of customer experiences.
I recently purchased this material in preparation for CHSPE Exam and it contains a wealth of useful information to get me ready. The Tips and Techniques will be useful as I prepare for the exam.
CHSPE Study Guide – Mike
My son said he learned more from this book than he did in class. It explained everything well and he passed his CHSPE which is all that matters.
CHSPE Study Guide – Eunice
I purchased the CHSPE SECRETS Study Guide and rate it a 5/5. The information is presented clearly and is easy to understand!
CHSPE Study Guide – John