CFPN Exam
The Certified Foundational Perioperative Nurse (CFPN) credentialing exam by the Competency & Credentialing Institute (CCI) assesses your knowledge and skills in the field of perioperative nursing. The CFPN is a two-year credential geared to early career perioperative nurses with less than 24 months of experience. Obtaining the CFPN credential early in your career allows you to take an active, reflective role in developing your perioperative career.
Eligibility
Before you register for the exam, verify your eligibility. The four requirements of eligibility include a current RN license, completion of a perioperative orientation program including didactic and clinical components, up to 23 months experience in an OR, and a full- or part-time position in perioperative nursing (including nursing education, administration, research, or clinical practice).
The Components of the CFPN Credential
Prepare with our CFPN Study Guide and Practice Questions.
Get practice questions, video tutorials, and detailed study lessons
Get Your Study Guide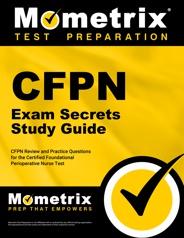 The CFPN consists of four parts: a knowledge-based test, a self-assessment of competency, a competency report, and a reflective learning exercise. After completion of each component, you receive a digital badge. The final digital badge that signifies attainment of the CFPN credential is issued once all four elements are complete.
Component Detail
Knowledge-Based Test (KBT)
When you begin the credentialing process, you will take the KBT first. The KBT is an online exam proctored by PSI Services at a location of your choice. Your 3-month testing window begins the calendar month after your application is approved. To continue to the other three components, you must pass the KBT.
The KBT contains 120 multiple-choice questions, and you have two and a half hours to complete the exam. The computer keeps track of your time. The multiple-choice questions on the CFPN KBT come from seven subject areas:
Pre/postoperative patient assessment and diagnosis – 15%
Individualized plan of care development and expected outcome identification – 8%
Management of intraoperative activities including patient care and safety, and management of personnel, services, and materials – 34%
Communication and documentation – 11%
Infection prevention and control of environment, instrumentation, and supplies – 16%
Emergency situations – 10%
Professional accountabilities – 6%
Your score is shown immediately after the KBT. You either pass or fail the exam. Your pass or fail score is determined by converting the number of correct answers to a scaled score. The scaled score ranges between 200 and 800, with a minimum of 620 required to receive a passing score. It would be best if you answered all questions on the KBT because unanswered questions can affect your final score.
If you need to re-take the exam, you can re-apply the month after your exam. You can take the exam as many times as needed, or until you become eligible to sit for the Certified Perioperative Nurse (CNOR) exam, the Certified Ambulatory Surgery Nurse (CNAMB) exam, or your eligibility for CFPN ends (after 24 months of experience).
Self-Assessment of Competency Activity
CFPN Flashcards. Proven CFPN test flashcards raise your score on the CFPN test. Guaranteed.
Get complex subjects broken down into easily understandable concepts
Get Your Flashcards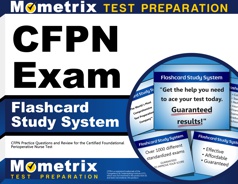 This component uses the Perceived Perioperative Competence Scale-Revised (PPCS-R) instrument. To continue to the next component, you must complete this activity.
There are 40 items in this component that serve as the initial competency assessment. Access the PPCS-R through an invitation sent to your email or through your CCI account. This component is not graded, and at the conclusion, you are sent a report that includes context for your scores in relation to other perioperative nurses.
16pf® Competency Report
This portion of the credentialing process assesses 16 personality factors (16pf®) and five global factors to measure the skills and traits you need to succeed in your nursing career. To continue to the final component, you must complete this activity.
There are 40 items in this component designed to increase your self-awareness through a personality factor assessment. The 16pf® is intended to provide insight into the individual to predict continued professional development and success. Characteristics of 16pf® include:
Identify key personality characteristics that contribute to on-the-job success
Recognize the potential for leadership and preferred leadership style
Identify essential soft skills for competency
The 16pf® is delivered online, in the comfort of your home. There are 155 attitude/behavior statements and a computer-adaptive reasoning section. There is no time limit, but it is estimated that it will take between 30 and 40 minutes to complete. When you complete this component, you receive a competency report with interpretive information and professional development tips.
Reflective Learning Exercise
The final component of the CFPN credential is a reflective learning exercise to develop a personal career development plan for the duration of the CFPN credential. The reflective exercise allows you to envision your path to your next CCI credential – CNOR or CNAMB. Your exercise is graded with a scoring rubric and the results or pass or fail. Access this final portion of your certification process through your CCI account.
Registration and cost
After determining that you are eligible to sit for the CFPN credential, create an account using the CCI website and follow the directions to apply for the CFPN. You are eligible to take the KBT the calendar month after your application is approved. The certification fee is $195.00, payable by a major credit card.
Once your payment is received, you can schedule your remote secure proctored exam. You have a 3-month window to schedule your appointment. If you fail to register within your testing window, you have to re-apply and forfeit your registration fee. Appointments are made on a first-come, first-serve basis so schedule your exam as soon as possible. Testing can be scheduled online 24 hours a day, seven days a week, and by phone during the posted business hours.
Preparation
The CFPN allows you to validate the basic knowledge of perioperative practice and develop a clear path to further credentialing. Mometrix Test Preparation gives you an edge through their test preparation tools. Invest in your future today!