The Certified Dental Assistant Exam is a content-driven test designed to measure a candidate's command of the skills and knowledge in all aspects of dental assisting. The test leads to a certification that is required by many employers and, where it is not required, helps an applicant stand out.
Click "Start Test" above to take a free CDA practice test!
CDA Exam Eligibility
There are three paths you can take to be eligible for the CDA exam.
You have graduated from a CODA (Commission on Dental Accreditation) accredited dental assisting or dental hygiene program and you have a current CPR certification from a DANB-accepted provider.
You have a high school diploma (or equivalent), a minimum of 3,500 hours of relevant work experience, and a current CPR certification from a DANB-accepted provider.
You were formerly certified through DANB OR you graduated from a CODA-accredited Doctor of Dental Surgery (DDS) program or a Doctor of Medicine in Dentistry (DMD) program OR you graduated from a similar degree program outside the US/Canada. You also need a current CPR certification from a DANB-accepted provider.
CDA Exam Outline
The DANB CDA exam is comprised of the General Chairside Assisting (GC), Infection Control (ICE), and Radiation Health and Safety (RHS) exams taken together. To gain CDA certification, you will need to pass all three exams.
All of the questions are multiple-choice, and the combined total number of questions is 255. The overall time limit for the exam is 195 minutes.
The CDA is computer-adaptive, which means the computer identifies your strengths and weaknesses and selects questions to fit you personally.
General Chairside Assisting (95 questions)
You will have 75 minutes to complete the 95 multiple-choice questions on this exam. Here is a look at the topics the GC exam covers:
Evaluation (17%)
Patient Management and Administration (17%)
Chairside Dentistry (50%)
Dental Materials (16%)
Infection Control (80 questions)
You will have 1 hour to complete the 80 multiple-choice questions on this exam. Here is a look at the topics the ICE exam covers:
Prevention of Disease Transmission (20%)
Prevention of Cross-contamination (34%)
Process Instruments and Devices (26%)
Occupational Safety and Administration Protocols (20%)
Radiation Health and Safety (80 questions)
You will have 1 hour to complete the 80 multiple-choice questions on this exam. Here is a look at the topics the RHS exam covers:
Purpose and Technique (50%)
Radiation Safety (25%)
Infection Prevention and Control (25%)
Check Out Mometrix's CDA Study Guide
Get practice questions, video tutorials, and detailed study lessons
Get Your Study Guide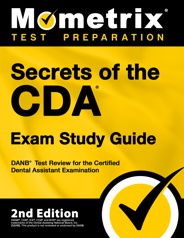 How Computer-Adaptive Testing Works
Because the CDA exam is computer-adaptive, the difficulty of the exams may increase or decrease as you go on, depending on your performance.
Here's a look at how it works:


The first question is judged to be of medium difficulty, and depending on your performance, the next question may be easier or harder. If you do well on the first question, the second question will be harder; conversely, if you do poorly on the first question, the second question will be easy.
Of course, the algorithm for doing well or poorly is a little imprecise, but suffice it to say that the fewer questions you miss, the more likely you are to get more difficult questions.
CDA Exam Registration
Before you can fully register to take the exam, you will need to send DANB all of the necessary documents outlined in the Eligibility section above. You will also need to send a $75 application fee. The best way to send your application is online.
Once your application has been approved, you will receive an email with an authorization to test. Once this authorization is received, you have 60 days to send the $450 exam fee and take the exam.
Test Day
There are two methods available for testing: in-person or remote.
In-person Testing
You should arrive at least 15 minutes before your appointment so that you can check in. For checking in, be prepared to present a valid photo ID with the same name that you used to register for the exam.
All three components will be administered via computer, and all the materials that you will need for the test will be provided for you, including scratch paper.
Remote Testing
You should plan to begin the check-in process 15-30 minutes before the scheduled exam time. The check-in process involves running a system test, signing a Non-Disclosure Agreement (NDA), and providing the proctor with your phone number in case they need to contact you. You will also be asked to provide a valid photo ID with a name that matches the name you registered with. Lastly, you will be asked to take photos of your room to ensure no prohibited items are present.
How the DANB CDA Exam is Scored
There is no official passing score for the exam, but the Dental Assisting National Board says that the average candidate will answer a little over 50% correctly.
Your final scores will be posted on your DANB account and will be mailed to you within 2-4 weeks after completing the exam.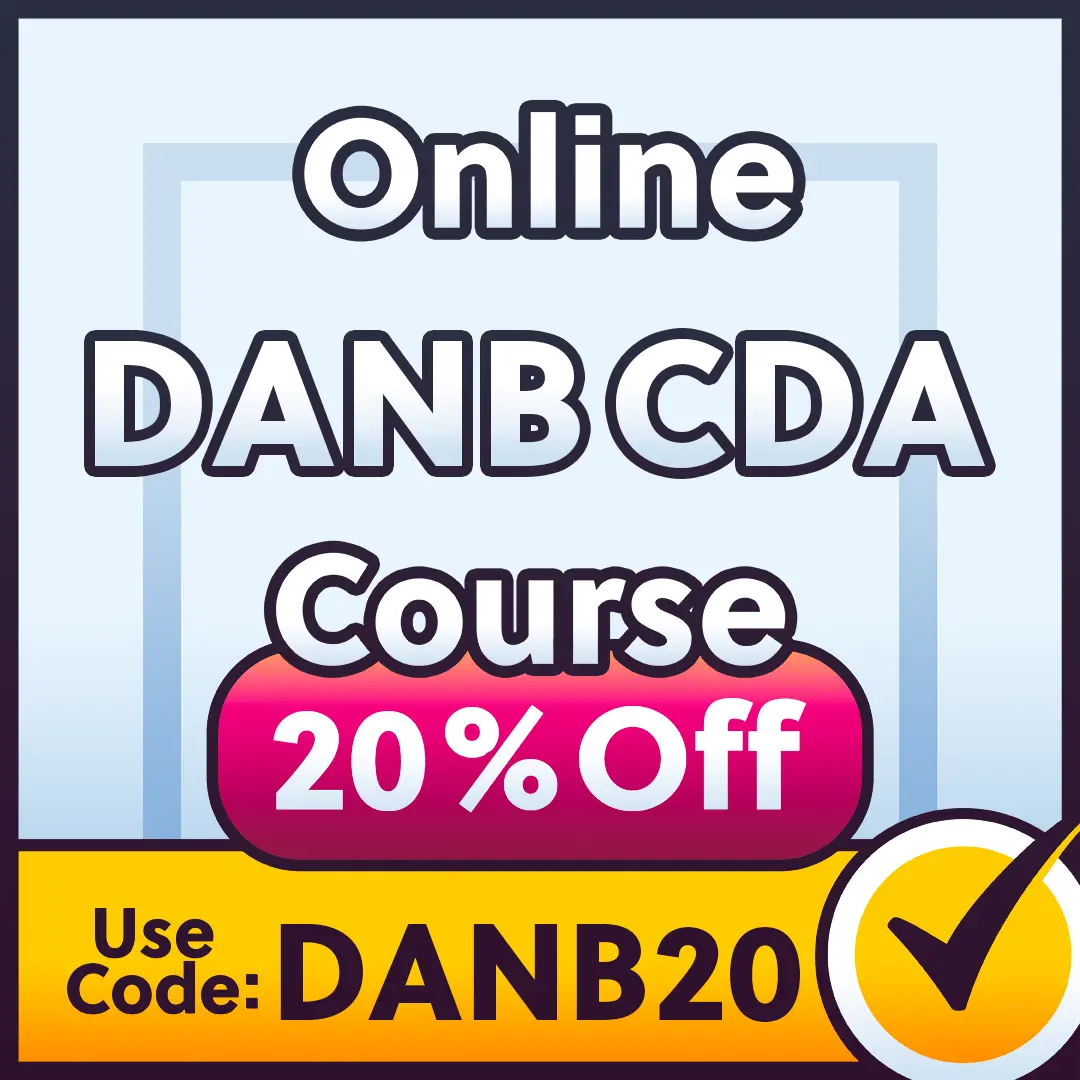 Online DANB CDA Prep Course
If you want to be fully prepared, Mometrix offers an online DANB CDA prep course. The course is designed to provide you with any and every resource you might want while studying. The DANB CDA course includes:
90 Review Lessons Covering Every Topic
750+ DANB CDA Practice Questions
More than 850 Digital Flashcards
Money-back Guarantee
Free Mobile Access
and More!
The DANB CDA prep course is designed to help any learner get everything they need to prepare for their DANB CDA exam. Click below to check it out!
Check Out Mometrix's CDA Flashcards
Get complex subjects broken down into easily understandable concepts
Get Your Flashcards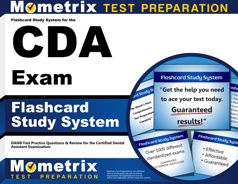 How to Study for the CDA Exam
How to Study Effectively
Your success on CDA test day depends not only on how many hours you put into preparing but also on whether you prepared the right way. It's good to check along the way to see whether your studying is paying off. One of the most effective ways to do this is by taking CDA practice tests to evaluate your progress. Practice tests are useful because they show exactly where you need to improve. Every time you take a free CDA exam practice test, pay special attention to these three groups of questions:
The questions you got wrong
The ones you had to guess on, even if you guessed right
The ones you found difficult or slow to work through
This will show you exactly what your weak areas are and where you need to devote more study time. Ask yourself why each of these questions gave you trouble. Was it because you didn't understand the material? Was it because you didn't remember the vocabulary? Do you need more repetitions on this type of question to build speed and confidence? Dig into those questions and figure out how you can strengthen your weak areas as you go back to review the material.
Answer Explanations
Additionally, many CDA practice tests have a section explaining the answer choices. It can be tempting to read the explanation and think that you now have a good understanding of the concept. However, an explanation likely only covers part of the question's broader context. Even if the explanation makes sense, go back and investigate every concept related to the question until you're positive you have a thorough understanding.
Comprehend Each Topic
As you go along, keep in mind that the CDA practice test is just that: practice. Memorizing these questions and answers will not be very helpful on the actual test because it is unlikely to have any of the same exact questions. If you only know the right answers to the sample questions, you won't be prepared for the real thing. Study the concepts until you understand them fully, and then you'll be able to answer any question that shows up on the test.
Strategy for CDA Practice
When you're ready to start taking practice tests, follow this strategy:
Remove Limitations. Take the first test with no time constraints and with your notes and CDA study guide handy. Take your time and focus on applying the strategies you've learned.
Time Yourself. Take the second practice test "open book" as well, but set a timer and practice pacing yourself to finish in time.
Simulate Test Day. Take any other practice tests as if it were test day. Set a timer and put away your study materials. Sit at a table or desk in a quiet room, imagine yourself at the testing center, and answer questions as quickly and accurately as possible.
Keep Practicing. Keep taking practice tests on a regular basis until you run out of practice tests or it's time for the actual test. Your mind will be ready for the schedule and stress of test day, and you'll be able to focus on recalling the material you've learned.
FAQs
Q
How many questions are on the DANB CDA exam?
A
There are 255 questions on the exam.
Q
How long is the DANB CDA exam?
A
This exam is timed at 195 minutes in total.
Q
What is a passing score for the DANB CDA exam?
A
There is no set passing score for the exam, but answering at least 50% of questions correctly is suggested.
Q
How much does the DANB CDA exam cost?
A
The exam costs $450, not including a $75 application fee.