California POST Practice Test
If you are applying to law enforcement or if you are in law enforcement in the state of California, you may be required to take the California POST exam. The California POST exam is used to measure the reading and writing skills of those who want to become peace officers. Preparation is the most important key to success on the California POST.
So, be sure to check out our California POST practice test to gauge your ability and see where you stand! Also, it is very important to know the format and rules for the test in order to succeed. The testing time limit is two-and-a-half hours, and the POST test contains 121 questions.
The questions are both multiple-choice and fill-in-the-blank (CLOZE). The CLOZE section is a contextual reading assessment. You are given sentences in which one word is left out. In that space, there are a certain number of dashes that tells you how many letters can be used on the word you fill the gap with. The word you choose must match the number of dashes as well as fit in the sentence conceptually for it to be correct. For this reason, there may be multiple answers for one sentence.
Check Out Mometrix's California POST Study Guide
Get practice questions, video tutorials, and detailed study lessons
Get Your Study Guide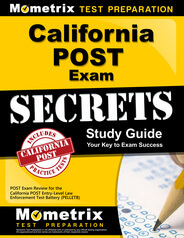 For example, you may see: "The driver was hurt when his 1) _ _ _ crashed into a tree." Upon looking at it, you can see that both car and bus can be used because they both fit with the context and both are three letters long. Therefore, both answers would be accepted as correct. The scoring of the exam is based on a curve (a bell-curve). This bell curve measures your test performance compared to others that have taken the exam. A score of 50 is considered "average". "Below average" scores are 40 and under, and "above average" scores are 60 and above. As important as this test is, you want to be as prepared as you can possibly be, so check out our free Ca. POST practice test. It will test you in all the knowledge domains you will see on the exam. The knowledge domains that are covered are: Writing Clarity, Spelling, and Vocabulary, Reading Comprehension, CLOZE, and Reasoning Ability. Check out some sample practice questions that you would see on our California POST practice test below!
California POST Study Guide
Mometrix Academy is a completely free resource provided by Mometrix Test Preparation. If you find benefit from our efforts here, check out our premium quality California POST study guide to take your studying to the next level. Your purchase also helps us make even more great, free content for test-takers.