The American Registry for Diagnostic Medical Sonography (ARDMS) administers the Sonography Principles and Instrumentation (SPI) examination. The SPI exam tests a candidate's knowledge, skills, and abilities in physical principles and instrumentation essential for sonography students and professionals.
Click "Start Test" above to take a free ARDMS SPI practice test, and check out our premium-quality ARDMS SPI test prep resources by clicking the links below!
ARDMS SPI Exam Eligibility
To apply for the SPI exam, you must have completed a physics class or a physics review course.
To prove eligibility, you will need to submit a copy of your transcript that identifies a graded general, medical, or sonographic college, post-secondary, or higher-education physics class with a grade of C or above. In place of a school transcript, you can present a Continuing Medical Education (CME) certificate indicating successful completion of a general, medical, or sonographic physics seminar or review course with a minimum award of 12 ARDMS-accepted CME credits.
ARDMS SPI Exam Outline
The Sonography Principles and Instrumentation exam contains 110 multiple-choice questions, and you will be given a time limit of 2 hours.
The exam is split into five domains, each of which assesses your knowledge, skills, and abilities.
1. Perform Ultrasound Examinations (23%)
SKILLS/ABILITIES
Reviewing medical/surgical history
Correcting imaging artifacts
KNOWLEDGE
Contrast agents
Ergonomics
Established imaging protocols
General patient care standards
Interaction of sound and matter
Tissue density, penetration, and depth
The metric system of measurement
Ultrasound limitations
Confidentiality and privacy guidelines
2. Manage Ultrasound Transducers (7%)
SKILLS/ABILITIES
Using different transducers
KNOWLEDGE
The components of a transducer
Frequency relationship in the selection of appropriate transducer
3. Optimize Sonographic Images (26%)
SKILLS/ABILITIES
Optimizing an image beyond the scan preset
KNOWLEDGE
Frequency, PRF, PRP, and pulse duration
Pre- and post-processing techniques
The principles of 2D imaging
Sector widths
The concepts of scan lines, line density, frames, and frame rate
4. Apply Doppler Concepts (34%)
SKILLS/ABILITIES
optimizing an image in 2D color and Doppler
Interpreting Doppler colors
Identifying imaging artifacts
KNOWLEDGE
Doppler angle
Doppler effect
Doppler shift
Hemodynamic principles
Low flow areas
5. Provide Clinical Safety and Quality Assurance (10%)
KNOWLEDGE
Check Out Mometrix's ARDMS SPI Study Guide
Get practice questions, video tutorials, and detailed study lessons
Get Your Study Guide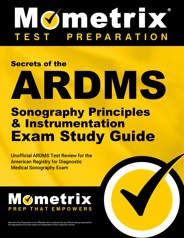 ARDMS SPI Exam Registration
To apply for the SPI exam, visit the ARDMS website and create an account. Once your account is created, you have 21 days to submit your application.
When you are ready to apply, select the "SPI Examination Requirement" pathway. Complete the application, upload your supporting documentation, pay the $225 exam fee, and submit your application.
In about ten days, ARDMS sends an email notification of the status of your application. The email will either be an Examination Confirmation Letter (ECL) or a request for additional information. The ECL includes details on scheduling your SPI exam at a PearsonVUE testing center or via remote proctor. You have 90 days from the date of the email to schedule and take your exam.
If you are found ineligible to test, your application fee, minus a $100 processing fee, is returned to you.
Scheduling Your Exam
The SPI exam is offered nationwide at PearsonVUE testing centers and select international testing centers. The exam is also offered via online proctoring through OnVUE by PearsonVUE.
To register for the exam at a testing center or by a remote proctor, you must first create an account with PearsonVUE. Once you are in your account, follow the instructions in your ECL to register for the exam. After you have scheduled your exam, PearsonVUE will send a confirmation email. Read the email closely and verify that you are scheduled for the correct date, location (center or online), time, and time zone. If any information is incorrect, contact PearsonVUE immediately.
Testing Centers in the US, Canada, and Mexico
If you are taking the exam in the United States, Canada, or Mexico, you will need to select the test date and location and schedule your exam. The SPI exam is offered year-round, and most testing centers offer the exam six days a week, holidays excepted.
International Testing Centers
International testing center appointments vary by location and often have limited test-delivery windows. When you schedule your exam at an international location, some additional fees and taxes are collected by PearsonVUE. The international fee is $50 plus value-added tax (VAT). International fees are subject to change and are non-refundable.
Online Proctoring
Before you schedule an online exam, ensure you can meet the system and testing space requirements.
System requirements include:
A reliable internet connection of 6 Mbps down and 3 Mbps up
A minimum of Windows 10 or macO.S 10.15
At least 4 GB of RAM
A functioning webcam and microphone
The most recent version of Microsoft Edge, Safari, Chrome, or Firefox
Use the system check on the computer you will use for the exam. The system check is available on the PearsonVUE website and will confirm if your system meets the requirements.
Test space requirements include a quiet, secure space free from distractions and interruptions. Your testing space must be free from people coming and going, and any décor on the walls cannot be relevant to the test content.
Once you confirm that you meet the requirements, you can schedule your online exam.
Test Day
Your experience on test day will differ slightly depending on the testing method, but the basic check-in procedures are the same. You should arrive early for your appointment and immediately check in with the test administrator. During your check-in, you will be asked to present valid photo identification and take a test-day photograph.
In-person Testing
We recommend you check in for your appointment 15-30 minutes before the scheduled exam time. In addition to the check-in process listed above, your palm vein will be scanned.
You cannot take anything into the testing center, so either secure the items in the provided locker or leave them at home or in your car. The administrator will provide a whiteboard and marker for notes upon request.
You may take unscheduled breaks during the exam, but you cannot add more time to your test. Any time spent not on the exam is time lost.
Online Testing
Between 15 and 30 minutes before your appointment time, you will need to sign in to OnVUE. Log in to your PearsonVUE account, select the SPI exam from the list, and then download and run the OnVUE system software. The download process can take up to 30 minutes. Once the download has been completed, follow these steps to check in for your exam:
Run a system test (this can take five to ten minutes)
Take a selfie and a photo of your ID with your cellphone
Prepare your testing area by unplugging monitors, clearing your desk, and taking pictures of your space
A proctor will review your picture, verify your ID, and check the images of your testing area. You are required to provide the proctor with your phone number, which will only be used to contact you if there are questions. Generally, the review process occurs while you wait.
After your check-in is approved, a proctor will connect with you and launch your exam for you. The proctor will monitor you throughout the test via your web camera and microphone.
You are allowed water in a clear glass in your testing space. A digital whiteboard is provided for note-taking; scratch paper is not permitted. Communicate with the proctor via the chat box and remain in your chair for the exam duration. Breaks are not allowed during the exam; if you leave your chair, your exam is canceled.
How the ARDMS SPI Exam is Scored
The SPI Exam is a pass/fail exam. Your raw score (the total number of correct questions) is converted to a scaled score. The scaled score ranges from 300 to 700, and the minimum passing scaled score is 555.
Your pass or fail status is available the same day for testing center exams and online proctoring. There is some slight variation in availability based on the test delivery method.
In-person Testing
When you complete the exam, the test administrator will print your score report and give it to you before you leave the testing center. Your results are posted to your ARDMS account within a week.
Online Testing
Your score report is available in your ARDMS account within one hour of completing the exam.
Retaking the ARDMS SPI Exam
If you do not pass the exam, you can reapply three days after the exam. However, you have to wait 60 days before you can sit for the retest. You will need to complete the application and submit the payment to register for the exam. There is no discount for retests.
Check Out Mometrix's ARDMS SPI Flashcards
Get complex subjects broken down into easily understandable concepts
Get Your Flashcards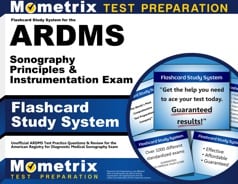 How to Study for the SPI Exam
How to Study Effectively
Your success on SPI test day depends not only on how many hours you put into preparing but also on whether you prepared the right way. It's good to check along the way to see whether your studying is paying off. One of the most effective ways to do this is by taking SPI practice tests to evaluate your progress. Practice tests are useful because they show exactly where you need to improve. Every time you take a free SPI exam practice test, pay special attention to these three groups of questions:
The questions you got wrong
The ones you had to guess on, even if you guessed right
The ones you found difficult or slow to work through
This will show you exactly what your weak areas are and where you need to devote more study time. Ask yourself why each of these questions gave you trouble. Was it because you didn't understand the material? Was it because you didn't remember the vocabulary? Do you need more repetitions on this type of question to build speed and confidence? Dig into those questions and figure out how you can strengthen your weak areas as you go back to review the material.
Answer Explanations
Additionally, many SPI practice tests have a section explaining the answer choices. It can be tempting to read the explanation and think that you now have a good understanding of the concept. However, an explanation likely only covers part of the question's broader context. Even if the explanation makes sense, go back and investigate every concept related to the question until you're positive you have a thorough understanding.
Comprehend Each Topic
As you go along, keep in mind that the SPI practice test is just that: practice. Memorizing these questions and answers will not be very helpful on the actual test because it is unlikely to have any of the same exact questions. If you only know the right answers to the sample questions, you won't be prepared for the real thing. Study the concepts until you understand them fully, and then you'll be able to answer any question that shows up on the test.
Strategy for SPI Practice
When you're ready to start taking practice tests, follow this strategy:
Remove Limitations. Take the first test with no time constraints and with your notes and SPI study guide handy. Take your time and focus on applying the strategies you've learned.
Time Yourself. Take the second practice test "open book" as well, but set a timer and practice pacing yourself to finish in time.
Simulate Test Day. Take any other practice tests as if it were test day. Set a timer and put away your study materials. Sit at a table or desk in a quiet room, imagine yourself at the testing center, and answer questions as quickly and accurately as possible.
Keep Practicing. Keep taking practice tests on a regular basis until you run out of practice tests or it's time for the actual test. Your mind will be ready for the schedule and stress of test day, and you'll be able to focus on recalling the material you've learned.
FAQs
How many questions are on the SPI exam?
There are 110 multiple-choice questions on the exam.
How long is the SPI exam?
The exam is timed at 2 hours.
What is a passing score on the SPI exam?
To pass the SPI exam, you must achieve a scaled score of 555.
What is the SPI exam pass rate?
The pass rate for the SPI exam is 60%, according to ARDMS data from a 2021 report.
How much does the SPI exam cost?
The cost of the exam is $225.