aPHR Certification Exam
The Associate Professional in Human Resources (aPHR) certification is the latest certification offered by the HR Certification Institute. Introduced in 2017, the certification is designed for individuals beginning a career in human resources (HR) or non-HR professionals who manage people. The certification proves your knowledge of the foundational human resource elements and is a valuable tool to transition into entry-level HR positions.
Eligibility
The aPHR certification is a knowledge-based credential. HR experience is not required.
Registration
The aPHR certification is computer-delivered at Pearson-VUE test centers worldwide or home using an online proctoring program, OnVUE. The test is available year-round, subject to testing center or online appointment availability. Online testing may not be available in all areas—you can verify if the online version is available at your location at the Pearson-VUE website.
If you want to purchase Second Chance Insurance (SCI), select the option before submitting your application. To register for the aPHR exam, create an account at the HR Certification Institute's website and select the aPHR certification exam. Once you affirm your information is accurate, submit your application and payment.
Second Chance Insurance allows you to pre-purchase a retake of the aPHR exam should you not receive a passing score. SCI is only available at registration and payment for the exam.
Processing your application takes between one and ten business days. When you receive your approval email, you have 180 days from the date of approval to schedule your exam with Pearson-VUE.
aPHR Fees
The exam fee is $300.00 plus an application fee of $100.00. Once your application is approved, neither the exam fee nor the application fee is refundable. The SCI fee is $250.00 and is payable at registration. The SCI fee is not refundable, whether you use the second exam option or not.
Check Out Mometrix's aPHR Study Guide
(2022-2023)
Get practice questions, video tutorials, and detailed study lessons
Get Your Study Guide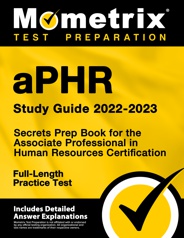 Should you need to change or cancel your exam, the fee is $150.00. You can change or cancel your exam up to three days before your scheduled testing appointment. Remember, all payments are non-refundable. If you cancel your exam, all fees are forfeited, and you will pay an additional $150.00.
All fees are payable by Visa, MasterCard, American Express, money order, certified or cashier's check, or company/organization check. Cash and personal checks are not accepted. Your application cannot be reviewed for approval until all fees have been received and processed.
Exam Design
The aPHR is a computer-based test consisting of 125 multiple-choice questions. Each question is based on one of the following cognitive levels:
Knowledge/comprehension – evaluates your ability to recall factual material, including definitions and terms.
Application/problem-solving – evaluates your ability to apply familiar principles to solve real-life problems.
Synthesis/evaluation – evaluates your ability to combine different elements using critical thinking skills to solve complex problems.
The exam is divided into five functional areas representing foundational human resources knowledge. The five areas include:
Talent Acquisition – 19%. Questions in this section examine your fundamental understanding of the aspects of talent acquisition, including planning, sourcing, recruiting, screening, selection, hiring, and onboarding of new hires.
Learning and Development – 15%. In this section, your ability to assess the organization's needs is evaluated. Questions evaluate your understanding of the techniques and methods used to deliver effective training programs that provide employees with the tools, skills, and knowledge to align with current and future organizational goals.
Compensation and Benefits – 17%. A rewards package is a valuable tool in recruiting talent to your organization. Questions in this section evaluate your knowledge of using a rewards package that includes compensation, benefits programs, retirement planning, and their use to support organizational competitiveness.
Check Out Mometrix's aPHR Flashcards
Get complex subjects broken down into easily understandable concepts
Get Your Flashcards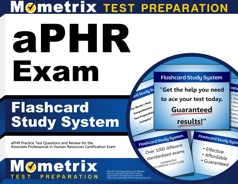 Employee Relations – 24%. An effective HR manager understands the methods organizations utilize to monitor and address employee morale, performance, and retention while balancing the organization's operational needs. Questions in this area of focus assess your ability to recognize the needs of the individual while ensuring functional requirements are met.
Compliance and Risk Management – 25%. Compliance and risk management questions focus on the laws, regulations, policies, and the education an organization uses to identify, mitigate, and respond to organizational risk. Additionally, your knowledge of records management, storage, and retention regulations and reporting requirements are evaluated.
Scoring
Your unofficial results are provided after you complete the exam. Your official score report is available within 24 to 48 hours. When your results are ready, you will receive an email. The aPHR exam is scored on a scale of 100 to 700, and the passing score is 500. Your score report includes your performance on each functional area, which indicates your strengths and weaknesses across the functional areas. You can use this report for further study if you need to retake the exam.
Retaking the aPHR Exam
If needed, you can retake the exam after waiting 90 days. If you purchased SCI, you have 180 days to schedule your retake after the 90-day waiting period—an email notification is sent when you are within the rescheduling window. If you did not purchase SCI, you have to go through the application and payment process from the beginning after waiting 90 days. You can take the exam no more than three times in a consecutive 365-day period.
Studying for the aPHR Certification
Mometrix Test Preparation can help you achieve your goal of becoming an HR professional with study guides, flashcards, and online videos. The aPHR certification is an excellent tool to demonstrate your functional knowledge of human resources practices. The exam is neither easy nor inexpensive, so you want to make sure your effort pays off on your first attempt. Make your first step to an exciting career in HR productive—check out Mometrix Test Preparation today!