aPHR Practice Test
The Associate Professional in Human Resources (aPHR) certification exam is accredited through the National Commission for Certifying Agencies (NCCA) and provided by the Human Resources Certification Institute (HRCI). The aPHR exam is designed for human resources professionals just beginning their careers and non-HR managers.
About the Exam
The aPHR exam contains 90 questions, 25 of which are unscored, and you will be given a time limit of 1 hour and 45 minutes. The unscored questions are called "pretest" questions and are used to evaluate the validity of questions for future exams.
Most questions on the exam are multiple-choice, but some questions will fall under one of the following question types:
Multiple-response: Choose two or more correct answers.
Fill-in-the-blank: Provide a word or phrase that completes a given sentence.
Drag-and-drop: Drag pieces of information to the correct position/order.
All questions on the exam are based on any one of the following cognitive levels:
Knowledge/Comprehension: Your ability to recall factual material, including definitions and terms
Application/Problem-solving: Your ability to apply familiar principles to solve real-life problems
Synthesis/Evaluation: Your ability to combine different elements using critical thinking skills to solve complex problems
Exam Outline Review
The aPHR exam is split into five functional areas.
1. Talent Acquisition (19%)
Questions in this section examine your fundamental understanding of the aspects of talent acquisition, including planning, sourcing, recruiting, screening, selection, hiring, and onboarding of new hires.
2. Learning and Development (15%)
In this section, your ability to assess the organization's needs is evaluated. Questions evaluate your understanding of the techniques and methods used to deliver effective training programs that provide employees with the tools, skills, and knowledge to align with current and future organizational goals.
3. Compensation and Benefits (17%)
A rewards package is a valuable tool in recruiting talent to your organization. Questions in this section evaluate your knowledge of using a rewards package that includes compensation, benefits programs, retirement planning, and their use to support organizational competitiveness.
4. Employee Relations (24%)
An effective HR manager understands the methods organizations utilize to monitor and address employee morale, performance, and retention while balancing the organization's operational needs. Questions in this area of focus assess your ability to recognize the needs of the individual while ensuring functional requirements are met.
5. Compliance and Risk Managment (25%)
Compliance and risk management questions focus on the laws, regulations, policies, and education an organization uses to identify, mitigate, and respond to organizational risk. Additionally, your knowledge of records management, storage, and retention regulations and reporting requirements is evaluated.
Check Out Mometrix's aPHR Study Guide
Get practice questions, video tutorials, and detailed study lessons
Get Your Study Guide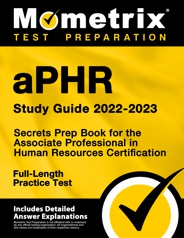 Application and Registration
Application
To register for the aPHR exam, you must make an account on the HRCI website. The name on your HRCI account and the name you use to register for the exam must match. When registering with HRCI, make sure you use the full legal name found on your government-issued identification.
Through your HRCI account, complete your application for the exam and pay the $300 exam fee and $100 application fee. Payment is accepted by credit or debit card, money order, certified check, cashier's check, and company or organization check. Payment must be in U.S. dollars and must be received before your application is processed and approved.
You can complete the application online or by mail. To complete the application by mail, you must complete the initial application online and then mail in your exam and application fee. Your application is processed once your payment is received.
Within one business day, HRCI sends you a confirmation email indicating that your payment was received. You will receive another email notification with the status of your application: approved, needing more information, or selected for audit. Once your application is approved, HRCI sends a confirmation email with instructions to schedule your exam within 180 days from receipt of the email.
If you require testing accommodations, your application must include your request. If you have no issues with your application, you should receive approval to test within one business day. If you need testing accommodation or your application is selected for audit, you should obtain permission to test within ten business days.
Registration
Pearson Vue is the authorized test provider for the aPHR exam. The exam is delivered at Pearson VUE testing centers or by OnVUE online proctoring. If the aPHR is available in your area for remote delivery, registration information will be noted in your confirmation email.
Through the Pearson VUE website, select your exam date and location. Select your preferred date if the remote option is available and you want to take the exam from home. After you have selected your delivery method, test date, and test time, Pearson VUE sends a confirmation email. Be sure to review the information in the confirmation email for accuracy. Bring the confirmation email to the testing center, or print it and have it available if you take the exam from home.
In-person Testing
The exams are offered at testing centers located nationwide and internationally. Most centers provide the exam six days a week, holidays excepted, and test appointments are available on a first-come, first-served basis. When you select your test date and time, you will be asked to choose a second and third appointment date and time, just in case your preferred options are not available.
Remote Testing
Before registering for the remote testing option, run the system check found on the Pearson VUE website to ensure your system meets the minimum requirements. If your technology and testing space meet the requirements and the remote test is available, select your examination date and register for the exam. In most instances, the remote test is available 24 hours a day, seven days a week.
Cancellation/Rescheduling
Your exam fees are non-refundable. If you decide to cancel your exam and not reschedule it, you will not receive a refund.
If you need to reschedule your exam appointment, you can do so at least 48 hours before and within your original 180-day eligibility period. Whether you reschedule an on-site or remote proctored exam, there is a $150 rescheduling fee.
When you successfully reschedule your exam, you will receive an email notification confirming your new appointment date, time, and location (if applicable).
Test Day
On the day of your exam, you must have one piece of government-issued, valid ID with a signature and a recent photograph. Resource materials, calculators, food and drink, and cell phones are not permitted in the testing center or at your desk if testing from home.
Testing procedures vary slightly between the on-site delivery and remote delivery methods. Your exam appointment time will be two hours and 15 minutes, including the time for the test and the test administration procedures.
In-person Testing
Arrive at the testing center 15 minutes before your exam appointment. After storing your belongings in a locker, the facilitator will verify your ID and take your photo and digital signature. Your digital signature must match the signature on your ID.
You will become familiar with the equipment at your testing station through a short, on-screen tutorial. Scratch paper is not allowed, and an on-screen calculator is available.
You can take breaks as needed, but know that your time on break counts against your allotted testing time. If you do take a break during your exam, you cannot refer to any reference materials or use your mobile device.
Additionally, you must refrain from speaking to other test-takers or asking questions about the exam to the test facilitator. Deviation from the rules could result in your exam being canceled.
Remote Testing
You can start the check-in process up to 30 minutes before your testing appointment. Before signing in, turn off any pop-up browser blockers and download the testing software. To run the software and begin your exam, sign in to your HRCI account, which will then sign you on to the Pearson VUE system. From this point, conduct a system test and connect with your assigned proctor. The proctor will verify your identity using your government-issued, valid ID.
The proctor will inspect your testing space through the webcam. Follow their directions to rotate the camera to show the entire area. Additional monitors must be turned off, and you must close non-essential applications like email, Facebook, and chat.
Once your exam begins, you cannot leave the webcam view, take breaks, talk to yourself, or have wandering eyes. Your focus must be on the computer monitor, and other people must be out of your testing space while you take the exam. Should the proctor determine that you are not following the guidelines for remote proctoring, your exam can be canceled, and your registration fees forfeited.
How the Exam is Scored
The aPHR exam is scored on a scale of 100 to 700. The minimum score needed to demonstrate mastery of foundational HR principles is 500.
If you took the exam at a testing center, you would receive your preliminary score report before you leave the testing center, and your official score report will be emailed to you within 24 to 48 hours. If you took the exam through the remote proctor option, you do not receive a preliminary report. However, you will receive your official score report in an email within 24 to 48 hours.
Retaking the Exam
If you did not pass the aPHR, you can retake the exam. To do so, you must reapply and pay the registration and application fees.
HRCI offers Second Chance Insurance (SCI) for $250, but it must be purchased when you apply for the exam the first time. The insurance cost is not refunded if you purchase SCI and do not need to retake the exam.
Check Out Mometrix's aPHR Flashcards
Get complex subjects broken down into easily understandable concepts
Get Your Flashcards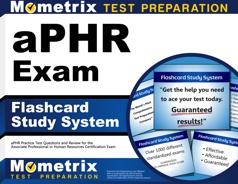 FAQs
Is the aPHR exam difficult?
Yes, the aPHR exam is generally considered to be a difficult exam to pass.
How many questions are on the aPHR exam?
There are 90 questions on the exam, 25 of which are unscored.
How long is the aPHR exam?
The time limit for this exam is 1 hour and 45 minutes.
How much does the aPHR exam cost?
The combined application and examination fee for the exam is $400.
What is the passing score for the aPHR exam?
To pass the exam, you must achieve a scaled score of 500.