Advanced EMT Exam
This is a resource to help you prepare for the Advanced EMT course, covering required prerequisites, what to expect during your exam, plus other information to help prepare for success.
Exam Background
The Advanced EMT exam is part of a national, standardized certification process awarded from the National Registry of Emergency Medical Technicians. By successfully completing the exam, you have the knowledge and skills needed to enter an Advanced EMT position.
Prerequisites and Exam Eligibility
To be eligible to take the Advanced EMT exam, you must:
Be at least 18 years old.
Hold a license from your state at the EMT level (or higher) and also hold a current National Registry certification (NREMT).
Have completed a state-approved Advanced Emergency Medical Technician (AEMT) course of study that either meets or exceeds the National Emergency Medical Services Education Standards for the Advanced Emergency Medical Technician. Note: You must have finished this course within the past 24 months, and the course program director must verify successful course completion on the National Registry website.
Have a current CPR-BLS "Healthcare Provider" or equivalent credential.
Have successfully completed the National Registry cognitive (knowledge) and psychomotor (skills) exams. Note: Once an exam is passed, it stays in effect for 12 months.
Check Out Mometrix's Advanced EMT Study Guide
Get practice questions, video tutorials, and detailed study lessons
Get Your Study Guide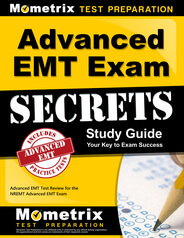 Applying for the Exam
Your application can be completed at www.nremt.org. You'll be asked to complete your National Registry application. Once you pay your registration fee, you'll get an electronic Authorization to Test (ATT) to confirm your eligibility.
Costs/Payment Options
The cost to take the exam is $115. The fee is non-refundable and cannot be transferred.
Exam Times/Locations
Once you receive your ATT following registration, you'll receive more information on setting up your exam time and location.
Test Duration
You'll have 2 hours and 15 minutes to complete the exam.
What to Bring
Two forms of identification as covered in your ATT.
What Not to Bring
Personal items such as:

Mobile electronic devices
Watches
Wallets
Purses
Firearms or other weapons
Hats and other non-religious head coverings
Bags
Jackets
Notes
Pens or pencils
What to Expect During Your Advanced EMT Exam
Format/Number of Questions: The test is computer-based, and consists of 135 questions.
Exam Content Areas
The Advanced EMT exam consists of two areas, including the Cognitive Exam and the Psychomotor Exam.
The Cognitive Exam
In general, the Cognitive Exam looks at five broad content areas. Here's an overview of those areas, along with the relative percentage each area has as part of the whole, along with the weight of adult- and pediatric-related questions:
Airway, Respiration & Ventilation (18% to 22%) with 85% Adult and 15% Pediatric
Cardiology & Resuscitation (21% to 25%) with 85% Adult and 15% Pediatric
Trauma (14% to 18%) with 85% Adult and 15% Pediatric
Medical; Obstetrics & Gynecology (26% to 30%) with 85% Adult and 15% Pediatric
EMS Operations (11% to 15%)
The Psychomotor Exam
The Psychomotor Exam includes 10 skill areas in a scenario approach.
Here are the scenario-related areas of assessment:
Patient Assessment – Trauma: Includes a physical, complete assessment and voice treatment of a simulated patient, including scene size-up, initial assessment and resuscitation, focused history and physical exam and detailed physical exam
Patient Assessment – Medical: Includes a physical, full assessment and voice treatment of a simulated patient. Includes scene size-up, initial assessment and resuscitation, history, rapid trauma assessment and ongoing assessment
Ventilatory Management — Supraglottic Airway Device and Pediatric Respiratory Compromise: This includes an assessment on two ventilator management scenarios, including apneic adult and pediatric respiratory compromise
Cardiac Arrest Management/AED: Evaluation includes ability to manage a cardiac arrest situation
IV and Medication Skills: Includes Intravenous Therapy and Intravenous Bolus Medications
Pediatric Intraosseous Infusion Skills: Involves establishing an intraosseous line in a manikin
Spinal Immobilization (Supine Patient): Assesses the ability to immobilize an adult found supine with a possible unstable spine
Random EMT Skills: Includes an assessment of several randomly identified EMT skills, including spinal immobilization seated patient, long bone immobilization, joint immobilization and bleeding control
Passing Score Calculation: The score required to pass varies. Your score and results of whether you passed the exam will be posted on your online account within two business days after you take the exam.

Check Out Mometrix's Advanced EMT Flashcards
Get complex subjects broken down into easily understandable concepts
Get Your Flashcards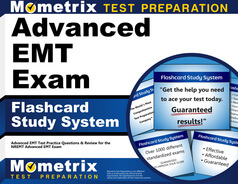 Additional Resources
You have access to additional study resources through the Mometrix Academy. For a fee, you can access the Advanced EMT Study Guide, including videos and exam preparation details, along with a set of flashcards to assist you as you prepare to take the exam.
Advanced EMT Study Guide
Mometrix Academy is a completely free Advanced EMT test resource provided by Mometrix Test Preparation. If you find benefit from our efforts here, check out our premium quality Advanced EMT Study Guide and Advanced EMT Flash Cards to take your studying to the next level. Just click the Advanced EMT study guide link below. Your purchase also helps us make even more great, free test content for test-takers.
Upgrade your studying with our Advanced EMT study guide and flashcards:
Advanced EMT Study Guide
EMT Prep Course
Advanced EMT Flashcards
Online EMT Prep Course
If you want to be fully prepared, Mometrix offers an online EMT Prep Course. The course is designed to provide you with any and every resource you might want while studying. The EMT Course includes:
Review Lessons Covering All the Topics
450+ EMT Practice Questions
More than 300 Digital Flashcards
Over 20 Instructional Videos
Money-back Guarantee
Free Mobile Access
and More!
The EMT Prep Course is designed to help any learner get everything they need to prepare for their EMT exam; click below to check it out.
Advanced EMT Study Guide Customer Success Stories
Our customers love the tutorial videos from Mometrix Academy that we have incorporated into our Advanced EMT test study guide. The Advanced EMT study guide reviews below are examples of customer experiences.
Having read the material, I find it much easier than a traditional textbook. Not only does it save time, it gives you good information in an easy to understand format. I feel like I've learned more reading this than what I've taken away in class.
Advanced EMT Study Guide – Customer
I am a current AEMT student. This book is very helpful. It gives a break down of the information that's needed to know in a shorter format. It also includes ALOT of helpful information, tips you probably won't find anywhere else. It was received in a timely manner and item was as described. I highly recommend.
Advanced EMT Study Guide – Customer
This study guide is the most in depth & informative test prep book I've ever come across. This guide is the key to success in passing an exam. A+, top notch!
Advanced EMT Study Guide – Customer
Studying for any exam can be an organizational nightmare, but you might find that studying for this particular test is even more so. That's where this study guide comes in. Not only does the guide have all of the content that you really need to know for the test, but it has it all located in one place in a very organized fashion. You won't have to search around looking for details and you won't have to fill in any blanks. Just read and study this guide and you'll be set. There's room in the margins to take notes so you can highlight any areas that trouble you. Otherwise, if you know the guide, you will feel ready for the test. To prove it, you can take some of the practice tests the guide provides to see for yourself. And make sure you take the test taking tips and study secrets to heart as well.
Advanced EMT Study Guide – Customer
I feel this is a good study prep for the Advanced EMT registry exam. The contents are clear, and straight to the point, and include detailed explanations of the concepts needing to be covered. However, while the explanations are detailed, they are not so detailed as to wear the reader out therefore making this book a perfect study companion and quick reference guide that can even be used in the field.
Advanced EMT Study Guide – Ricky
I am very pleased with this study. I belive if I follow the steps they have in this book I will pass the Advanced EMT exam the 2nd time since I used a different study method the first time and didn't pass. I would highly recommend this book for studing for the AEMT exam.
Advanced EMT Study Guide – Customer
I love how this book covers everything that you need to know but in a very condensed version without skipping out on anything important. Great information with nothing left out.
Advanced EMT Study Guide – Georji