ACT Science Practice Test
If you're thinking of applying to college in the near future, you likely already know that many colleges out there will want to make sure you're up to snuff academically and can handle university coursework. This is why tests such as the ACT and SAT exist. They are meant to measure your knowledge of the concepts you've learned throughout high school (and, in some cases, middle school), as it is these skills you will need to carry with you in order to thrive in your future college classes.
While the SAT is more commonly taken by high school students and accepted by colleges, the ACT is quickly catching up—for several reasons. One of the most frequently cited reasons for choosing the ACT over the SAT is its difference in content. Unlike the SAT, the ACT has one extra section among its ranks. It features the standard English, Reading, Mathematics, and (non-required) writing sections, as well as a Science test. This final section is particularly ideal for those interested in STEM programs. Information on this page will cover all the important facts about the ACT Science exam, as well as provide you with the tools you need to study for it to the fullest extent.

So, how exactly does the Science section of the ACT work? We'll fill you in on all the details! For starters, the test is structured much like the average standardized test, as it features all multiple choice questions. With 40 total questions, the Science section is the one of the shortest of the full exam. It is also timed. You will be expected to finish all test questions within a time span of 35 minutes.
Check Out Mometrix's ACT Printed Study Guide
Get practice questions, video tutorials, and detailed study lessons
Get Your Study Guide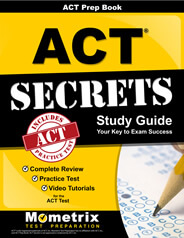 You may have already taken a science-based standardized test in the past. If so, the structure of the Science section of the ACT will be quite similar to those tests you've already taken. As such, you needn't worry about memorizing complicated formulas and theories. The test is designed to only assess your base-level knowledge of science and its various disciplines. The test is formatted somewhat similarly to your average Reading exam, in that you will be presented with reading selections and other forms of information, and asked to answer questions based on what you're given. In addition to reading passages, you will also have to answer questions pertaining to groups of numerical data. You will also need to utilize some mathematical skill as you progress through the test. Naturally, this will mean you'll need some knowledge of basic formulas.
While you will have to work through some math throughout the Science section of the ACT, you will not be able to bring a calculator with you to solve these equations. As such, you will want to target part of your studies toward figuring out how to solve the math problems featured on the Science exam as efficiently as possible, without a calculator.
Each question featured on the Science exam falls into one of a trio of categories. The information given to you for these questions also feature their own knowledge categories, which you will need to keep in mind as you analyze them.
The information categories for the Science portion of the ACT will include:
Conflicting Viewpoints takes up between 15 and 20 percent of the test's informational content. Information under this category (as well as their corresponding questions) will involve a group of hypotheses, which you must analyze for flaws.
The Research Summaries category is the longest, taking up between 45 and 55 percent of the exam's data content. Information and questions under this category will deal with experiment descriptions.
Data Representation accounts for between 30 and 40 percent of the test's data. Information under this category will generally include charts, graphs, and similar forms of evidence.
The question categories on the exam encompass the following:
The Evaluation of Models, Inferences, and Experimental Results category makes up between 25 and 35 percent of the test's questions. It involves making inferences about a given set of data.
Scientific Investigation is the smallest of the question categories, accounting for 20 to 30 percent of exam questions. Questions under this category will evaluate your comprehension of the scientific method and experimentation.
Interpretation of Data is the largest category, at 45 to 55 percent of the test's questions. Based on the graphical data you are given, you will have to solve various equations and create scientific inferences.

ACT Test Online Prep Course
If you want to be fully prepared, Mometrix offers an online ACT Prep Course. The course is designed to provide you with any and every resource you might want while studying. The ACT Course includes:
64 Lessons Covering all the Topics
1500+ ACT Practice Questions
Over 220 Video Tutorials
More than 500 Electronic Flashcards
Money-back Guarantee
Free Mobile Access
and More!
The ACT Prep Course is designed to help any learner get everything they need to prepare for their ACT exam; click below to check it out.
Whether you've chosen to take the ACT because of its Science portion or not, it's important that you score as well as you can on this section of the exam. That means you'll need excellent study tools to help you throughout your preparation period. The good news is if you're on this page, you needn't look any further for valuable study resources; the Mometrix Test Preparation team has you covered! Here you can access our ACT practice test Science review.
Check Out Mometrix's ACT Flashcards
Get complex subjects broken down into easily understandable concepts
Get Your Flashcards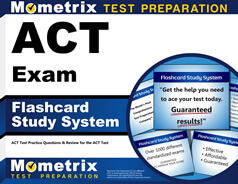 What can our practice test do for you? For starters, it's a great way to get to know the real exam well before test day actually arrives! We have conducted thorough research throughout the process of crafting this practice test, all to ensure it is as accurate to the real thing as possible. As such, you can trust our practice test to be a faithful resource. Not only can you use it to familiarize yourself with the exam's contents, but also figure out where your weaknesses and strengths may lie with the material. If, upon finishing the practice test, you find any areas where your performance weakened, you can fine tune your study approach to focus more on those sections of the exam. You can then retake the practice test later on to see whether you've improved. (Our practice test is 100 percent free for everyone to use whenever they need, as often as they need.)
We at Mometrix would also like to offer you our ACT Science study guide, also featured on this page. This tool is also meant to give you a glimpse of how the exam works, but in a direct manner. It offers advice on how to approach studying for the exam, making it perfect for those who aren't sure where to go next with their studies or even where to start!
We hope these study tools will fit well into your study plan. Good luck!
Upgrade your studying with our ACT study guide and flashcards:
ACT Study Guide
ACT Online Course
ACT Flashcards