ACT Reading Practice Test
Now that you're on the verge of finishing up your high school education, your thoughts may be turning to the next stage of your life. For some, this may be the workforce or trade school. However, if you're on this page, you're likely considering going on to college and making preparations toward meeting that goal. Like many other students across the United States, you must first prove you'll be able to handle college curriculum before you can start the application process. Doing this involves earning a passing score on either the ACT or the SAT.
For years, the SAT has come out on top as the more popular choice for college applicants. However, the ACT has gained considerable traction over recent years. Whether you're trying to decide whether the ACT or the SAT is right for you, or you've already settled on using ACT scores for your college applications, this page is meant to provide you with information on one section of the ACT.


The ACT is a multi-part test, made up of four mandatory sections—Science, English, Reading, and Mathematics—as well as one voluntary Writing component. Here you will find information pertaining to the ACT Reading exam.
The Reading section of the ACT is one of the shorter sections of the full exam, spanning 40 questions total. Every question will be presented in multiple choice format. Additionally, like every other section of the ACT, the Reading exam will be timed. You will have a little over a half hour (or 35 minutes, to be precise) to answer all of the test questions.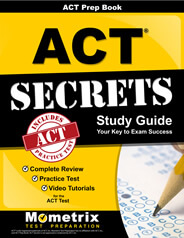 Check Out Mometrix's ACT Printed Study Guide
In terms of formatting, the Reading exam is quite similar to exams you've taken in the past. You will be presented with five reading selections, which you will be expected to read, then answer questions about with regards to their content and meaning. The purpose of the test is to gauge your ability to read critically and comprehensively. Every selection featured on the exam will mirror the same types of reading you can expect to encounter once you've entered college, and will vary in length and subject. Scoring well on this exam will require you to exercise your critical reading skills, and the importance of this skill will be emphasized through each concept featured on the exam.
Each question on the exam will fall under one of three knowledge categories. These categories include Integration of Knowledge and Details, Craft and Structure, and Key Ideas and Details. Read on to learn more about each of these categories and how they affect the test's questions:
The Integration of Knowledge and Details category will deal with your ability to decipher how ideas are presented within the test. To answer questions under this category, you will have to look closely at the text itself to examine not just what assertion is being made, but how this assertion is supported by the text and whether the evidence is rooted in bias or objective knowledge. This category is the shortest you'll find on the Reading section of the ACT exam, ranging between 13 and 18 percent of its total questions.

Craft and Structure is the second longest category to be featured on the Reading exam, taking up between 25 and 30 percent of the test's questions. The category deals with words and how they are used within the text, as well as how the text is organized in and of itself and how the text's structure contributes to its overall meaning. You may also be expected to assess the intent of the author in terms of why they wrote a specific work.

The Key Ideas and Details knowledge category takes up the majority of the exam's content, its frequency ranging between 55 and 60 percent. Questions under this category will ask you to analyze the text as a whole and figure out what it means. To do so, you will have to make note of the details expressed within the text and how they are framed, as well as decipher how they contribute to the passage's overall concepts.

ACT Test Online Prep Course
If you want to be fully prepared, Mometrix offers an online ACT Prep Course. The course is designed to provide you with any and every resource you might want while studying. The ACT Course includes:
64 Lessons Covering all the Topics
1500+ ACT Practice Questions
Over 220 Video Tutorials
More than 500 Electronic Flashcards
Money-back Guarantee
Free Mobile Access
and More!
The ACT Prep Course is designed to help any learner get everything they need to prepare for their ACT exam; click below to check it out.
The Mometrix Test Preparation team understands just how important this exam is to your academic goals. That's why we want to give you every possible tool to help you prepare thoroughly for the test and score as well as you can. Here we would like to offer you our exclusive ACT Reading practice test. This study tool is 100 percent free for you to use as often as you need, and designed specifically with your needs in mind. We have conducted only the most thorough research to ensure this practice test is as accurate to the real thing as possible. As such, we encourage you to use this study tool to familiarize yourself with the exam's contents. Like the real exam, our practice test features several passages, and questions relating to the content and meaning of those passages. Naturally, our practice test's accuracy toward the original exam means it also lends well to honing your test taking abilities. After you've finished our practice test, you can go back and analyze the areas that gave you trouble and focus your study plan accordingly. Doing so will allow you to better approach the full-fledged ACT exam and earn a higher score.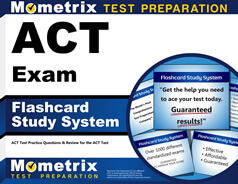 Check Out Mometrix's ACT Flashcards
Of course, our practice test isn't the only resource we have available for you. You can also find our ACT Reading study guide on this page. It serves a similar purpose as our practice test, in that it gives you a deeper glimpse of how the actual Reading section of the ACT will work. Our study guide is ideal for those who aren't quite sure where to start with their studying, or find themselves stuck and uncertain of how to proceed.
These two study tools work well whether used in conjunction with one another, or alongside other resources you've incorporated into your study plan. Regardless of how you choose to use either of our tools, we hope they will serve you well throughout your studies. Good luck!
Upgrade your studying with our ACT study guide and flashcards:
ACT Study Guide
ACT Online Course
ACT Flashcards
Affiliate disclosure: As an Amazon Associate, we may earn commissions from qualifying purchases from Amazon.com.