The OAE Assessment is required for anyone who wants to become an educator in Ohio. The assessments measure your knowledge and skills that meet the state's standards.
The OAE Assessment of Professional Knowledge: Adolescence to Young Adult exam is a computer-based exam that consists of 100 multiple-choice questions, 1 case study written assignment, and 1 work product written assignment. The test takes roughly three hours to complete and has a registration fee of $105.
There are three domains on the OAE Assessment of Professional Knowledge: Adolescence to Young Adult exam.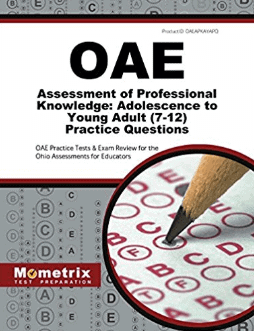 Domain I: Student Development and Learning
Understand the processes of human development, variations in student development, and how to apply this knowledge to provide instructional environments and experiences that promote all students' development and learning.
Understand learning processes, factors that can affect student learning and performance, and how to apply this knowledge to provide instructional environments that promote all students' learning and achievement.
Understand student diversity and how to provide learning opportunities and environments that are responsive to student differences, promote all students' learning, and foster students' appreciation of and respect for diversity.
Domain II: Assessment, Instruction, and the Learning Environment
Understand assessment instruments and practices, the relationship between assessment and instruction, and how to use assessment to guide instruction and monitor students' learning progress.
Understand principles and procedures of curricular and instructional planning and how to use effective planning to design instruction that promotes all students' learning and achievement.
Understand principles and practices associated with various instructional approaches and how to apply these principles and practices to promote all students' achievement of instructional goals.
Understand principles and practices of motivation and communication and how to apply these principles and practices effectively to promote students' active engagement and learning.
Understand how to structure and manage the classroom to establish a safe; inclusive, and positive environment that is organized and productive; fosters excellence; and promotes learning, appropriate student behavior, and effective work habits.
Domain III: The Professional Environment
Understand how to establish partnerships and collaborate effectively with families, colleagues, and members of the community to enhance and support student learning.
Understand roles and expectations for professional educators, legal and ethical guidelines, and strategies for continuous professional growth and self-reflection.
Scores
The passing score for the OAE Assessment of Professional Knowledge: Adolescence to Young Adult exam is a 220.
OAE Assessment of Professional Knowledge: Adolescence to Young Adult (7-12) Practice Questions
1.Which of the following can teachers incorporate in instruction with adolescent students that they could not with younger students?
a. Liquid conservation
b. Deductive reasoning
c. Reversible operations
d. Symbolic representation
2. Which of the following reflects expert recommendations for teacher behaviors that can change their interactions with students to address problematic student behaviors?
a. Teachers cannot and should not try to view school through students' eyes.
b. Teachers' own experiences with good/bad teachers/bosses are irrelevant.
c. Teachers can list words for feelings in interactions and what evoked them.
d. Teachers should focus on their perceptions of students but not vice versa.
3. Which of these statements accurately reflects recommended practices for giving students learning goals and feedback?
a. Learning goals for students should be unrelated to their personal goals.
b. Contracts are good ways to define goals and grades for reaching them.
c. Teachers should give students general, delayed, and positive feedback.
d. Teachers should be the only ones who lead student feedback sessions.
Answers
B: As Piaget described, adolescents develop the ability to reason abstractly by performing mental operations. They can engage in deductive reasoning, e.g., responding to "if-then" propositions by speculating about possibilities, including hypothetical moral dilemmas as well as their personal futures. Students typically achieve what Piaget called conservation, e.g., understanding that the same amount of liquid exists despite being poured into differently shaped containers (a), by middle childhood.  Being able to perform logical mental operations and reverse them (c) is also typical of middle childhood—as long as these concern concrete/physical objects, events, or examples.  Symbolic representation (d), e.g., representing things using other objects, images, and words, typically develops earlier in childhood (c. 2-7 years old).
2. C: Experts recommend that teachers imagine school through their students' eyes (a) to understand them better, and reflect about their own best and worst teachers/supervisors, relevant (b) to appreciating student perspectives. Also, teachers should list five words describing their feelings while interacting with those best and worst teachers/supervisors, and specifically what those teachers/bosses did/said to evoke those feelings (c) to gain insight into students' reactions to teachers' actions/words. Teachers should not focus on how they perceive students, but instead should write how they think students perceive them (d) and would describe them, and how teacher expectations shape student perceptions.
3. B: One recommended way for defining student learning goals and what grades they will receive for meeting those goals is for teachers and students to write and sign contracts agreeing to goal and grade terms. Experts say student learning goals should be compatible with student personal goals, not unrelated (a).  They note it is important for teachers to give students specific, timely, and corrective feedback (c).  They also recommend that teachers invite students to lead feedback sessions (d).