– As of May 2019, there were roughly 128,300 employed phlebotomists.
– More than 47,790 phlebotomists work in General Medical and Surgical Hospitals.
– The state of California has the highest employment of phlebotomists at 12,860.
Many people want to have a career in the healthcare field that requires minimal training and allows for immediate job placement. Becoming a phlebotomist is a great career choice to get into the healthcare field.
There are roughly 128,290 employed phlebotomists in the country. A career in phlebotomy allows you to work in a variety of people and to work in different hospitals and healthcare settings. Some phlebotomists may work in a hospital drawing blood from patients while others may go from home to home collecting samples that are used for life insurance applications.
What is Phlebotomy?
Phlebotomy is when someone (a phlebotomist) uses a needle to take blood from a vein, usually a vein in your arm. The blood samples are sent to the laboratory to be checked for health issues, diseases, and bacteria.
What is a Phlebotomist?
A phlebotomist is a person or technician that draws the blood. They complete specialized training to ensure that they can safely handle blood collection, disposal, and needles. Phlebotomists are required to follow strict rules and processes to prevent contaminated blood from being spread.
What are the Responsibilities of a Phlebotomist?
The responsibilities of a phlebotomist vary depending on their work environment and their employer. Regardless of their work environment, a phlebotomist must be able to work well under pressure and communicate effectively.
Phlebotomists are also responsible for:
Explaining procedures to patients
Drawing blood and applying pressure or bandages after blood is drawn
Taking blood pressure, pulse, and respiration readings
Updating patient records
Preparing stains and reagents
Cleaning and sterilizing equipment
Sending blood, urine, and fecal samples to the lab for testing
Phlebotomist Work Environment
Phlebotomists work in a wide variety of healthcare facilities which include:
Hospitals
Nursing facilities
Doctor's offices
Free-standing outpatient laboratories
Blood banks
Blood donor centers
About 37% of phlebotomists work for a state, local, or private hospital.  Another 33% of phlebotomists work in medical and diagnostic laboratories. Phlebotomists are frequently exposed to infections and diseases that some patients may carry, therefore, phlebotomists are required to wear surgical gloves and other protective gear.
Phlebotomists may also stand for a long period of time and must be careful when handling blood, needles, and other medical supplies.
Most phlebotomists work full time. Those who work in hospitals and labs may need to work nights, weekends, and holidays.
How to Become a Phlebotomist
If you want to become a phlebotomist, you'll need to enroll in a training program. You'll be required to have a basic understanding of verbal and written communication as well as understanding basic math skills.
1.Have a High School Diploma or GED
2. Complete a Phlebotomy Program
Phlebotomy programs typically take anywhere from eight weeks to a year to complete. Once you complete and graduate from the program, you'll receive a certificate or a diploma.
When you're taking a phlebotomy certification program, you can expect to take courses that include:
• Anatomy and physiology
• Blood and cell composition
• Blood sampling procedures
• Laboratory safety
You'll also receive hands-on training with blood-drawing procedures including:
• Basic venipuncture techniques
• Butterfly techniques that are used for the elderly and children with small veins
• Fingerstick methods
• Healstick or capillary puncture for newborns
During your program, you will also learn how to properly handle the lab equipment and proper methods to clean up skills to prevent infection and physical harm.
3. Become Certified
There are several ways to become certified after you have completed your phlebotomy program.
• Phlebotomy Technician
• Certified Phlebotomy Technician
• Registered Phlebotomy Technician
How Much Does a Phlebotomist Make?
According to BLS.gov, as of 2019, phlebotomists made an average of $35,510 per year which is roughly $17.07 per hour. The lowest 10% of phlebotomists make less than $26,000 and the highest 10% made more than $49,750. The top-paying industry for a phlebotomist is within Outpatient Care Centers with annual earnings of $42,920.
What is the Job Growth for a Phlebotomist?
According to BLS.gov, the job growth for a phlebotomist is 23% through 2028 which is much faster than average.
Phlebotomist Pay – Phlebotomist Employment and Wages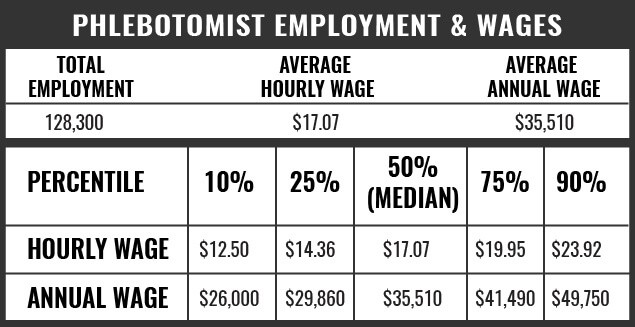 The total employment for phlebotomists across the United States is 128,300. The average hourly wage is $17.07 per hour with the annual wage being $35,510 per year.
Bottom 10%:
Average Hourly Wage: $12.50
Average Annual Wage: $26,000
25%:
Average Hourly Wage: $14.36
Average Annual Wage: $29,860
50%:
Average Hourly Wage: $17.07
Average Annual Wage: $35,510
75%:
Average Hourly Wage: $19.95
Average Annual Wage: $41,490
Top 90%:
Average Hourly Wage: $23.92
Average Annual Wage: $49,750
Industries With the Highest Levels of Nursing Employment

General Medical and Surgical Hospitals
47,790 total phlebotomists employed with 0.86% of employment in the industry
Average annual wage of $16.93 with an average hourly wage of $35,210
Medical and Diagnostic Laboratories
41,870 total phlebotomists employed with 15.12% of employment in the industry
Average annual wage of $18.28 with an average hourly wage of $38,010
Other Ambulatory Health Care Services
19,270 total phlebotomists employed with 6.22% of employment in the industry
Average annual wage of $17.07 with an average hourly wage of $35,500
Offices of Physicians
9,420 total phlebotomists employed with 0.36% of employment in the industry
Average annual wage of $17.10 with an average hourly wage of $35,570
Employment Services
2,460 total phlebotomists employed with 0.07% of employment in the industry
Average annual wage of $17.59 with an average hourly wage of $36,580
Top Paying Areas for Phlebotomists

Outpatient Care Centers
2,370 / 0.25% total employment
Average annual wage of $42,920 with a $20.63 hourly wage
Nursing Care Facilities (Skilled Nursing Facilities)
50 / 7% total employment
Average annual wage of $42,470 with a $20.42 hourly wage
Management of Companies and Enterprises
300 / 0.01% total employment
Average annual wage of $41,760 with a $20.08 hourly wage
Specialty (except Psychiatric and Substance Abuse Hospitals)
930 / 0.35% total employment
Average annual wage of $40,040 with a $19.25 hourly wage
Community Food and Housing, and Emergency and Other Relief Services
680 / 0.37% total employment
Average annual wage of $38,770 with a $18.64 hourly wage
States with Highest Phlebotomist Employment

California
12,860 / 0.74% total employment
Average annual wage $45,940 / $22.09 hourly wage
Texas
9,490 / 0.76% total employment
Average annual wage $33,720 / $16.21 hourly wage
Florida
7,880 / 0.90% total employment
Average annual wage $33,840 / $16.27 hourly wage
New York
6,360 / 0.67% total employment
Average annual wage $42,950 / $20.65 hourly wage
Ohio
5,990 / 1.10% total employment
Average annual wage $34,760 / $16.71 hourly wage