– As of 2018, there was an estimate of 420,400 employed pharmacy technicians.
– More than 220,070 pharmacy technicians are employed in health and personal care stores.
– The state of California has the highest rate of employed pharmacy technicians at 37,630.
Have you decided that you want to become a pharmacy technician?
If so, you're probably wondering what kind of salary and benefits you'll be getting as well as the hours you might be working and what kind of work environments you can work in.
Being a pharmacy tech means that you will be working with people from all backgrounds both in person and over the phone. You'll also be able to work in a variety of environments and may even have different work hours. Many pharmacy technicians work in pharmacies or drug stores and most work a full-time schedule. There are some pharmacies that are open 24 hours per day which means that some techs may have to work nights and weekends.
PTCB Certification Exam Review
What Does a Pharmacy Tech Do?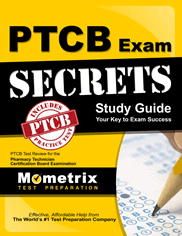 Pharmacy techs are usually supervised by licensed pharmacists and are responsible for assisting the pharmacist in preparing and dispensing prescription drugs to patients. In some states, pharmacy technicians can compound some medications as well as call the patient's physician for authorizations on prescription refills. You'll act as a liaison between the public and the pharmacist.
As a pharmacy technician, you'll also have more responsibilities that can include:
• Package and label prescriptions
• Supply medications to patients
• Measure medications, count pills and assemble the medications for prescriptions
• Set up consultations and recommendations for patients with the pharmacist
• Run registers and accept payments
• Organize and stock inventory
• Collect information from the patient such as insurance information
• Answer phone calls from patients
Pass the Pharmacy Technician Certification Exam
Where Can a Pharmacy Tech Work?
As a pharmacy tech, you'll be able to work in a variety of environments. About 70% of pharmacy techs work in retail pharmacies and drug stores such as Walgreens and CVS or even in mass retailers such as Wal-Mart and Target. Working in retail pharmacies allow you to have flexible work hours but may also require you to work weekends. Some retail pharmacies are open 24 hours which may mean that you will be required to work nights.
How to Become a Pharmacy Technician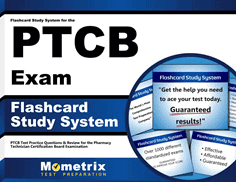 Being a pharmacy technician means that there will be a lot of knowledge that you'll need to learn such as pharmacy law, recordkeeping and also the names, uses and how to dispense medications. Because there is so much information that you'll need to know to be successful in your career, you'll need to go through training.
Pharmacy Technician Requirements
Here's the education and training that you'll need to become a pharmacy tech:
• You'll need to have a high school diploma or a GED
• Complete a Pharmacy Technician Program
Although there is no formal education needed to become a pharmacy tech, it's always in your best interest to complete a pharmacy tech program. Many employers prefer applicants that have gone through and completed a pharmacy technician program over applicants that have not completed one.
• Become certified.
Not all states require pharmacy technicians to be certified, but many employers prefer that they are. One of the main national certifications is the Pharmacy Technician Certification Board or the PTCB. To find out if your state requires you to become certified, the National Association of Boards of Pharmacy to see if you need to be certified.
• Maintain an active certification
Your pharmacy technician certification from PTCB must be renewed every two years which also requires the completion of 20 continuing education units (CE).
In your pharmacy technician program, and once you take your PTCB exam, you will cover topics including:
• Pharmacology Law
• Pharmacology
• Medication Safety
• Pharmacy Quality Assurance
• Billing and Reimbursement
• Information Systems Application
• Order Entry and the Fill Process
• Sterile and non-sterile compounding
Pharmacy Technician Salary – How Much Does a Pharmacy Technician Make?
If you've decided to become a pharmacy technician, you're probably wondering how much you will make.
According to BLS.gov, as of 2019, a certified pharmacy technician is an average of $33,950 per year which comes out to be $16.32 per hour. The lowest 10% of pharmacy technicians make $22,740 per year or $10.93 per hour. The highest 90% of pharmacy technicians make $48,010 per year or $23.08 per hour. The top-paying industry for a pharmacy technician is in the Federal Executive Branch (OES Designation) with an annual wage of $44,900.
What is the Job Growth for a Pharmacy Technician?
According to BLS.gov, the job growth for a pharmacy technician will grow 7 percent through 2028.
Pharmacy Technician Pay – Pharmacy Technician Employment and Wages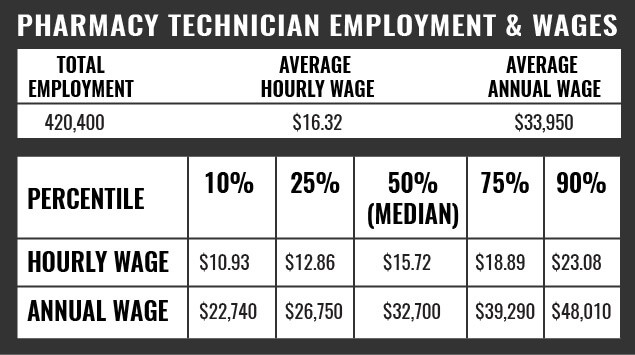 The total employment for pharmacy technicians across the United States is 420,400. The average hourly wage is $16.32 making the average annual wage $33,950.
Bottom 10%:
Average Hourly Wage: $10.93
Average Annual Wage: $22,740
25%:
Average Hourly Wage: $12.86
Average Annual Wage: $26,750
50%:
Average Hourly Wage: $15.72
Average Annual Wage: $32,700
75%:
Average Hourly Wage: $18.89
Average Annual Wage: $39,290
Top 90%:
Average Hourly Wage: $23.08
Average Annual Wage: $48,010
Areas With the Highest Pharmacy Technician Employment

Health and Personal Care Stores
220,070 total pharmacy technicians employed with 20.65% of employment in the industry
Average annual wage of $31,940 with an average hourly wage of $15.36
General Medical and Surgical Hospitals
65,530 total pharmacy technicians employed with 1.18% of employment in the industry
Average annual wage of $38,920 with an average hourly wage of $18.71
Food and Beverage Stores
35,190 total pharmacy technicians employed with 1.20% of employment in the industry
Average annual wage of $31,460 with an average hourly wage of $15.12
General Merchandise Stores
33,480 total pharmacy technicians employed with 1.05% of employment in the industry
Average annual wage of $33,280 with an average hourly wage of $16.00
Merchant Wholesalers, Nondurable Goods
12,790 total pharmacy technicians employed with 3.41% of employment in the industry
Average annual wage of $35,010 with an average hourly wage of $16.83
Areas With Highest Concentration of Pharmacy Technician Employment

Health and Personal Care Stores
220,070 total pharmacy technicians employed with 20.65% of employment in the industry
Average annual wage of $31,940 with an average $15.36 hourly wage
Merchant Wholesalers, Nondurable Goods
12,790 total pharmacy technicians employed with 3.41% of employment in the industry
Average annual wage of $35,010 with an average $16.83 hourly wage
Electronic Shopping and Mail-Order Houses
8,850 total pharmacy technicians employed with 2.23% of employment in the industry
Average annual wage of $35,550 with an average $17.09 hourly wage
Food and Beverage Stores
35,190 total pharmacy technicians employed with 1.20% of employment in the industry
Average annual wage of $31,460 with an average $15.12 hourly wage
General Medical and Surgical Hospitals
65,530 total pharmacy technicians employed with 1.18% of employment in the industry
Average annual wage of $38,920 with an average $18.71 hourly wage
Top Paying Areas for Pharmacy Technicians

Federal Executive Branch (OES Designation)
6,390 / 0.32% total employment
Average annual wage of $44,900 with a $21.59 hourly wage
Outpatient Care Centers
6,740 / 0.73% total employment
Average annual wage of $42,260 with a $20.32 hourly wage
Local Government, excluding schools/hospitals
1,110 / 0.02% total employment
Average annual wage of $41,720with a $20.06 hourly wage
Medical and Diagnostic Laboratories
80 / 0.03% total employment
Average annual wage of $41,470 with a $19.94 hourly wage
Colleges, Universities, and Professional Schools
1,200 / 0.04% total employment
Average annual wage of $41,100 with a $19.76 hourly wage
States With Highest Pharmacy Technician Employment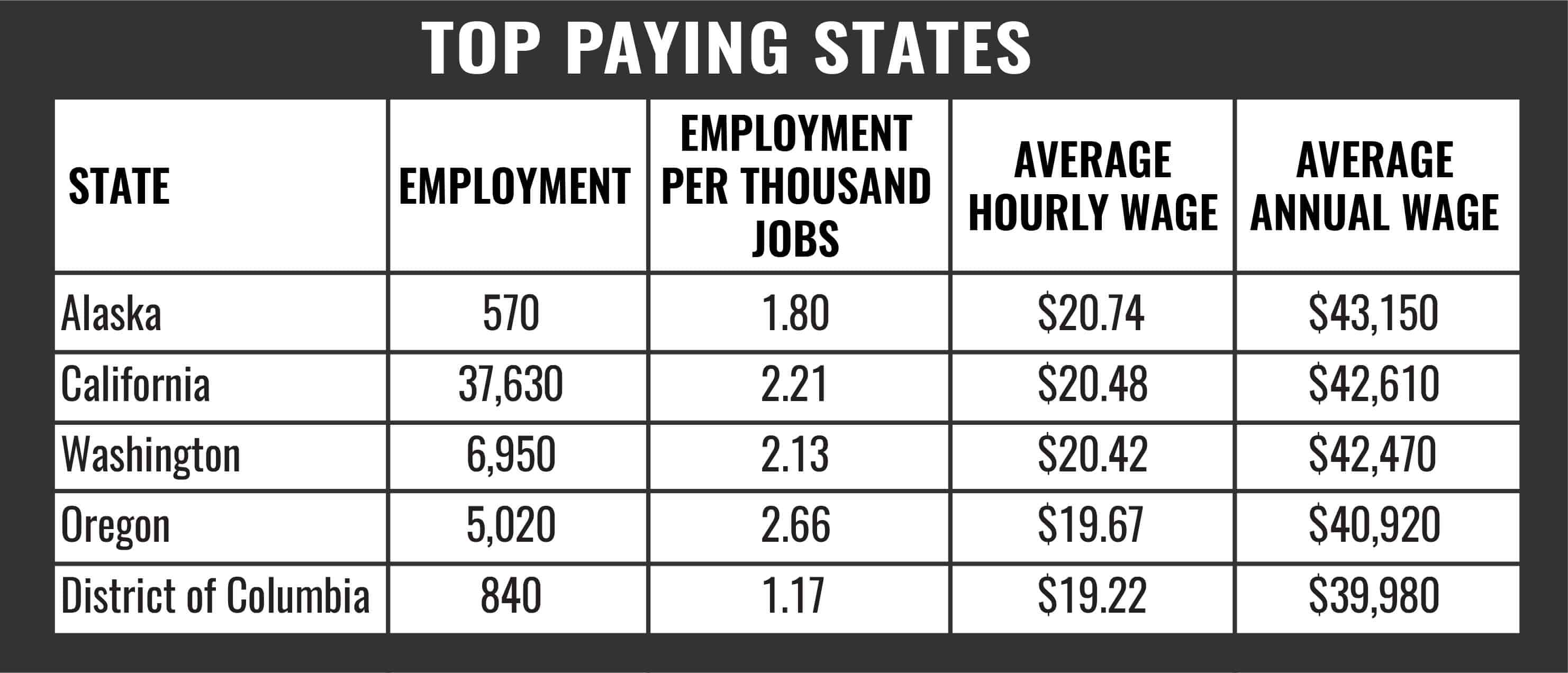 Alaska
570 / 1.80% total employment
Average annual wage $43,150 / $20.74 hourly wage
California
37,630 / 2.21% total employment
Average annual wage $42,610 / $20.48 hourly wage
Washington
6,950 / 2.13% total employment
Average annual wage $42,470 / $20.42 hourly wage
Oregon
5,020 / 2.66% total employment
Average annual wage $40,920 / $19.67 hourly wage
District of Columbia
840 / 1.17% total employment
Average annual wage $39,980 / $19.22 hourly wage