Getting ready for college can be difficult. There is a lot of preparation that goes into being ready for college, and one of those things is preparing for entrance exams. The ACT exam is one of the exams that many colleges require for entry-level students and this exam helps to determine if these students are ready for college-level classes. One of the ways to prepare for the ACT is through studying and taking practice tests. But now, there's another way to properly prepare for the ACT exam!
"A new way to prepare for the ACT Test."
The PreACT, a new set of assessments by the makers of the ACT Test, created this exam in order to give 10th graders the opportunity to not only practice for the ACT but also to become more aware of their strengths and weaknesses and better understand their career readiness.
Benefits of taking the PreACT
Flexible Schedule – Test when it's most convenient for you.
Fast Turn-Around – 5-10 days turnaround time from receipt of answer documents.
Actionable Insights – Results help parents and students make important decisions for the future.
Practice – Early practice for the actual ACT Test.
Interest Inventory – See a personalized view of interests with college and career alignment.
Strengths Profile – See a profile of strengths and weaknesses in ACT Test subject areas.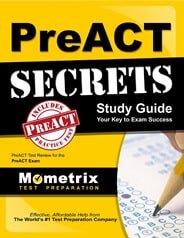 Subject Content Breakdown
English
45 multiple-choice questions

Conventions of Standard Written English – 23-25 questions, 51-56% of the English assessment

Production of Writing – 13-15 questions, 29-33% of the English assessment

Knowledge of Language – 6-8 questions, 13-18% of the English assessment
Math
36 multiple-choice questions

Preparing for Higher Math – 21 questions, 58% of the Math assessment

Integrating Essential Skills – 15 questions, 42% of the Math assessment

Modeling – 10+ questions
Reading
25 multiple-choice questions

Key Ideas and Details – 13-15 questions, 52-60% of the Reading assessment

Craft and Structure – 7-9 questions, 28-36% of the Reading assessment

Integration of Knowledge and Ideas – 3-4 questions, 12-16% of the Reading assessment
Science
30 multiple-choice questions

Interpretation of Data – 11-13 questions, 37-41% of the Science assessment

Scientific Investigation – 9-11 questions, 30-37% of the Science assessment

Evaluation of Models, Inferences, and Experimental Results – 7-9 questions, 23-30% of the Science assessment
Other Components
College Readiness Standards

Predicted ACT Score

Summary Reports

Course Taking Needs

Brought to you by Mometrix Test Preparation