– The cost to take the CCHT exam is $225.
– The passing score for the CCHT exam is 74%.
The CCHT Certification exam is for those who want to become a Certified Clinical Hemodialysis Technician. The CCHT exam is offered by the Nephrology Nursing Certification Commission (NNCC).
A hemodialysis technician provides care to patients that are undergoing chronic hemodialysis treatment due to renal failure. Hemodialysis technicians also manage equipment, monitor patients, and provide general medical assistance.
Certified Hemodialysis Technologist Practice Questions
If you're planning on taking the CCHT in the future, you might be a little nervous when it comes to taking it.
But before you become too overwhelmed with studying for the CCHT exam, here are a few tips that you can use to help you pass the CCHT exam.
1.Understand the Format of the CCHT exam.
As with any exam, it's easier to study when you know the format of the exam. Understanding the format of the exam is an important part of preparing for the exam. Learning the format of the CCHT exam will help you to understand better how many questions and what type of questions you'll be given.
Here are a few things you should know about the CCHT exam:
The CCHT exam consists of 150 multiple-choice questions.
You are given three hours to complete the exam.
There are two knowledge dimensions of the exam that tests your knowledge of providing care to patients that are receiving hemodialysis treatments.
2. Understand the Areas of the CCHT Exam.
The CCHT exam tests your knowledge that is required to be able to care for patients who are receiving hemodialysis treatments. The exam is divided into two dimensions: Dialysis Practice Areas and Cognitive Levels. Each area of the exam is assigned a "weight" of importance. This means that the higher the weight, the more questions that are in that section.
The Dialysis Practice Areas cover four sections:
• Clinical – 50-54%
Deal with patient care before, during, and after a dialysis treatment such as:
• Monitoring dialysis equipment during treatment.
• Identifying the relationship of blood pressure changes to fluid volume status.
• Following protocol for treating hypotension.
• Questioning patient regarding problems/events since last treatment
• Recognizing and reporting potential or actual adverse patient occurrences.
• Technical – 18-22%
This area deals with principles of water treatment, components of the extracorporeal circuit, and actions to take when alarms sound or machine-related problems occur. Technician activities tested include:
• Ensuring safe and proper use of equipment.
• Recognizing principles related to water treatment.
• Participating in monitoring the water treatment system.
• Taking corrective action when equipment malfunctions.
• Performing quality control checks on equipment.
• Role Responsibilities – 16-20%
This area deals with the roles of various staff members in the dialysis facility. This will include interactions between technicians and patients that maintain professional boundaries, as well as respect the patient's privacy, dignity, and confidentiality. Responsibilities area include:
Maintaining patient confidentiality.
• Participating as a member of the unit-based cannulation team,
• Preparing and/or presenting in-service education topic.
• Participating in precepting new technicians.
• Environment – 8-12%
The questions in this area deal with infection control and other safety issues in the dialysis setting. These issues include chemical spills, transfer of patients from wheelchair to treatment chair, using correct body mechanics to avoid injury. Questions will cover:
• Using dialysis/standard precautions and environmental surfaces.
• Following infection control precautions.
• Disinfecting dialysis equipment.
• Assisting and maintaining the Life Safety Code.
• Maintaining a therapeutic environment.
The Cognitive Levels cover three areas:
• Recall of Knowledge
Questions will ask the technician to remember specific facts, common terms, basic concepts, and principles.
• Comprehension
Questions go beyond basic recall to determine the technician's deeper understanding of a concept. Words used to describe comprehension include interpret, compare, contrast, explain, estimate, and translate.
• Application of Knowledge
These questions ask the technician to apply previously learned facts and concepts to new situations and solve problems. These questions present on-the-job situations and ask what problem is occurring or what action to take in the situation.
3. CCHT Study Guide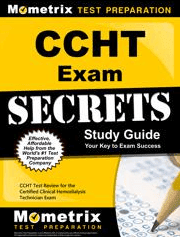 Using a study guide can help you prepare for any exam. When deciding on which study guide to use, choose one that is geared only towards the CCHT exam. Studying the exam with a study guide can help you learn more about the details of the exam. You can also use a study guide to dig deeper into key concepts such as in clinical areas. It will also allow you to brush up on any key areas and concepts that you may not remember or may have questions about.

4. Create a Study Plan
Creating a study plan is an important part of preparing for any exam. It's always a good idea to start studying a few months in advance before you schedule your exam. Set up a study plan and a schedule by working backward from your exam date. Put aside a certain number of hours a day to dedicate to studying for the exam. Make a schedule that works for you so that you can stick to it.
5. CCHT Flashcards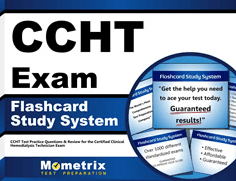 Flashcards are another great way to prepare for the CCHT exam. Flashcards allow you to focus on one key concept at a time rather than showing you a list of information at once, which can easily overwhelm you. Using flashcards also helps you to retain information for a longer period of time.
6. Understand How the "Weight" of Each Area Works
Each area of the CCHT exam has a certain "weight". This means that each area of the exam has a different amount of questions. The more the questions in the area, the higher the "weight" is of that area. The higher the weight, the more that section matters in your final score.
Clinical – Consists of 71 to 78 questions, having the most weight in the exam at 48% to 50% of the total exam.
Technical – Consists of 32 to 48 questions with a weight of 21% to 25% of the total exam.
Environmental – Consists of 19 to 5 questions with a weight of 13% to 17% of the total exam.
Role Responsibilities – Consists of 15 to 20 questions with a weight of 10% to 14% of the total exam.
7. Read Carefully
Make sure to read each question and the answers carefully before picking an answer. While you're reading the question, anticipate the correct answer. Also make sure that you're focusing on keywords in each question such as "first", "most important", "most likely", "best". Read each answer before picking one. Even if the first answer you choose seems correct, read all of the other options before choosing.
8. CCHT Practice Test
If you're not sure what areas of the CCHT exam that you need to work with, a practice test can do just that. You'll be able to learn which areas you need more work with and which areas you're strong in. Taking a CCHT practice test will also give you more of an idea as to what the actual CCHT exam will be like such as formatting of the exam and what type of questions. It's also beneficial for you to take more than one CCHT practice test before your actual exam so that you can make sure that you're still doing well in other areas.
CCHT Requirements
To be eligible to sit for the CCHT exam, you must have these requirements:
Must have a minimum of a high school diploma or a GED and you must be able to submit a copy of a government-approved high school diploma. The name on the diploma must match the name on the CCHT exam application. If it does not, proof of name change will need to be submitted.
Have successfully completed a training program for clinical hemodialysis technicians that included both classroom instruction and supervised clinical experience. (You must also obtain the signature of the educator or submit a certificate of completion to verify the training program.)
If you have not yet obtained a position as a clinical hemodialysis technician, you must be able to provide the number of hours spent in clinical hands-on patient care experience obtained as part of the training program and must provide the name of the facility where the clinical training occurred. (The facility administrator or manager must sign to verify that the clinical, hands-on experience did occur and was supervised by an RN.)
If you have held a position as a clinical hemodialysis technician within the last 18 months, you must be able to provide the name of your employer. You must also submit your supervisor's signature to verify employment as well as have a minimum of 6 months or 1,000 hours of clinical experience.
If you have been unemployed for 18 months or longer, you will need to provide proof of current retraining and hands-on experience. You will need to submit the signature of an RN educator to verify the training program or the facility administrator or manager to verify the clinical, hands-on experience did occur.