Wound Care Certification Exam
The Wound Care Certification (WCC) Exam is offered by the National Alliance of Wound Care and Ostomy (NAWCO) as a way to measure a candidate's theoretical and practical knowledge about wound care management. It is usually an additional certification you can get on top of the standard wound care license to demonstrate advanced level competency.
Where Can I Take the WCC Exam?
The exam is available either as a computer administered test or as a pencil and paper test at testing centers across the United States. The computer administered test is more widely available so unless you really need the pencil and paper version, it's the more convenient option.
Before you can take the test, however, you need to apply and prove your eligibility. The eligibility criteria include:
Be an active, licensed medical professional (RN, LP/VN, physical therapist, doctor, physician assistant, etc.)
Have either graduated an approved skin and wound management training course OR currently hold a CWCN, CWON, or CWOCN certification OR provide documentation that you have at least four years of experience participating in wound care either in active care, management, education or research (including at least 60 contact hours in wound care continuing education).
Provide documentation that you are actively involved in wound care either in management, education, research, or active care for at least two years (if full time) or four years (if part-time) within the last five years.
If you fulfill these criteria, you'll receive an approval to test, after which you can schedule your exam and pay the exam fee of $300 online.
What Are the Most Important Things to Remember for Test Day?
Prepare to arrive at least 15 minutes before your appointment to check in. Candidates who show up late will not be allowed to take the exam and will not be refunded. So it's better to ere on the side of too early than too late.
You also need to bring a valid, US government-issued photo ID such as a passport, driver's license, or state-issued ID. If you do not have valid ID or your ID does not have the same name that you registered with, you won't be allowed to take the exam. So double check that you've got it with you before you leave the house.
Beyond your ID, you won't be allowed to bring any personal items with you, so it's better to leave them at home. However, it is recommended that you wear a wristwatch so you can keep track of the time during the test as some exam rooms don't have clocks in them.
You will have exactly two hours to complete the exam and there are no scheduled breaks so if you need to take a break for any reason, the clock is still ticking. Given these conditions, it's best to prepare yourself so that you won't need to take a break during the two hours.
Check out Mometrix's WCC Study Guide
Get practice questions, video tutorials, and detailed study lessons
Get Your Study Guide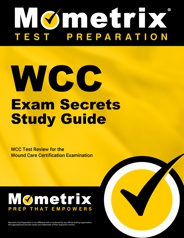 What Kinds of Questions Will I See on the Test?
The test includes 100 scored, multiple-choice questions that will cover a wide range of theoretical and practical hands-on skills in the following categories:
Structures and functions of normal skin – 5 questions
Identification and management of risk factors impacting skin integrity – 10 questions
Wound healing process – 15 questions
Patient assessment, data collection and analysis – 20 questions
Wound etiology and description – 20 questions
Treatment administration and management – 20 questions
Education and training – 5 questions
Legal, ethics, and policy – 5 questions
When Will I Find Out if I Passed the WCC Exam?
Immediately after you complete your exam and a short survey about the testing experience, you'll be able to view your exam results and see whether you passed. The exact cutoff score needed in order to pass the exam is not made public.
Your official results will be emailed to the email address you provided during registration within 7 to 10 days of your appointment.
Do I Need to Study for This Test?
If you are eligible to take this test, that means you have some practical experience with the content that you'll see on this exam. However, you still need to brush up on your command of the standardized procedures, guidelines, ethics, and laws.
In other words, you should still study for the theoretical component of this test. For that, your best option is the Mometrix Study Guide which has compiled all of that important information in one easy-to-use guide.
You can also sharpen your test-taking skills and your memory of these key concepts by using Mometrix Flashcards. These beautifully designed, very portable flashcards are the perfect way to study with a friend or give yourself pop quizzes on breaks or on your way to work.
Check out Mometrix's WCC Flashcards
Get complex subjects broken down into easily understandable concepts
Get Your Flashcards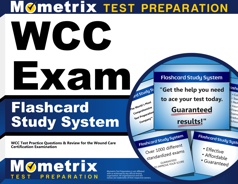 WCC Study Guide
Mometrix Academy is a completely free WCC review resource provided by Mometrix Test Preparation. If you find benefit from our efforts here, check out our premium quality WCC study guide to take your studying to the next level. Just click the WCC study guide link below. Your purchase also helps us make even more great, free content for test-takers.
Upgrade your studying with our WCC study guide and flashcards:
WCC Study Guide
WCC Flashcards
WCC Study Guide Customer Success Stories
Our customers love the tutorial videos from Mometrix Academy that we have incorporated into our WCC test study guide. The WCC study guide reviews below are examples of customer experiences.
Very helpful in giving me a good leg to stand on for this difficult exam. I took a class as well with review questions but felt the questions in this book were more like the true exam questions
WCC Study Guide – Rachel
Great exam study guide and very well organized. The practice exams in the back were great as they prep for the type of questions asked.
WCC Study Guide – Customer
Wonderful layout of material! Information is up to date and used in daily practice. Practice exams with feedback are exceptionally helpful.
WCC Study Guide – Roxanne
I found the book excellent. I really liked the practice questions at the back of the book. Secret Keys and general strategies made it easier to know what to focus on.
WCC Study Guide – Customer
I like the organization of material, contents, questions and answers. The book presented excellent outlook and rational. Overall, I will recommend it to someone else.
WCC Study Guide – Customer
I am currently reading the book and so far it's fantastic. It's giving me insight into what the exam will be like while also helping me to narrow down the topic for study. Overall I am confident that I made a wise decision to purchase the text because any insight or new learning is beneficial toward preparations for the exam. I will not have lost anything, but figure I will have attained more knowledge on the subject of wound care. Thanks for making this resource available.

WCC Study Guide – Customer
This book is amazing. It helps me prepare for my exam, and it is so easy and simple to understand. It transcends my current level of knowledge to help me understand the exam and its course content by showing me step by step guidelines to help me maximize my score. I'm glad I choose Mometrix.
WCC Study Guide – Tess
I purchased the study guide secrets as well as the flash cards. I would rate both 5/5. At first when I looked at the flash cards I thought this is way too much info for each card. However I quickly came to realize just how beneficial all the information is. Thank you for your help.
WCC Study Guide – Customer