Wound Care Certification Practice Test
The Wound Care Certification (WCC) exam is offered by the National Alliance of Wound Care and Ostomy (NAWCO) as a way to measure a candidate's theoretical and practical knowledge about wound care management. It is usually an additional certification you can get on top of the standard wound care license to demonstrate advanced-level competency.
Click "Start Test" below to take a free Wound Care Certification practice test!
Eligibility
To be eligible for the exam, you must meet the following license, education, and experience requirements:
License Requirement
For the license requirement, you must hold any one of the following valid and unrestricted licenses:
RN
LPN/LVN
NP
PA
PTA
OT
OTA
MD
DO
DPM
Education Requirement
For the education requirement, you must meet one of the following two options:
You must graduate from a skin and wound management course that meets certification criteria
You must hold a current and active CWOCN, CWON, CWCN, or CWS certification
Experience Requirement
For the education requirement, you must meet one of the following two options:
You must complete at least 120 hours of hands-on clinical training
You must complete at least two years of full-time or four years of part-time experience with wound care, management, education, or research directly related to wound care
Exam Outline Review
The WCC exam contains 110 multiple-choice questions, 10 of which are unscored, and you will be given a time limit of 2 hours. The unscored questions are used to evaluate questions for future versions of the exam, and you will not know which questions are scored or unscored.
The exam is split into four content domains, and each domain contains a set of objectives.
1. Patient and Wound Information (27%)

Obtain patient history by applying procedural conceptsAnalyze characteristics of wounds
Identify the types, stage or grade, and probable etiology of wounds
Determine any indications of compromised healing of the wound
2. Plan of Care (40%)

Select appropriate options for wound care treatment
Verify the plan's effectiveness and recommend revisions that are appropriate
Determine the steps needed for the preparation and management of the wound bed
Determine if diagnostic testing and any subsequent actions are needed
Determine if nutritional intervention is needed
Determine the educational plan
Mitigate risk factors by determining preventative strategies
3. Legal (14%)

Ensure accurate documentation by applying legal and institutional guidelines
Apply best practices and care standards
Appy legal concepts to the wound care practice
4. Skin (19%)

Analyze skin integrity across the patient's lifespan
Describe the functions and structures of normal skin
Differentiate treatment options for abnormal skin conditions
Describe wound healing phases
Analyze the impact of circulatory and lymphatic systems on wound healing
Check out Mometrix's WCC Study Guide
Get practice questions, video tutorials, and detailed study lessons
Get Your Study Guide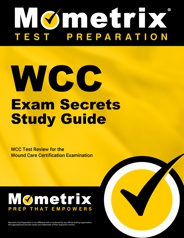 Registration
To register for the exam, you must first submit an application to NAWCO via their website. Your application must include any necessary transcripts and eligibility verification documents, as well as the $380 examination fee.
Once your application is approved, you will receive an authorization to test (ATT) and instructions on how to schedule your exam appointment.
Test Day
In-person Testing
You should arrive 15-30 minutes early at the testing center on exam day, which will leave time for the check-in process to take place. This process involves checking your ID and signing a confidentiality form.
Once you are checked in, you will be asked to place all personal or prohibited items in a secure locker outside the testing area, and you will be given a piece of scratch paper and two pencils to take notes with during the exam.
Once you are ready, the proctor will lead you to the testing station and provide a brief introduction to the testing system before the exam begins.
Live Remote Proctoring
Before you check in for your test, you must clear your table/desk of electronics, resource materials, books, and recording devices. The only things allowed in your testing area are one piece of scratch paper and two pencils.
The remote proctor will first ask you to show your ID. They will then ask you to scan your room with your webcam to show that you have no prohibited items in the area.
Once the proctor is satisfied that the remote testing requirements are met, they will walk you through the examination process and help you begin your exam.
How the Exam is Scored
A group of subject matter experts determines the passing score for the WCC exam. The SME panel makes an evaluation of the standard necessary to find candidates with a sufficient degree of expertise and knowledge for the role. Therefore, the test results are evaluated against a predetermined benchmark.
Your score report, which simply denotes your pass or fail status, will be provided to you at the end of the exam.
Retaking the Exam
If you fail the exam, you may take it again up to three more times within two years of your original testing date. After that, you must wait a full calendar year before taking the exam again.
Check out Mometrix's WCC Flashcards
Get complex subjects broken down into easily understandable concepts
Get Your Flashcards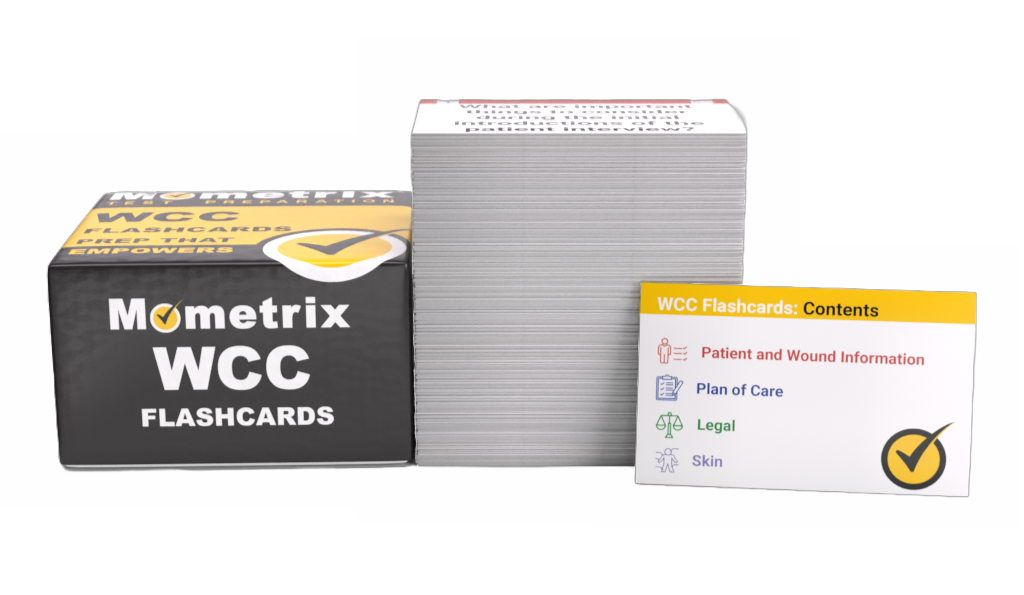 FAQs
How many questions are on the WCC exam?
There are 110 multiple-choice questions on the exam.
How long is the WCC exam?
The time limit for the exam is 2 hours.
How much does the WCC exam cost?
The examination fee is $380.