WorkKeys Practice Test
-Earning a passing score on the WorkKeys test will grant you the National Career Readiness Certificate, an important document that verifies your mastery of each skill required within the work environment.
-Employers primarily use the ACT NCRC to look at abilities, skills, and readiness to achieve success in the workplace.
-The WorkKeys exam is an extra step to take in the hiring process, and it can improve chances for being hired.
Take our WorkKeys practice test to be prepared for this exam.

What does the WorkKeys test consist of?
The WorkKeys test contains eight workplace skill assessments of varying levels of difficulty.
What all is on the WorkKeys test?
There are eight workplace skill assessments on the WorkKeys test. These assessments include Applied Math, Workplace Documents, Graphic Literacy, Applied Technology, Business Writing, Fit, Talent, and Workplace Observation.
How long does it take to get WorkKeys results?
Results for the multiple choice portion of the WorkKeys are usually available within two weeks of taking your test. However, it could sometimes be up to eight weeks before you receive your results. You will receive your writing score about two weeks after receiving your scores for the multiple choice section.
Can you use a calculator on the WorkKeys?
You can use any 4-function, graphing, or scientific calculator only on the mathematics test.
What is a Workkeys certificate?
This certificate is assessment-based and the credential is issued at four levels. This certificate measures your ability to perform essential skills that will be needed for success in your work.
What is the Gold level NCRC?
There are four levels of the NCRC. The Gold level indicate that you have the required work skills for at least 93% of profiled jobs.
What would you use the National Career Readiness Certificate?
Employers look for a NCRC from job candidates, directly from high school or otherwise, because it is a valid predictor of job performance.
It's worth noting that the WorkKeys assessment is formatted differently from the standardized tests you may have taken in the past. While it has a similar structure—namely that it splits up into sections and is timed—the questions featured on the exam pertain less to textbook knowledge and instead focus on your comprehension of more intricate and specific skills related to the workplace environment. Furthermore, you can choose a difficulty level for each section of the exam. The higher you go, the more complex the test will become.
The test is currently made up of three distinct sections: Reading for Information, Locating Information, and Applied Mathematics. We will go over each of these sections in detail further below.
WorkKeys Online Prep Course
If you want to be fully prepared, Mometrix offers an online WorkKeys Prep Course. The course is designed to provide you with the essential resources you'll need while studying. The WorkKeys Course includes:
23 Lessons Covering the Most Important Topics
500+ WorkKeys Practice Questions
Over 40 Video Tutorials
More than 200 Digital Flashcards
Money-back Guarantee
Free Mobile Access
And More!
The WorkKeys Prep Course is designed to help any learner prepare for their WorkKeys exam; click below to check it out.
Reading for Information
The Reading for Information portion of the WorkKeys exam is a bit similar in concept to standardized reading tests. However, instead of literature, you'll be expected to read and answer questions about the various types of writing you may encounter within the work environment, like rules and notes.
Check Out Mometrix's WorkKeys Study Guide
Get practice questions, video tutorials, and detailed study lessons
Get Your Study Guide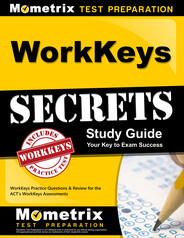 The amount of time you will be given to complete the exam will vary based on the format you choose. The paper version of the Reading for Information subtest lasts 45 minutes, while the Spanish and digital versions last 55 minutes. Regardless of which format you decide to take, you can always expect to find a total of 33 questions.
The Reading for Information section has five difficulty levels, ranking from easiest to hardest. These levels are 3, 4, 5, 6, and 7.
Level 3 questions will involve selections that imitate the simplest forms of written information you'll typically encounter within the working world: news, instructions, and rules. Everything will be to the point. Using the information given, you will have to evaluate how to approach specific workplace scenarios; find the central theme of the text; predict the order of specific actions as narrated by the text; and choose the best definition for different terms.
Level 4 will start to introduce longer passages that are still as direct as possible. You will still have to choose the best action to take in different scenarios—specifically when what to do isn't specified by the rules; pinpoint definitions of words; and decide what information within the text is most important.
Level 5 continues to offer information that is more difficult to read through, with much more information included. You will have to complete similar tasks as described for Level 4, while also demonstrating your understanding of field-specific vocabulary.
Level 6 contains a wider array of information, all of which will be more difficult to read. Not all information you need to answer questions will be included within the information, meaning you will have to make inferences based on what is given to you. You will have to use logic to figure out why certain directions are included within a passage; conclude what parts of the passage are implied through the writing; use rules and directions within a wider variety of workplace scenarios; and pinpoint alternate definitions of words used within the text.
Level 7 features the most varied, intricate passages. Much of the information is suggested rather than stated outright. You will have to follow certain rules and instructions in scenarios that are not described by the text whatsoever; and define field-specific words that you are generally less likely to encounter firsthand.
Locating Information
"Locating Information" refers specifically to your ability to read and decipher graphical data—IE, diagrams, charts, etc. No matter what field you decide to work in, you will very likely encounter graphical data at some point during your career, making it that much more important to know how to interpret it in all of its formats.
This part of the exam has a time limit of 45 minutes (for the paper version of the test) or 55 minutes (for the Spanish and digital formats of the exam.) There are 38 total questions to answer, no matter which version or difficulty level you choose to take. The Locating Information portion of the WorkKeys assessment comes in four difficulty levels: 3, 4, 5, and 6. Level 3 requires only basic knowledge, while Level 6 features the hardest questions and information to work with.
Level 3 questions will typically come with only one piece of data for you to analyze per question (or set of questions.) You can expect to see various types of graphics, like floor plans, forms for taking orders, maps, graphs, charts, and tables. Questions on the exam may want you to guess what information may be included in blank portions of the graphic, or to pinpoint specific data.
Level 4 features much of the same types of data found in Level 3, but may want you to evaluate two graphics per question or per set of questions. Questions under this level will require you to evaluate similarities and differences between a pair of graphics, look for specific data, spot patterns, and deduce the relationship between the graphics being shown to you.
Level 5 will present you with graphics that are harder to interpret. Using the information within them, you will be expected to evaluate the similarities and relationship between a set of graphics, decide what information is necessary and what isn't, and provide a basic outline of the data being shown to you.
Level 6 ranks the highest in terms of complexity for this portion of the WorkKeys exam. In addition to all the skills mentioned above, you will also have to create inferences and judgments based on the given data, as well as try to fit it within different contexts you may encounter within the workplace.
Applied Mathematics
The way you use mathematics in a work environment tends to vary from how you were expected to learn and use math while you were in school, depending on the specific field you plan to pursue. Rather than simply having to solve equation after equation, the questions featured on the Applied Mathematics portion of the WorkKeys assessment test are modeled after how you would use them in the average work situation.
You will be given 45 minutes to complete the exam if you decide to take it on paper. The Spanish-language and Internet formats of the exam have a slightly longer time limit of 55 minutes. Every version of this part of the test will have a total of 33 questions to answer.
The Applied Mathematics subtest splits up into 5 levels: 3, 4, 5, 6, and 7. The easiest level to work through is 3, while the hardest is 7.
For Level 3, each question will be presented in word problem format with directions that are easy to follow. You will be expected to convert measurements and numbers (such as percentages and fractions) and work through basic arithmetic problems with both negative and positive numbers.
Level 4 features more graphical information, such as graphs and charts, and its questions are a bit more complicated. You will have to figure out how to order an equation before solving it; use more than one arithmetic method to solve a problem; multiply decimals and negative and mixed numbers; add percentages, decimals, and fractions; and find the average of a group of numbers.
Questions from Level 5 onward tend to become more and more complicated. Here you will be expected to complete such tasks as figuring out price discounts; choosing how to approach a problem in terms of which arithmetic method to use; find the area and perimeter of circles and rectangles; and solve division problems with negative numbers.
Level 6 questions will ask you to figure out different rates; work with mixed numbers and fractions; figure out rectangular volumes; logically structure different formulas so you can work them out correctly; make corrections to various problems; and use more than one mathematical formula to create conversions.
Level 7 questions will draw upon your knowledge of statistics, as well as require you to work with ratios; percentage, fraction, decimal, and mixed number conversions; and functions.
We'll Give You the Resources You Need
The Mometrix Test Preparation team understands just how important this score is to your future goals. We want to help you succeed so you can move on to the next phase of your life as smoothly as possible. That's why we make it our mission to offer you only the best study materials.
On this page, you can gain access to our WorkKeys practice test, as well as our WorkKeys study guide. After all, it's a well known fact that passing any exam becomes much easier once you have the right study tools at your disposal. Our WorkKeys test prep materials were crafted through careful observation of the real exam. As such, you can fully expect our study materials to closely match what you'll find on the real exam.
Our ACT WorkKeys practice test in particular is modeled directly after the full test. You will find a whole host of WorkKeys practice questions designed to familiarize you with the contents of the exam, as well as help you gain a better sense of which areas may need more of your attention as you study.
WorkKeys Study Guide
Mometrix Academy is a completely free WorkKeys assessment resource provided by Mometrix Test Preparation. If you find benefit from our efforts here, check out our premium quality WorkKeys study guide or online course to take your studying to the next level. Just click the links below. Your purchase also helps us make even more great, free content for test-takers.
WorkKeys Study Guide
WorkKeys Math Flashcards
WorkKeys Online Course
WorkKeys Study Guide Customer Success Stories
Our customers love the tutorial videos from Mometrix Academy that we have incorporated into our WorkKeys test study guide. The WorkKeys study guide reviews below are examples of customer experiences.
The study skills lessons are perfect. Not too "technical" and I appreciate that. I feel the Practice Tests provide lots of examples of the skills. The answer key is very helpful because of the explanation for the correct answer. Thank you!
WorkKeys Study Guide – Customer
I got this for my Wife and she really loves it. She says it takes you through each part with great examples and then has links to show a video of it so you can see the problem worked out on paper, then watch how it talks you through it. So there is both a visual and auditory guide to each area. Extremely helpful.
WorkKeys Study Guide – Brian
After reviewing this material, I believe that it will prepare me to score much higher on the tests than I would have achieved without it. I am very happy with this purchase and feel confident that I will maximize my scores come test time.
WorkKeys Study Guide – Michael
I am very impressed with this study guide. We have quite a few students who are taking the WorkKeys exam as part of graduation requirements for the State. I find the study guide very easy to read and easy to follow.
WorkKeys Study Guide – Nestie
I find it to be a doable study and learning guide. Seems to be written nicely and understandably. I like the sample/practice problems so far. I also like the advice given on testing. I feel this is going to help me pass the WorkKeys test and it's building my confidence. Thank you
WorkKeys Study Guide – Candace
I used this guide to study for the Alabama teachers certification test used by the state. I passed with flying colors on all sections. It is a great review on areas of the actual test. I only studied for two weeks to brush up on all areas! Great practice tests with the answers explained in detail.
WorkKeys Study Guide – Bryan
It is very useful especially when it comes to math and reading comprehension. Trips for grammar are very detailed, especially the use of punctuation marks. Hoping to get a high score for the ACT, I'm sure this book will help me achieve it. Thank you so much!!!
WorkKeys Study Guide – Customer
A lot of good and helpful information. It provides a # of suggestions on how to prepare & some good ideas on tips & strategies for taking the Exam. I have not taken a standardized exam in a long time, and these ideas & secrets are good for me.
WorkKeys Study Guide – Daniel
Excellent reference document and study guide for high school graduates who have made the decision to go to vocational school and seek the state career readiness certificate by taking the Workkeys test.
WorkKeys Study Guide – Customer
I ordered this book for one of my students. It turns out it has supremely distilled advice. Unbelievably useful. In addition there are links to videos online. They too are so short and sweet! It's an amazing tool. I was so impressed! I also love the many bonus materials. Overall the paper book is an exceptionally useful instructional tool. I think it's very useful for both first-time test takers and (especially) those that are re-taking the test.
WorkKeys Study Guide – Customer
Mometrix Academy – Home