Every company looks for employees that are competent and able to perform their everyday tasks to the best of their abilities. For students and jobseekers, the ACT Workkeys Assessments can act as a gauge on which of your skills are best suited for certain jobs, and which ones you have a chance to improve upon.
Click the "Start Test" button above to begin your free WorkKeys practice test. Good luck with your studying!
About the WorkKeys Tests
The WorkKeys Assessments are part of the ACT WorkKeys system of assessments, curriculum, and job profiling. This system helps measure and build your skills to become an advantage in the workplace, improving your job performance and increasing your opportunities for career change and advancement.
Passing specific components of the WorkKeys Assessments will let you earn a National Career Readiness Certificate (NCRC) which can help employers verify that you have the skills that are considered to be the most essential across a variety of industries and occupations. Overall, employers are able to assess both your hard and soft skills and how you apply them as a member of the workforce.
This certificate is issued at four levels depending on the level of assessments you pass: Platinum, Gold, Silver, and Bronze. To attain a certain level of certification, you must achieve the following scores on all three Act WorkKeys NCRC Assessments:
Bronze: Score of 3 or higher
Silver: Score of 4 or higher
Gold: Score of 5 or higher
Platinum: Score of 6 or higher
WorkKeys Test Outlines
The ACT WorkKeys Assessments are a set of exams that specifically measure a certain skill in varying levels of difficulty. They may be administered by a computer-based exam or a written pencil-and-paper exam depending on which testing center you will register at. There are a total of eight assessments in the suite:
Applied Math
Graphic Literacy
Workplace Documents
Applied Technology
Business Writing
Workplace Observation
Fit
Talent
To earn an NCRC, you must pass the first three assessments Applied Math, Graphic Literacy, and Workplace Documents assessments at a Level Score of 3 or higher. These three assessments are also available in Spanish. The rest of the assessments are optional but may prove to be useful in certain industries or roles.
Applied Math
This assessment is composed of 34 items that must be answered within 55 minutes.
It measures critical thinking, mathematical reasoning, and problem-solving techniques for practical situations that happen every day in the workplace. This assessment has five levels of difficulty and may be administered by computer or pencil-and-paper exam. You will be allowed to use a calculator when taking this assessment.
Click below to view the full Applied Math assessment outline.
Graphic Literacy
This assessment is composed of 38 items that must be answered within 55 minutes.
These questions evaluate your ability to identify, read, and comprehend graphical materials used in the workplace to solve problems. This assessment has five levels of difficulty and may be administered by computer or pencil-and-paper exam.
Click below to view the full Graphic Literacy assessment outline.
Workplace Documents
This assessment is composed of 35 items that must be answered within 55 minutes. It measures your ability to properly read real workplace documents and use the information to solve problems and make decisions as you would in the workplace. These documents may include messages, emails, letters, directions, signs, bulletins, policies, websites, contracts, and regulations.
This assessment has five levels of difficulty and may be administered by computer or pencil-and-paper exam.
Click below to view the full Workplace Documents assessment outline.
Applied Technology
This assessment is composed of 34 items that must be answered within 55 minutes if taken via a computer-based exam or if you will take the Spanish version, and 45 minutes via paper-and-pencil exam. It will measure skills in utilizing technology to solve problems presented in the workplace.
You will be tested on basic principles and skills in four areas of technology: electricity, mechanics, fluid dynamics, and thermodynamics. This test specifically challenges your abilities in practical reasoning and will ask you to solve problems without calculations or formulas. This assessment has four levels of difficulty and may be administered by computer or pencil-and-paper exam.
Click below to view the full Applied Technology assessment outline.
Business Writing
This assessment involves reading one prompt and providing a written response within 30 minutes. It evaluates how you write an original response to a work-related situation. Components include sentence structure, mechanics, grammar, word usage, tone and word choice, organization and focus, and development of ideas.
This assessment has five skill levels that you can attain, with Level 1 being the least complex and Level 5 being the most complex. As you increase your level, you have to demonstrate more competency and increased skill. Scoring for this assessment is on a scale of zero to five, each of which has a corresponding set of criteria that need to be followed.
Click below to view the full Business Writing assessment outline.
Workplace Observation
This assessment is composed of 35 items that describe 12 scenarios and must be answered within 55 minutes. It measures your skills in observing, following, understanding, and evaluating processes, demonstrations, and other workplace procedures. It covers five levels that will test a broad range of skills with an emphasis on observation. This assessment can only be administered by computer.
While taking the exam, various scenarios along with their corresponding questions are presented to the examinee. You may only view each scenario once. Once the questions associated with the scenario are answered, you will not be able to return to that item so make sure that your answers are final.
Click below to view the full Workplace Observation assessment outline.
Fit
This assessment is made up of 102 items answerable in 15-20 minutes. It is a less formal test that measures your interests and values and matches them to the work environment. Its results can tell you how you will align to certain occupations within an organization. The Fit assessment is composed of two parts:
The first part is the ACT Interest Inventory. This was first introduced in 1977 and is updated periodically. It assesses six basic interests: Administration and Sales, Business Operations, Technical, Science and Technology, Arts, and Social Services—covering the spectrum of basic work tasks.
The second part is the Work Values Inventory. This was developed specifically for the Fit assessment and consists of 18 values commonly found in values inventories. Some examples include Public Contact, Autonomy, Influencing Others, Order, Intellectual Stimulation, Precision, and Creativity.
Click below to view the full Fit assessment outline.
Talent
This assessment consists of 165 items to be answered in 30 to 35 minutes. This test helps employers choose the best potential employees by measuring their work-related attitudes and behaviors. This test, unlike cognitive ability tests, has no correct answers but will have you identify certain statements that accurately represent your personality. It measures the following attributes:
Carefulness
Cooperation
Creativity
Discipline
Goodwill
Influence
Optimism
Order
Savvy
Sociability
Stability
Striving
Click below to view the Talent assessment outline.
Check Out Mometrix's WorkKeys Study Guide
Get practice questions, video tutorials, and detailed study lessons
Get Your Study Guide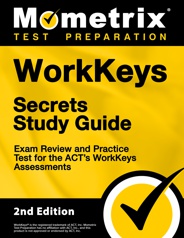 WorkKeys Test Registration
You may take the WorkKeys Assessments throughout the year at any active test location. You may locate your nearest testing location online by entering your zip code on their website, after which, it will provide a list of testing centers you may pick from. You will be asked to contact your chosen test center to register and they will provide all the necessary information.
Fees also vary per state and test location, but be prepared to pay around $20-40 to register for the exam.
You don't have to register for the three prerequisite assessments for the ACT WorkKeys NCRC at the same time. However, to make sure that all your scores from these assessments are attributed back to you, make sure to provide exactly the same information for the following upon registration:
First Name
Last Name
Month of birth
Day of birth
Examinee ID
WorkKeys Scores
The ACT WorkKeys NCRC Assessments have two scores: a Level Score and a Scale Score. These scores indicate the ability to perform more complex tasks as they increase.
The
Level Score
is based on the ACT WorkKeys job profile—which provides a snapshot of skills appropriate for a job—and is used in hiring and career advancement decisions.
The Scale Score is mostly used to track your growth in skills over time. This is especially useful for educators if you are a student.
To view your score report, your test center will notify you when it is available and will provide you with the details on how to access it. This means you may either access your score report online on your MyWorkKeys.com account, your test center will send it to you over the mail, or you may be asked to pick it up in person.
If you have passed the three WorkKeys Assessments and are eligible to receive an NCRC, your test provider may pay for it and then provide you with a copy, or you may log in to your WorkKeys account to access your scores and NCRC achievement details.
What do Do with Your WorkKeys Scores
Your score report is vital to prove to future colleges you will apply for and potential employers that you have the foundational skillsets needed to function as a proper member of the workforce. Using your score report to its advantage should be the priority once you have it. You may add information and details of your score to your resume or applications.
You may also bring a copy of your score report during job interviews so they may review it in person.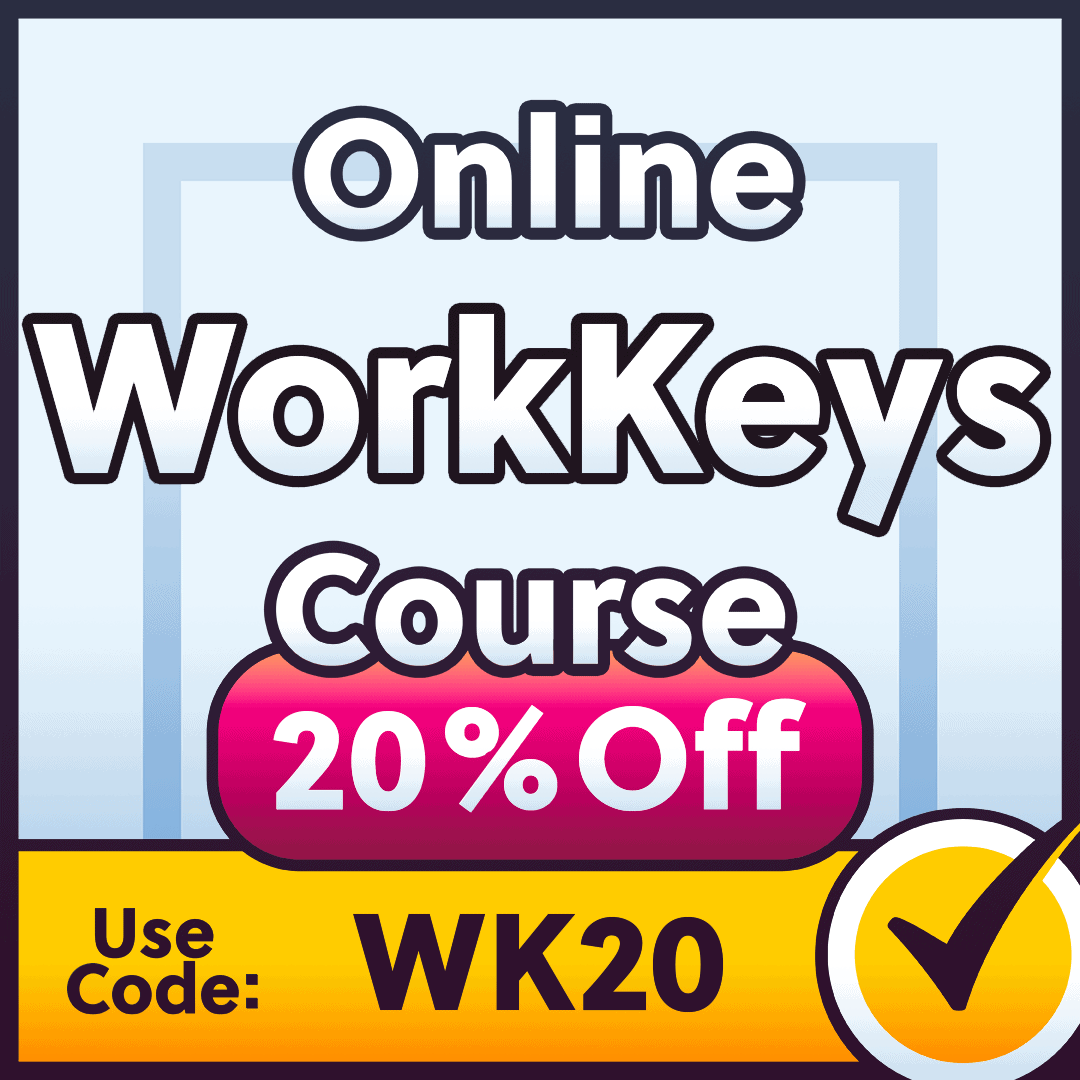 WorkKeys Online Prep Course
If you want to be fully prepared, Mometrix offers an online WorkKeys prep course. The course is designed to provide you with the essential resources you'll need while studying. The WorkKeys course includes:
29 Lessons Covering the Most Important Topics
500+ WorkKeys Practice Questions
Over 50 Video Tutorials
More than 200 Digital Flashcards
Money-back Guarantee
Free Mobile Access
And More!
The WorkKeys prep course is designed to help any learner prepare for the WorkKeys Assessments. Click below to check it out!
Check Out Mometrix's WorkKeys Math Flashcards
Get complex subjects broken down into easily understandable concepts
Get Your Flashcards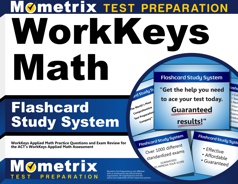 WorkKeys Test Prep
The Mometrix Test Preparation team understands just how important this score is to your future goals. We want to help you succeed so you can move on to the next phase of your life as smoothly as possible. That's why we make it our mission to offer you only the best study materials.
On this page, you can gain access to our WorkKeys practice test, as well as our WorkKeys study guide. After all, it's a well-known fact that passing any exam becomes much easier once you have the right study tools at your disposal. Our WorkKeys test prep materials were crafted through careful observation of the real exam. As such, you can fully expect our study materials to closely match what you'll find on the real exam.
FAQs
Q
What is the WorkKeys test?
A
There are eight workplace skill assessments on the WorkKeys test. These assessments include Applied Mathematics, Graphic Literacy, Workplace Documents, Applied Technology, Business Writing, Workplace Observation, Fit, and Talent.
Q
How long does it take to get WorkKeys results?
A
Results for the multiple choice portion of the WorkKeys are usually available within two weeks of taking your test. However, it could sometimes be up to eight weeks before you receive your results. You will receive your writing score about two weeks after receiving your scores for the multiple-choice section.
Q
Can you use a calculator on the WorkKeys?
A
Yes, you can use any 4-function, graphing, or scientific calculator only on the mathematics test.
Q
What is a Workkeys certificate?
A
This certificate is assessment-based and the credential is issued at four levels. This certificate measures your ability to perform essential skills that will be needed for success in your work.
Q
What is the Gold level NCRC?
A
There are four levels of the National Career Readiness Certificate (NCRC). The Gold level indicate that you have the required work skills for at least 93% of profiled jobs.
Q
What would you use the National Career Readiness Certificate for?
A
Employers look for a NCRC from job candidates, directly from high school or otherwise, because it is a valid predictor of job performance.