If you plan on applying for a job or a promotion, you may be asked to take the Wonderlic Basic Skills test. It's essentially a very short IQ test which is used by thousands of businesses and organizations to test basic math and English skills of prospective employees.
Click "Start Test" above to take a free Wonderlic Basic Skills practice test, and check out our premium-quality Wonderlic test prep resources by clicking the links below!
What is the Wonderlic Basic Skills Test?
The Wonderlic Basic Skills Test, or WBST, is categorized as Ability-to-Benefits, or ATB, testing. ATB testing is intended to discern whether an applicant has the aptitude necessary to benefit from admission to postsecondary school training programs.
In addition to being used to determine whether non-high school graduate will succeed in the classroom, it can also be used to identify job applicants that can perform the job functions required in an entry-level position. For this reason, it is often used by government agencies and private businesses in addition to schools.
What's on the Wonderlic Basic Skills Test?
At its core, the Wonderlic Basic Skills test is simply a measure of your basic language and math skills.
The test itself is composed of two different sections, a verbal section (Test of Verbal Skills) and a quantitative section (Test of Quantitative Skills). In accordance with ATB determination requirements, the tests will be administered in sequence, with the verbal test being taken before the quantitative test. It has been found this sequence helps put applicants at ease, as the verbal section presents questions that can be answered using the skills already used on a daily basis.
You will have 20 minutes to finish the questions contained within each section.
Check Out Mometrix's Wonderlic Basic Skills Study Guide
Get practice questions, video tutorials, and detailed study lessons
Get Your Study Guide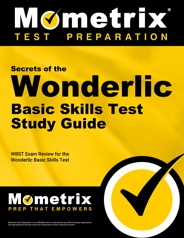 Scoring the Wonderlic Basic Skills Test
To qualify for Title IV Federal financial assistance, you must receive the following minimum scores or above within the same testing session as set by the US Department of Education:
WBST Test of Verbal Skills: 200
WBST Test of Quantitative Skills: 210
Your ATB answer sheet will be sent to Wonderlic, where it will be processed within three days after the date they received it. If you receive a passing score, you will see the word "PASS" in the "Ability-to-Benefit Status" box of your score report. Otherwise, you will see "NO PASS."
Retaking the Test
If you believe your testing session may be inaccurate, or it was incomplete due to unforeseen circumstances such as a school announcement or fire drill, you may need to retake the test. You may be able to retest as early as the same day as your initial test administration, or you may need to reschedule for another time.
If you have any doubt about your session, please speak with the test administrator at your testing location.
Check Out Mometrix's Wonderlic Basic Skills Flashcards
Get complex subjects broken down into easily understandable concepts
Get Your Flashcards