Texas CDL Exam – Air Brakes Endorsement
Before one is able to operate a commercial motor vehicle, he/she must acquire a Commercial Driver License (CDL).
Check Out Mometrix's CDL Printed Study Guide
Get practice questions, video tutorials, and detailed study lessons
Get Your Study Guide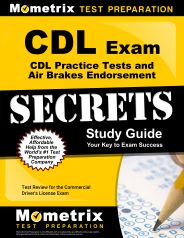 What do I need to apply for a CDL?
In order for an individual to apply for a CDL and drive interstate, the following requirements must be met:
Reside in Texas
Be 21 years old
Meet all qualifications of 49 CFR, Part 391
Certify medical certification status
Complete Form CDL-4
What are the potential CDL classes?
The classes of CDLs are: Class A. Allows for the operation of a combination of vehicles with a weight of more than 26,001 pounds, if the vehicles being towed are more than 10,000 pounds. Class B. Allows for the operation of a commercial truck with an attached cab and cargo with a weight of more than 26,000 pounds AND operation of a truck with detached towed cargo vehicle less than 10,000 pounds. Class C. Allows for the operation of a vehicle that weighs less than 26,001 pounds and carries 16 or more passenger or hazardous materials.
What tests will I need to take?
You will need to take the general knowledge test, which consists of 50 multiple choice and matching questions that focus on driving safely and transporting cargo safely. You will also take the air brakes knowledge test, which assesses your knowledge on parts of an air brake system, dual air brake, inspecting air brake systems, and using air brakes.
Once you pass the knowledge tests, you must take skills tests. The three types of skills tests are vehicle inspection, basic vehicle control, and on-road driving.
When taking the inspection test, if applying for Class A, you will have to perform one of four versions of the test. The test will include engine start, in-cab inspection, and coupling system inspection. You will then be asked to either inspect a portion of the vehicle or the entire vehicle.
If applying for Class B or C, you will have to perform one of three versions of the test. The test will include engine start and in-cab inspection. You will then inspect special features of the vehicle (if applicable). Lastly, you will be asked to either inspect a portion of the vehicle or the entire vehicle.
Examples of topics that will be evaluated for the basic vehicle control skills test are straight line backing, driver side parallel parking, or offset back/left. You will be scored on encroachments, pull-ups, outside vehicle observations, and final position.
With on-road testing, you will be quizzed on turns, intersections, urban business, lane changes, limited access highway, stopping/starting, curves, railroad crossing, bridges/overpasses, and general driving behaviors.
What is the cost of the exam?
The CDL fee is $60, and is good for five years.
What are the testing dates and locations?
The exam is administered on an appointment basis. There are many driver licenses offices throughout the State of Texas, at which you can take the exam.
What should I do the day of the exam?
Bring one primary form of identification, which will include your name, signature, and photo. If you do not have a primary form of ID, you can submit two secondary forms of ID, which will include your name & date of birth OR one secondary form of ID & two supporting identity documents. Examples of supporting identity documents are a social security card or a certified copy of a marriage license/divorce decree.
What is a passing score?
General Knowledge Test: 80%
Air Brakes Test: 80%
Vehicle Inspection Test: Pass
Basic Vehicle Control Test: Pass
On-Road Driving Test: Pass
What happens if I don't pass the exam?
If you do not pass the knowledge and skills tests, your application will remain pending for 90 days. If you do not take the failed tests in that 90-day period, or fail them a total of 3 times, your application will be canceled, and you must re-register.
We want to see you pass this exam as much as you do. Taking that into account, Mometrix has created the perfect study guide and flash card set for you to pass this exam with flying colors.
Texas CDL Exam – Air Brakes Endorsement Study Guide
Mometrix Academy is a completely free CDL test resource provided by Mometrix Test Preparation. If you find benefit from our efforts here, check out our premium quality CDL Study Guide and CDL Flash Cards to take your studying to the next level. Just click the CDL study guide link below. Your purchase also helps us make even more great, free test content for test-takers.
CDL Air Brakes Study Guide Customer Success Stories
Our customers love the tutorial videos from Mometrix Academy that we have incorporated into our CDL Air Brakes test study guide. The CDL Air Brakes study guide reviews below are examples of customer experiences.
Easy to read and learn for the people who don't like reading and sometimes don't always understand what they are reading. This book is very simple and explains very good for any kind of reader.
CDL Air Brakes Study Guide – Letitia
This is the first publication that I have found that not only provides practice tests and answers, but also explains the reasoning behind the question. Being new to the industry, I am trying to learn new skills and new terminology and this book is helping me to do that. Also, the advice on study strategies is invaluable. I feel much more prepared with this publication. Certainly worth every cent of the spend!
CDL Air Brakes Study Guide – Jeff
My husband purchased this book to help him study for his CDL. He said the study guide is just what he needed, it's compact, useful and straight to the point. The way the book is set up and the information is presented makes it much easier to understand the information. The practice questions and the answer key makes it easy to know if you studied the chapter enough.
CDL Air Brakes Study Guide – Customer
I found the book well laid out. Easy to follow. Material presented was relevant and thorough.
CDL Air Brakes Study Guide – Jane
This is a very informative practice test. This book was given to my fiance' for him to study and possibly get his CDL license at some point in the future. It goes over just about everything that is needed to know for the CDL exam and makes it very easy to study from. Overall, a very good study guide for all ages.
CDL Air Brakes Study Guide – Customer
The way sections are broken down makes reading and learning a specific topic easier. I am needing the CDL license for an advancement in my position at work and feel that I will gain the knowledge needed to pass the CDL from using the information I am reading in your book!
CDL Air Brakes Study Guide – Jim
Delivery was very fast like promised. Great study guide this book has really helped me get a better understanding on all parts of a truck and all instruments I feel very confident that i'll pass the exam when I go take it.
CDL Air Brakes Study Guide – Esteban