TEAS English & Language Usage Study Guide
Upgrade your studying with our TEAS study guide and flashcards:
NOTE ABOUT THE NEW ATI TEAS VERSION 7 EXAM:
All exams taken on June 3, 2022 and after will be on the new ATI TEAS Version 7 exam outline.
NOTE ABOUT THE NEW ATI TEAS VERSION 7 EXAM:
All exams taken on June 3, 2022 and after will be on the new ATI TEAS Version 7 exam outline.
ATI TEAS 7 English & Language Usage Review
---
If you're planning to become a nurse, there are many things you'll need to know. This is the whole point of the ATI TEAS: to gauge what you know prior to starting nursing school and how prepared you are for first-year curriculum. Because the nursing field is constantly in a state of innovation and advancement, much like the rest of the medical industry, the curriculum must keep up with industry demands. This is why exams like the ATI TEAS exist.
The TEAS 7 features four distinct subjects: Reading, Mathematics, Science, and English & Language Usage. This particular overview will cover the English Language & Usage portion of the exam. Specifically, we'll cover how its new incarnation differs from the old, what you can expect to find, and how you can prepare for and approach its questions.
Why am I being tested on English skills?
A nurse's knowledge of English and writing conventions is just as important as their knowledge of science and math. Proper communication is a major part of any career in the medical field. If you cannot communicate effectively, you risk causing confusion among patients and doctors, either through slipping up and saying the wrong thing or recording the wrong information. Writing is a primary need when it comes to communicating, and you can expect to do quite a lot of it once you begin your nursing education.
With that being said, let's dive right in!



What's New?
---
For the most part, there has been little change to the English & Language Usage section, but it has been expanded in terms of both the amount of questions you'll have and the amount of time given to you to complete said questions. In this instance, the "magic number" is 37. You will be expected to complete 37 questions within 37 minutes. A mere four of them will have no impact on your score whatsoever and are simply used for pretesting purposes.
English & Language Usage Section Contents
---
On the TEAS 7 version of the subtest, you'll find three similar categories to the ones on Version 6: Conventions of Standard English, Knowledge of Language, and Using Language and Vocabulary. The expectations of all three closely mimic what you'd traditionally find on other writing-based standardized tests you've taken in the past. The main objective also remains the same. It will be your job to read multiple selections and evaluate them with the objective of either identifying and correcting errors or recognizing authorial intent and style.
If you are taking the in-person paper-and-pencil version of the exam, it will still be presented in multiple-choice format, and you will still be expected to answer questions based upon an array of passages, which will cover a variety of subjects. If you are taking the computerized version of the exam, there are a handful of brand-new question types to be on the lookout for.
What are the new question types on the TEAS 7?
To help you know how to better prepare for this important subtest, we will go over what each of these question categories contain and how you can approach each of them as you take the test.
Conventions of Standard English
The first category of the English & Language Usage subtest is Conventions of Standard English, which contains 12 questions. It deals with the grammatical aspects of English and, as such, will assess your knowledge of the multiple ways to organize a sentence as well as punctuation and spelling. Here's what you'll be asked to do:
Use conventions of standard English spelling
Use conventions of standard English pronunciation
Use correct sentence structures
The trick to doing well on questions under this category is to pay close and careful attention to every question. It can be incredibly easy to miss an error if you don't take the time to slow down and read carefully, which could cause you to miss out on valuable points. Whether grammar and spelling is your best subject or not one of your strong suits, it also won't hurt you to brush up on the conventions of either.
Knowledge of Language
Knowing how to compose and organize your thoughts is a major part of communication and the English language. As such, the 11 questions on the Knowledge of Language category assess your ability to recognize and analyze how different pieces of writing are structured and framed in order to deliver their points. You will have to utilize multiple skills to do this:
Use grammar to enhance clarity in writing
Evaluate if language meets the needs of a particular audience
Develop a well-organized paragraph
Answering questions under this category will again involve close and careful reading. As you read various selections and passages during your study periods, be sure to think about how the authors across use language. What is their tone? What about its structure? Does it make sense? How could it be improved? Were there any parts that confused you and how could they be reworked so they're easier to understand?
Using Language and Vocabulary to Express Ideas in Writing
We've all encountered vocabulary words at some point during our education. Because of this, we're sure you can accurately pinpoint exactly what this section entails: being able to recognize words and define them accurately. How you will conclude the right definitions will vary from question to question. The 10 questions in this category test your ability to do the following:
Apply basic knowledge of the elements of the writing process to communicate effectively
Determine the meanings of words by analyzing word parts
So how can you prepare? First, you must recognize and comprehend that memorization is not the objective for this category. Simply cramming a list of words into your head won't ensure your success. Instead, you will have to read critically to come to the best possible answer. While some outside knowledge of vocabulary will help, especially in the realm of using root words to figure out a definition, there are other ways you can prepare that will prove just as useful. You'll want to be sure to brush up on your critical reading skills, particularly when it comes to analyzing the definitions of words.
TEAS Online Prep Course
---
If you are wanting to be fully prepared, Mometrix offers an online TEAS Prep Course. The course is designed to provide you with any and every resource you might want while studying. The TEAS Course includes:
106 Lessons Covering Every Topic
Over 1,450 TEAS Practice Questions
190+ Video Tutorials
311 Electronic Flashcards
Audio Mode for the Lessons
Money-back Guarantee
Easy Mobile Access
and More!
The TEAS Prep Course is designed to help any learner get everything they need to prepare for their TEAS exam; click below to check it out.
Alternative Question Types on the TEAS 7
---
If you are taking the computer version of the exam, there are four alternative question types in addition to multiple-choice.
Multiple-Choice
Multiple-choice questions provide four answer choices, with only one option available to select as the correct answer. In addition to text, some questions include charts, exhibits, and graphics.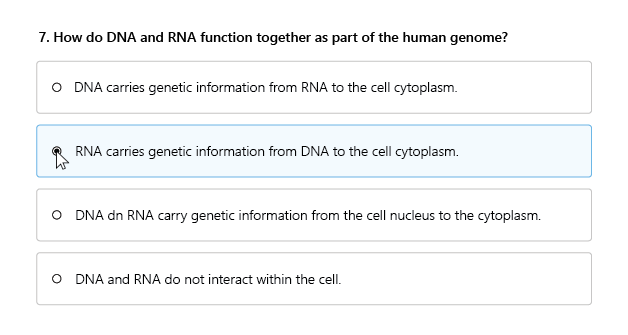 Multiple-Select
Multiple-select questions provide four or more answer choices, and more than one answer choice may be correct. For these questions, a prompt appears, asking you to "select all that apply." To correctly answer a question, you must select all correct answers. If you select any incorrect answer choices and/or do not select all correct answer choices, that question is scored as incorrect; no partial credit is given.
Supply Answer
Supply answer questions do not provide answer choices. Instead, the question asks you to "fill in the blank" or to simply answer the question provided. Words and numbers are both acceptable as answers.
Hot Spot
Hot spot questions provide an image containing between two and five clickable areas. You must click on the area of the image that correctly answers the question.

Ordered Response
Ordered response questions require you to correctly order a set of given responses. Each question provides between four and six responses, and you must drag each option from a box on the left to a box on the right. If any response option is out of order, the entire question is scored as incorrect; no partial credit is given.
What is the best way to approach the English & Language Usage section?
---
We want to stress that reading as closely and carefully as you can is key to doing well on this section. We understand the time limit may tempt you to rush through for the sake of avoiding wasting time. The key, however, is to hone your test-taking skills so you can work as efficiently as possible. Take your time, but not so much time that you wind up running out. Reading carefully will help you to be sure you fully understand what each question is looking for. This will enable you to more easily spot errors, in the case of questions under the Conventions of Standard English category, or figure out just the right definition of a word for Using Language and Vocabulary questions.
Finally, we encourage you to read as much as possible prior to your testing date. Read frequently, and read a wide variety of materials. This will expose you to a large amount of vocabulary and structural elements, which you can evaluate as you read. You can combine your reading with other resources, such as those on our website. Through us, you'll have access to an ATI TEAS 7 English & Language Usage study guide, practice test, and flashcards—all for the sake of helping your studying be as thorough as possible.
We at Mometrix Test Preparation understand the importance of this exam to your nursing education and career. This is why we strive to offer you the best and most comprehensive resources possible. As the TEAS grows and changes, you can expect us to keep you up to date on how you can prepare and knock the exam out of the park.
Good luck, and study hard!