TEAS Answer Sheets
In order to truly prepare for your test, you have to know where your weak spots are. These answer sheets provide a topic breakdown for each section of the TEAS in accordance with the TEAS outline.
To use the answer sheet, simply bubble in your answers as you work through the test. Once you have finished the test, grade your answer sheet using the answer explanations in the back of your study guide. The dark squares in the columns to the right of the answer choices show which category each question is in. When you add up all your points, you will be able to see which categories you missed the most questions in. This will allow you to focus your next study session on your weakest categories.
These answer sheets work for both the old and new edition of our TEAS Secrets Study Guide!
Check out Mometrix's TEAS 7 Study Guide
Get practice questions, video tutorials, and detailed study lessons
Get Your Study Guide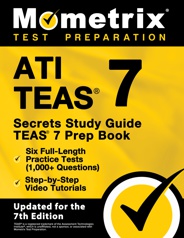 ATI TEAS Practice Questions