TCRN (Trauma Certified Registered Nurse) Exam
Registered nurses working in the field of trauma nursing should consider taking the Trauma Certified Registered Nurse (TCRN) examination developed by the Board of Certification for Emergency Nursing (BCEN®). Although there are no legal mandates for trauma nurses to receive this certification, TCRN certification instills confidence and identifies nurses with expert knowledge in trauma nursing. TCRN certified nurses are reported as having higher patient satisfaction, are more desirable to current and prospective employers, and may earn a higher salary than non-certified colleagues.

TCRN Exam Overview
Who is eligible to take the TCRN?
Anyone holding a current, unrestricted Registered Nurse license in the United States or its Territories (or its equivalence) is eligible to apply for the TCRN certification. Other recommendations (but not requirements) include 2 years of trauma nursing experience (approximately 1,000 practice hours per year) and 20-30 hours of coursework specifically related to trauma nursing.
How do I apply for the TCRN exam?
First time candidates need to go to the BCEN® website to create a BCEN® account. Candidates who have taken a BCEN® exam before or have ever had any BCEN® certification may already have an account. In that case, you will just need to log in and update your profile. Once logged in to your BCEN® account, you will select, complete, and submit the TCRN application. Test fees can be paid by credit card with your online application, or a check can be mailed to BCEN®. Once the application and payment is received by BCEN®, you will receive an exam eligibility email. This email will include your 90-day test window and instructions on where and how to schedule an appointment with Pearson VUE who will administer the TCRN exam. Pearson VUE testing centers are located in various cities throughout the world.
Check Out Mometrix's TCRN Study Guide
Get practice questions, video tutorials, and detailed study lessons
Get Your Study Guide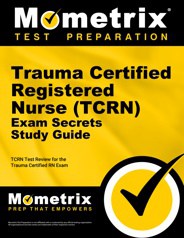 What is the cost of the TCRN exam?
Membership in the Society of Trauma Nurses (STN) provides a discount on the TCRN exam fee. The annual membership fees for STN is $110/year. TCRN exam fees for STN members are $230 for the initial exam and $200 to retest for initial certification. Without STN membership, the fee to take the initial TCRN exam is $370. Retest for initial certification is $340. How much time is allowed to complete the exam? The total time allotted for the 175 questions on the computer-based TCRN exam is 180 minutes (3 hours). Before beginning the exam, you will be asked to review and agree to the BCEN® Examination Rules and Regulations agreement. The time you spend reviewing and agreeing to the exam rules and regulations is included in the 180 minutes. During the test, there will be a clock on your screen indicating the time remaining. The exam will end if you have not completed the exam but have used up the 180 minutes allowed.
Am I allowed to use any reference materials, calculators, etc. during the test?
No. An erasable note board to be used as scratch paper will be provided to you. The note board must be returned to the test center staff upon completion of the exam.
What is the breakdown of topics covered on the TCRN exam?
The TCRN exam consists of 6 detailed content areas.
Clinical Practice: Head and Neck (29 questions)
Clinical Practice: Trunk (36 questions)
Clinical Practice: Extremity and Wound (25 questions)
Clinical Practice: Special Considerations (22 questions)
Continuum of Care for Trauma (21 questions)
Professional Issues (17 questions)
What testable tasks are evaluated on the TCRN exam?
Assessment, Analysis, Implementation, Evaluation, Continuum of Care, and Professional Issues are all testable tasks found on the TCRN exam.
How is the exam scored?
The TCRN exam consists of 175 question of which 150 questions are scored. The 25 questions not scored are pretest questions considered for use in future exams and do not affect your test score. There is no indication of which questions are pretest questions, so all questions should be answered to the best of your ability. Upon completion of the exam, the test center staff will present you with your score report. The score report will contain a raw score of the number of questions you answered correctly and a result of pass or fail. The score report will contain a breakdown of your scores in each major content area.
Check Out Mometrix's TCRN Flashcards
Get complex subjects broken down into easily understandable concepts
Get Your Flashcards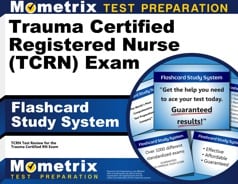 What if I do not pass the exam?
A waiting period of 90 days is required before retaking the exam. There is no limit on how many times the exam can be taken. To register to take the exam again, a new application is required along with all applicable fees and documentation. Your score report from the exam provides you with the number correct in each content area of the examination. This information is a good indication of where to focus your study before retaking the exam.
How can I most effectively prepare for the TCRN exam?
Mometrix has developed the Trauma Certified Registered Nurse (TCRN) Exam Flashcard Study System and the Trauma Certified Registered Nurse (TCRN) Exam Secrets Study Guide. Since the TCRN is a content-driven test, the questions are focused on what you know. The test experts at Mometrix have taken the hundreds of critical concepts you must understand to be successful on the TCRN and put them in flashcard form. Studies have shown that flashcards are an effective form of learning and are easy to take with you anywhere to review small amounts of information at a time. When you order our flashcards, we will also include TCRN exam practice test questions, a special report explaining how the Leitner Method maximizes flashcard learning, study secrets, a quick reference lesion chart, a list of pharmacology generic/trade names of 50 key drugs, a basic review of fracture types, CPR review sheet, a list TCRN exam high frequency medical terms, and a special report on how to overcome test anxiety. If you prefer a study guide, our TCRN Exam Secrets Study Guide also includes the critical concepts you need to know to do well on the TCRN exam along with the same bonuses that come with the flashcards. Because of our 1-year money-back guarantee, you have nothing to lose and everything to gain by ordering our flashcards today!
TCRN Study Guide
Mometrix Academy is a completely free TCRN test resource provided by Mometrix Test Preparation. If you find benefit from our efforts here, check out our premium quality TCRN Study Guide and TCRN Flash Cards to take your studying to the next level. Just click the TCRN study guide link below. Your purchase also helps us make even more great, free test content for test-takers.
TCRN Study Guide
TCRN Flashcards