The Trauma Certified Registered Nurse (TCRN) exam is administered by AHA to assess the knowledge and skills of prospective trauma care nurses.
Click "Start Test" above to take a free TCRN practice test, and check out our premium-quality TCRN test prep resources by clicking the links below!
TCRN Exam Eligibility
Although it is not necessary, BCEN advises that you have at least two years of experience in your specialty area. You must also possess a valid, unrestricted RN license in the United States, Canada, or Australia to be eligible to take the exam.
You might not be permitted to take the exam if your license been limited, restricted, or suspended by a nursing authority.
TCRN Exam Outline
The TCRN exam contains 175 multiple-choice questions, 25 of which are unscored, and you will be given a 3-hour time limit.
The exam is split into six content categories:
I. Clinical Practice: Head and Neck (29 scored questions)
The questions in this domain assess your knowledge and skills related to the following areas:
Traumatic brain injuries
Spinal injuries
Ocular trauma
Facial fractures
Neck trauma
II. Clinical Practice: Trunk (36 scored questions)
The questions in this domain assess your knowledge and skills related to the following areas:
Thoracic trauma
Abdominal trauma
Genitourinary trauma
Obstetrical trauma
III. Clinical Practice: Extremity and Wound (25 scored questions)
The questions in this domain assess your knowledge and skills related to the following areas:
Vertebral injuries
Amputations
Soft-tissue injuries
Compartment syndrome
Extremity fractures
Pelvic injuries
Inhalation injuries
Chemical burns
Thermal burns
Electrical burns
IV. Clinical Practice: Special Considerations (22 scored questions)
The questions in this domain assess your knowledge and skills related to the following areas:
Psychosocial issues related to trauma
Obstructive shock
Cardiogenic shock
Hypovolemic shock
Distributive shock
SIRS and MODS
V. Continuum of Care for Trauma (21 scored questions)
The questions in this domain assess your knowledge and skills related to the following areas:
Injury prevention
Pre-hospital care
Patient safety
Patient transfer
Forensic issues
End-of-life issues
Rehabilitation
VI. Professional Issues (17 scored questions)
The questions in this domain assess your knowledge and skills related to the following areas:
Staff safety
Trauma registry
Disaster management
Trauma quality management
Regulations and standards
Ethical issues
Education and outreach for interprofessional trauma teams
Critical incident stress management
Check Out Mometrix's TCRN Study Guide
Get practice questions, video tutorials, and detailed study lessons
Get Your Study Guide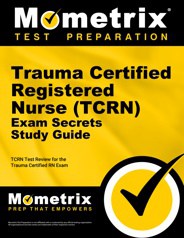 TCRN Exam Registration
To apply for the TCRN exam, you must visit the BCEN website and create an account.
Before you can schedule your exam, you need to pay the examination fee. The exam fee is $230 for Society of Trauma Nurses (STN) members, $370 for non-members, and $195 for active-duty military, reservists, and veterans.
Online Registration
You can register for the exam online at the BCEN website. Your registration is processed immediately, giving you the opportunity to schedule your exam on the day you apply. Payment is accepted by credit card or prepaid voucher (obtained through your employer, if applicable).
Registration by Mail
To pay the examination fee by check or money order, complete the registration process online at the BCEN website. Print your "Confirmation of Form Completion" and mail, with your payment, to BCEN. An exam eligibility email is sent when your registration fee is received. Mailed registrations can take up to four weeks to process, and you cannot schedule your exam until you receive the email.
Test Day
In-person Testing
You must check in for your appointment at least 30 minutes before your exam starts. You will be asked to provide at least one form of valid ID, review and sign the rules and regulations agreement, and store your items in the designated area. The proctor will take your photo and direct you to your testing station, where you are provided two sheets of paper during the exam. The only item you can have at your station is a writing utensil. Everything else is stored or left at home.
Live Remote Proctoring
You must complete the check-in process within 30 minutes of your scheduled appointment time. Before your exam can begin, the proctor will ask you to download the secure browser, complete a system check of your computer, test your microphone and web camera, and scan your testing area using your computer's camera. Finally, you will present your ID and have your photograph taken.
Your camera and microphone must remain on during the exam. Your desk must be clean, with only two pieces of blank paper and a writing utensil accessible. You can only use one monitor during the exam; extra monitors need to be unplugged. Once your check-in is complete and your testing area meets approval, your exam will begin.
How the TCRN Exam is Scored
If you take the exam at a testing center, you will be given a printed copy of your score report before you leave. If you take the exam via remote proctor, your pass or fail status will be displayed on your computer screen. A copy of your score report is sent immediately to your BCEN account, regardless of the testing method.
Your exam score is based on the number of questions you answered correctly, and your final score is not based on a curve. You must answer at least 104 questions correctly to pass the exam and receive certification. If you pass, your certification is valid for four years. A certificate and wallet card is mailed to the address on file with BCEN within 15 business days.
Retaking the TCRN Exam
You can take the TCRN exam as often as needed to pass the exam, but you must wait 90 days between attempts. After the 90-day waiting period, you must submit a retest exam application and pay the applicable fee through your BCEN account.
Check Out Mometrix's TCRN Flashcards
Get complex subjects broken down into easily understandable concepts
Get Your Flashcards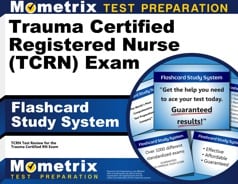 How to Study for the TCRN Exam
How to Study Effectively
Your success on TCRN test day depends not only on how many hours you put into preparing but also on whether you prepared the right way. It's good to check along the way to see whether your studying is paying off. One of the most effective ways to do this is by taking TCRN practice tests to evaluate your progress. Practice tests are useful because they show exactly where you need to improve. Every time you take a free TCRN exam practice test, pay special attention to these three groups of questions:
The questions you got wrong
The ones you had to guess on, even if you guessed right
The ones you found difficult or slow to work through
This will show you exactly what your weak areas are and where you need to devote more study time. Ask yourself why each of these questions gave you trouble. Was it because you didn't understand the material? Was it because you didn't remember the vocabulary? Do you need more repetitions on this type of question to build speed and confidence? Dig into those questions and figure out how you can strengthen your weak areas as you go back to review the material.
Answer Explanations
Additionally, many TCRN practice tests have a section explaining the answer choices. It can be tempting to read the explanation and think that you now have a good understanding of the concept. However, an explanation likely only covers part of the question's broader context. Even if the explanation makes sense, go back and investigate every concept related to the question until you're positive you have a thorough understanding.
Comprehend Each Topic
As you go along, keep in mind that the TCRN practice test is just that: practice. Memorizing these questions and answers will not be very helpful on the actual test because it is unlikely to have any of the same exact questions. If you only know the right answers to the sample questions, you won't be prepared for the real thing. Study the concepts until you understand them fully, and then you'll be able to answer any question that shows up on the test.
Strategy for TCRN Practice
When you're ready to start taking practice tests, follow this strategy:
Remove Limitations. Take the first test with no time constraints and with your notes and TCRN study guide handy. Take your time and focus on applying the strategies you've learned.
Time Yourself. Take the second practice test "open book" as well, but set a timer and practice pacing yourself to finish in time.
Simulate Test Day. Take any other practice tests as if it were test day. Set a timer and put away your study materials. Sit at a table or desk in a quiet room, imagine yourself at the testing center, and answer questions as quickly and accurately as possible.
Keep Practicing. Keep taking practice tests on a regular basis until you run out of practice tests or it's time for the actual test. Your mind will be ready for the schedule and stress of test day, and you'll be able to focus on recalling the material you've learned.
FAQs
Q
How many questions are on the TCRN exam?
A
There are 175 multiple-choice questions on the exam.
Q
How long is the TCRN exam?
A
The time limit for the exam is 3 hours.
Q
What is the passing score for the TCRN exam?
A
To pass the exam, you must answer at least 104 questions correctly.
Q
How much does the TCRN exam cost?
A
The exam fee is $230 for Society of Trauma Nurses (STN) members and $370 for non-members.