TCOLE Licensing Exam
The Texas Commission on Law Enforcement (TCOLE) requires all candidates seeking to become peace officers to pass a comprehensive state licensing exam. It measures the candidate's command of all the procedural and practical knowledge covered during the mandatory basic peace officer training course.
Who Is Eligible to Take the TCOLE State Licensure Exam?
The exam is open to anyone who meets the following eligibility criteria:
Be a US Citizen of at least 21 years of age. Under certain circumstances, you can become eligible before you are 21. Contact a TCOLE representative to learn more.
Possess at least a high school diploma or equivalent
If you have served in the armed forces, you must have been honorably discharged.
No record of conviction for a Class B misdemeanor or worse within the last ten years.
Not currently being charged with a criminal offense which, if convicted, would make you ineligible.
No record of conviction for an offense involving family violence.
Possess a valid, unrestricted driver's license.
Not prohibited under state law from possessing firearms or ammunition
Completed a physical exam by an approved, licensed physician. The physician must declare you physically sound and capable of performing the duties of a peace officer.
No trace of illegal drug use (as determined by various medical tests, including a blood test).
Completed a psychiatric evaluation by an approved, licensed psychologist. The psychologist must declare you psychologically and emotionally fit to handle the demands of the job
You will need to provide documentation with your application in order to prove that you meet the above criteria. The application process will involve getting a background check, a physical exam, a psychological exam, and a drug test. So you have to be prepared to share a good deal of personal information in order to be determined eligible.
Check Out Mometrix's TCOLE Study Guide
Get practice questions, video tutorials, and detailed study lessons
Get Your Study Guide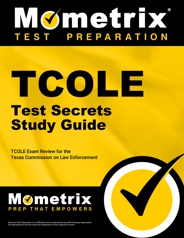 How Do I Register for the TCOLE Licensing Exam?
You can start your application online on the TCOLE website. Once you have established that you meet the eligibility criteria and you have completed your Basic Peace Officer training course, you will be able to register for an appointment that works with your schedule. The test is offered on multiple dates throughout the year. You will have to pay an exam fee of $26 in order to reserve your place for the exam.
What Will I Be Tested On?
The licensing exam will include a total of 250 questions (for peace officers, less for other professions). The questions will cover all the material that you learned in your Basic Peace Officer training course. Below is a brief overview of what you will be expected to know on test day:
Stress management, fitness, and wellness
Professional policing
Professionalism and ethics
U.S. and Texas Constitutions, bill of rights, and criminal justice system
Multiculturalism and human relations
Code of criminal procedure
Arrest, search, and seizure
Penal code
Traffic
Intoxicated driver and SFST
Civil process
Alcoholic beverage code
Health and safety code, controlled substances act
Family code, juvenile issues
Written communications
Spanish
Force option
Mechanics of arrest
Firearms
Emergency medical assistance
Emergency communications
Professional police driving
Communication and problem-solving
Patrol and consular notification
Victims of crime
Family violence and related assaultive offenses
Crisis intervention training and mental health code
Hazardous materials awareness
Criminal investigation
Racial profiling
Asset forfeiture
Identity crimes
TCLEOSE rules
You will have two hours and 45 minutes to respond to all 250 multiple choice questions. Bear in mind that the questions are randomly generated from a large bank of questions covering all the above material. This means the actual number of questions you see on any given topic will be completely random.
What Score Do I Need to Pass?
The scoring requirements are not made publicly available. However, if you set your target at about 80% or higher (meaning at least 200 correct out of 250), you should receive a passing score.
Check Out Mometrix's TCOLE Flashcards
Get complex subjects broken down into easily understandable concepts
Get Your Flashcards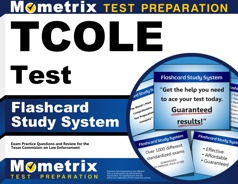 How Should I Study for the TCOLE Licensing Exam?
This is a lengthy and comprehensive exam, so you will need to review the essential concepts and procedures from all of your training material. Your best friends as you prepare for the exam are going to be the notes you took during training, the Mometrix Study Guide, and the Mometrix Flashcards.
The study guide provides a comprehensive overview of the core concepts from your training that you will definitely need to have memorized and ready to go on test day. The flashcards will reinforce your memory and improve your ability to recall the relevant information quickly and accurately. Because the questions are randomly generated, make sure to review all the material thoroughly and address your weaker subjects.
TCOLE Study Guide
Mometrix Academy is a completely free TCOLE test resource provided by Mometrix Test Preparation. If you find benefit from our efforts here, check out our premium quality TCOLE Study Guide and TCOLE Flash Cards to take your studying to the next level. Just click the TCOLE study guide link below. Your purchase also helps us make even more great, free test content for test-takers.
Upgrade your studying with our TCOLE study guide and flashcards:
TCOLE Study Guide
TCOLE Flashcards