TCOLE Practice Test
The Texas Commission on Law Enforcement (TCOLE) requires all candidates seeking to become peace officers to pass a comprehensive state licensing exam. It measures the candidate's command of all the procedural and practical knowledge covered during the mandatory basic peace officer training course.
Click "Start Test" below to take a free TCOLE practice test!
TCOLE Exam Eligibility
The exam is open to anyone who meets the following eligibility criteria:
Be a US Citizen of at least 21 years of age
Possess at least a high school diploma or equivalent
If you have served in the armed forces, you must have been honorably discharged
Have no record of conviction for a Class B misdemeanor or worse within the last ten years
Have no current criminal offense charge
Have no record of conviction for an offense involving family violence
Possess a valid, unrestricted driver's license
Have no prohibition under state law from possessing firearms or ammunition
Complete a physical exam by an approved, licensed physician
Have no trace of illegal drug use (as determined by various medical tests, including a blood test)
Complete a psychiatric evaluation by an approved, licensed psychologist
TCOLE Exam Outline
The TCOLE certification test for peace officers includes a total of 250 multiple-choice questions and a time limit of 3 hours. The questions will cover all the material that you learned in your Basic Peace Officer training course.
Below is a brief overview of what you will be expected to be familiar with on test day:
Professionalism and ethics
Professional policing
Fitness and wellness
Stress management
TCOLE Rules
Multiculturalism and Human Relations
Racial profiling
US Constitution and US citizens' rights
Texas Constitution and citizen's rights
Penal code
Code of criminal procedure
Arrest, search, and seizure
Asset forfeiture
Identifty theft
Consular notification
Civil process
Health and safety code
Controlled Substance Act
Alcoholic beverage code
Sexual assault and family violence
Missing and exploited children
Child alert checklist
Victims of crime
Human trafficking
Traffic code
Intoxicated driver (SFST)
Written communication
Verbal communication and public interactions
Spanish
De-escalation strategies
Force options theory
Crisis intervention
Traumatic brain injury
Arrest and control
Criminal investigations
Juvenile offenders
Professional police driving
Patrol skills
Radio communications
LTFA
Amber-Silver alert
Civilian interactions
Deaf and hard-of-hearing interactions
Canine encounters
Emergency medical assistance
Firearms
HAZMAT awareness
Check Out Mometrix's TCOLE Study Guide
Get practice questions, video tutorials, and detailed study lessons
Get Your Study Guide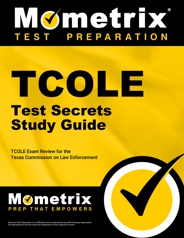 TCOLE Exam Registration
You can start your application online on the TCOLE website. Once you have established that you meet the eligibility criteria and you have completed your Basic Peace Officer training course, you will be able to register for an appointment that works with your schedule. The test is offered on multiple dates throughout the year.
You will have to pay an exam fee of $25 in order to reserve your place for the exam.
TCOLE Exam Passing Score
The scoring requirements are not made publicly available. However, if you set your target at about 80% or higher (meaning at least 200 correct out of 250), you should receive a passing score.
Check Out Mometrix's TCOLE Flashcards
Get complex subjects broken down into easily understandable concepts
Get Your Flashcards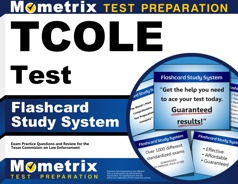 How to Study for the TCOLE Exam
How to Study Effectively
Your success on TCOLE test day depends not only on how many hours you put into preparing but also on whether you prepared the right way. It's good to check along the way to see whether your studying is paying off. One of the most effective ways to do this is by taking TCOLE practice tests to evaluate your progress. Practice tests are useful because they show exactly where you need to improve. Every time you take a free TCOLE certification practice test, pay special attention to these three groups of questions:
The questions you got wrong
The ones you had to guess on, even if you guessed right
The ones you found difficult or slow to work through
This will show you exactly what your weak areas are and where you need to devote more study time. Ask yourself why each of these questions gave you trouble. Was it because you didn't understand the material? Was it because you didn't remember the vocabulary? Do you need more repetitions on this type of question to build speed and confidence? Dig into those questions and figure out how you can strengthen your weak areas as you go back to review the material.
Answer Explanations
Additionally, many TCOLE practice tests have a section explaining the answer choices. It can be tempting to read the explanation and think that you now have a good understanding of the concept. However, an explanation likely only covers part of the question's broader context. Even if the explanation makes sense, go back and investigate every concept related to the question until you're positive you have a thorough understanding.
Comprehend Each Topic
As you go along, keep in mind that the TCOLE practice test is just that: practice. Memorizing these questions and answers will not be very helpful on the actual test because it is unlikely to have any of the same exact questions. If you only know the right answers to the sample questions, you won't be prepared for the real thing. Study the concepts until you understand them fully, and then you'll be able to answer any question that shows up on the test.
Strategy for TCOLE Practice
When you're ready to start taking practice tests, follow this strategy:
Remove Limitations. Take the first test with no time constraints and with your notes and TCOLE study guide handy. Take your time and focus on applying the strategies you've learned.
Time Yourself. Take the second practice test "open book" as well, but set a timer and practice pacing yourself to finish in time.
Simulate Test Day. Take any other practice tests as if it were test day. Set a timer and put away your study materials. Sit at a table or desk in a quiet room, imagine yourself at the testing center, and answer questions as quickly and accurately as possible.
Keep Practicing. Keep taking practice tests on a regular basis until you run out of practice tests or it's time for the actual test. Your mind will be ready for the schedule and stress of test day, and you'll be able to focus on recalling the material you've learned.
FAQs
How many questions are on the TCOLE certification test for peace officers?
There are 250 multiple-choice questions on the exam.
How long is the TCOLE certification test for peace officers?
The time limit for the exam is 3 hours.
What is the passing score for the TCOLE certification test for peace officers?
There is no set passing score for this exam.
How much does the TCOLE certification test for peace officers cost?
The examination fee is $25.