STS Practice Test
Safety certification continues to grow more valuable as workplace safety issues become increasingly complex so individuals wanting to prove their expertise in the safety profession will want to obtain the Safety Trained Supervisor (STS) certification. STS certification provides an individual with more career opportunities and also provides assurance to employers that safety supervisors and managers have the training and education necessary to ensure optimal workplace safety for all individuals in the workplace environment.
The Safety Trained Supervisor certification is awarded by the Board of Certified Safety Professionals (BCSP) and is accredited by the NCCA (National Commission for Certifying Agencies). The sole purpose of the BCSP is to certify individuals working in the safety profession. Individuals desiring STS certification usually work in transportation, manufacturing, and utilities, although it also includes individuals working in maintenance, facility services, health care social assistants, and administrative and support management. Mometrix, the world's #1 test preparation company, has developed the Safety Trained Supervisor Study Guide and the Safety Trained Supervisor Practice Test to prepare you for success in this endeavor.
In order to apply for STS certification, applicants must meet minimum requirements in education and experience. All applicants must have a minimum of 30 hours of formal health, safety and environmental training. In addition, applicants must have minimum work experience of either two years in a supervisory role or four years of work experience in any industry. BCSP will review each application to determine eligibility to sit for the STS exam. Once the applicant is accepted, the one-year eligibility period begins. STS candidates eligible for the STS exam must pass the exam within their one-year of eligibility. The Safety Trained Supervisor Study Guide and Safety Trained Supervisor Practice Test developed by Mometrix will equip you to pass the exam on your first attempt. Once certification is achieved, certificate holders are required to complete 30 hours of safety and health training every five years in order to keep up-to-date with new safety practices.

Check Out Mometrix's STS Printed Study Guide
Get practice questions, video tutorials, and detailed study lessons
Get Your Study Guide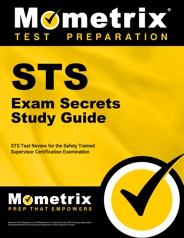 The computer-based STS exam consists of 100 multiple-choice questions. There are four possible answers for each question but only one correct choice. The two-hour exam is closed book. Candidates are allowed to bring calculators to use on the exam as long as they are one of the brands and models listed as acceptable on the BCSP website. If an approved calculator is not available, there is an online calculator available as part of the exam. Any formulas needed to answer a question will be provided within the question. A tutorial is provided before beginning the actual exam, but the two hours provided for the test doesn't begin until you start with the actual STS exam questions. The STS test is updated continuously based on ever-changing industry safety issues. Up to 15% of the questions on the exam are experimental and are not calculated in the candidate's final score. These questions are analyzed by the BCSP before using them as scored questions. Pearson VUE is the provider of all Safety Trained Supervisor Exams. Pearson VUE testing sites are located around the world. STS exam results are provided to candidates at the testing center immediately after completing and submitting the exam.
The Safety Trained Supervisor exam consists of five content domains: Safety Program Implementation; Hazard Identification and Control; Health Hazards and Basic Industrial Hygiene; Emergency Preparedness and Management; Leadership, Communication, and Training.
Questions from Domain 1, Safety Program Implementation, makes up 13.8% of the test. This domain evaluates knowledge of processes to analyze job safety and hazards, audit and inspection tools, inspection protocols, appropriate techniques to be used in incident investigations, and waste management. This domain also ensures the candidate has the skills to manage hazards associated with a project, to address safety and hazardous processes as the workplace environment changes, the ability to effectively communicate audit and inspection findings, and the ability to recognize potential violations.
Domain 2, Hazard Identification and Control, includes the largest number of questions on the STS exam (47.1%). This content domain includes a wide variety of topics including hierarchy of hazard controls, classification and labeling of chemicals, lockout/tagout, handling and storage of hazardous chemicals or materials, safety systems, pressurized systems hazards and controls, restricted space requirements, operation and inspection of industrial equipment, personal protection equipment, safe electrical work practices, ergonomic concepts (e.g., proper lifting techniques), office safety practices, safe motor vehicle practices, safe operation of heavy equipment, and hazards associated with technology distractions. These questions also include knowledge of hazards and controls related to working at heights, work surfaces, elevated work platforms, power tools, hand tools, working around moving parts, storage of materials, fire hazards, welding, cuttings, grinding, cranes and lifting devices, rigging and hoisting safety procedures, excavations, and the use and storage of compressed gas.
Health Hazards and Basic Industrial Hygiene questions in the third content domain make up 9.2% of the STS exam questions. This domain assesses the applicant's knowledge of chronic health hazards such as asbestos, mold, and lead. These questions also include acute health hazards including welding fume fever, poisoning, irritation, and other sensitivity. In addition, it includes other environmental conditions and hazards that could affect the safety and health of workers.
Domain 4, Emergency Preparedness and Management, consists of questions related to fire protection and safety requirements, emergency response drills and plans, basic first aid (including CPR and AED), and universal precautions. These questions make up 11.5% of the STS test questions.
The fifth content domain is Leadership, Communication, and Training and comprises 18.4% of the STS test questions. These questions evaluate the candidate's knowledge of the BCSP Code of Ethics, conflict resolution practices, safety programs, and job training requirements. This domain also measures the candidate's skills in areas such as effective communication, mentoring, identifying and correcting unsafe conditions, techniques to motivate a diverse workforce, effectively addressing employees about unsafe behaviors, application of regulatory standards, and job task compliance.
The STS exam covers a broad range of safety industry topics. The STS Study Guide developed by Mometrix covers the same content as the actual STS exam, so you can rest assured that you are not wasting your time but actually studying the material you need to know. The Mometrix STS Practice Test allows you to determine if you're ready to take the STS exam. The practice test includes answers and detailed explanations of those answers so that you can clearly understand which questions you missed and why you missed them. But that's not all. Mometrix offers a 100% money-back guarantee. What are you waiting for?

Check Out Mometrix's STS Flashcards
Get complex subjects broken down into easily understandable concepts
Get Your Flashcards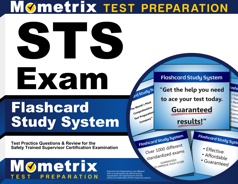 STS Study Guide
Mometrix Academy is a completely free resource provided by Mometrix Test Preparation. If you find benefit from our efforts here, check out our premium quality STS study guide to take your studying to the next level. Just click the STS study guide link below. Your purchase also helps us make even more great, free content for test-takers.
Upgrade your studying with our STS study guide and flashcards:
STS Study Guide
STS Flashcards
STS Study Guide Customer Success Stories
Our customers love the tutorial videos from Mometrix Academy that we have incorporated into our STS study guide. The STS study guide reviews below are examples of customer experiences.
I take a lot of exams and have used a lot of prep tools. I have not put this down since taking the sample exam. The "outsmart the exam" strategy is unique but I see my progress in less than a week. This approach takes the apprehension of "too much to remember" for an exam out of the equation. Wish I had found the "secrets" for some of my previous studies.
STS Study Guide – Customer
It touches on a little bit of everything. It is very informative.
STS Study Guide – Michael
This product is amazing in it's explicit explanations of the rules and standards. A must for any upstart safety professional.
STS Study Guide – Alex
Most important thing to me is not so much increasing knowledge but passing the test. I work in the business of performing safe work in a factory every day and I am ready to take the test for the safety topics that are central to my job, however, there are things that will be on the test that I do not need to know for my job. That is why the study materials are important to me. I am using the study guide to take notes on unfamiliar topics such as rigging and hoisting or crane load ratings, non-applicable to my job but important for the STS test.
STS Study Guide – John
As a safety professional, I found the study guide informative, easy to read (plain English, no fancy technical terms) and a great guide to the STS.
STS Study Guide – Customer