Upper Level SSAT Verbal Practice Test
The SSAT is a crucial part of the enrollment process for independent and college preparatory schools. Most of these require that students take this test to apply. Their acceptance into such schools is not based solely on the results of this test, but it is noticed and considered as very important.
This test is designed to test a student's skills and knowledge in the areas of basic math, reading comprehension, and verbal abilities.
Registration Process
Those who apply for attendance at an independent or college preparatory school can register online to take this test. You will need to create an account and schedule to take the exam. You will also have to pay for the registration fees at that time.
Regular registration for tests taken domestically is $139. The international version is $269. There may be late or rush fees included depending on which testing session you schedule and any extra services you would like.
You will be sent a confirmation admission ticket when registration is complete. It is important for you to keep this, as it will be needed on test day.
Where and When?
With over 550 locations, the SSAT has made it possible to test worldwide with little trouble and convenience.
SSAT tests are held on eight Saturdays throughout the testing season (August 1 – July 31). However, there are a few Sundays available for those who do not wish to test on Saturdays for religious reasons. Most testing sessions begin at 9 AM.
It is important that you arrive at your testing session at least 30 minutes early. This will allow you to be properly signed in and seated before it begins. If you should show up late for any reason, you will not be able to test that day and will need to reschedule and pay the registration fee again.
It is possible for you to reschedule or cancel no less than two weeks prior to your scheduled testing time. There is a fee of $35 to reschedule. If you choose to cancel, know that you will not be able to receive a refund for any reason.
What To Bring?
You will be required to bring your printed admission ticket to the testing site. Anything else that may be needed, will be listed on this admission ticket.
You can bring several #2 wooden pencils and a snack and/or drink if you would like. Your snack and drink will need to be in a clear zip-lock bag with your name on it. These are not allowed in the testing area and will be kept in a separate area for breaks only.
Electronic devices including cell phones and calculators, as well as any other personal items are not allowed in the testing area. You may be disqualified from testing if you are found with these items.
Check Out Mometrix's Upper Level SSAT Study Guide
Get practice questions, video tutorials, and detailed study lessons
Get Your Study Guide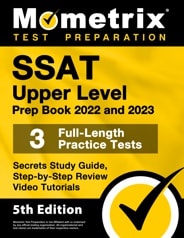 What Is Covered?
The verbal section of the SSAT is made up of 60 multiple choice questions. 30 of these will be testing you on synonyms, while the other 30, test on analogies. The SSAT allows 30 minutes for this section to be completed.
The synonyms will measure your vocabulary skills, while the analogies will test your ability to relate ideas logically.
How Is It Scored?
About two weeks after you have completed your SSAT you will be notified that your scores are available. You should receive an email alerting you to this. For those that are being mailed paper results, you will get your scores about three weeks after you have taken it.
These scores can then be sent out to your preferred schools by a parent or guardian through your SSAT online account.
The SSAT is not graded as an achievement test using pass/fail criteria. Instead, your scores are scaled based on how well you did in comparison to other students, as well as the number of correct answers.
Your score report is broken down by section. Each section can earn a possibility of 800 as a score. The lowest score can be a 500. The test as a whole can be scored at anything in between 1500 and 2400.
How To Prepare?
Tests such as this are important to you and your future. And we at Mometrix Test Preparation understand this. Therefore, we have created a few simple tools to make sure you are as prepared as possible for the SSAT.
We have a study guide and flashcards that are specific to the information on this test. These will give you an understanding of just what type of questions will be on the test and all of its sections. We make to style, format, and word this information and the sample questions included in a way that is similar to what you will see on test day. This way you will not be caught off guard by any question or knowledge expected of you.
Make sure to get your hands on these tools for your best testing experience yet.
Check Out Mometrix's Upper Level SSAT Study Guide
Get complex subjects broken down into easily understandable concepts
Get Your Flashcards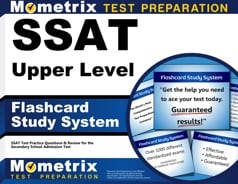 SSAT Upper Level Test Prep Course
If you want to be fully prepared, Mometrix offers an online SSAT Upper Level Prep Course. The course is designed to provide you with any and every resource you might want while studying. The SSAT Course includes:
Review Lessons Covering all the Topics
750+ SSAT Practice Questions
Over 100 Video Tutorials
More than 200 Electronic Flashcards
Money-back Guarantee
Free Mobile Access
and More!
The SSAT Upper Level Prep Course is designed to help any learner get everything they need to prepare for their SSAT exam; click below to check it out.
SSAT Study Guide
Mometrix Academy is a completely free SSAT test resource provided by Mometrix Test Preparation. If you find benefit from our efforts here, check out our premium quality Upper Level SSAT Verbal Study Guide and Upper Level SSAT Verbal Flashcards to take your studying to the next level. Just click the SSAT study guide link below. Your purchase also helps us make even more great, free test content for test-takers.
Upgrade your studying with our SAT study guide and flashcards:
SSAT Flashcards
SSAT Online Course