SSAT Test
SSAT stands for Secondary School Admission Test. It is a multiple-choice standardized exam used by many private, independent, and charter schools to screen their applicants. The test measures knowledge and abilities in three areas – Verbal, Quantitative (Math), and Reading Comprehension. Test takers are also required to write an essay, but unlike the other sections, the essay is not given a score by the test administrators. Instead, it is copied and sent to the school(s) the student has applied to.
SSAT Practice Test
Use the free SSAT practice test questions below to get a better understanding of the SSAT exam. Take advantage of this valuable resource to pinpoint your strengths and weaknesses. There are three different exams, geared toward different grade levels: Elementary, Middle Level, and Upper Level.
No matter which SSAT test a student takes, the format is the same. There are two Quantitative sections, each containing 25 questions, and lasting 30 minutes. The verbal section is also 30 minutes, and contains 60 questions. There are 40 questions in the reading comprehension section, which has a time limit of 40 minutes. All three versions of the SSAT are quite challenging, and students should be well-prepared before they attempt the exam. Mometrix Academy features many videos that can help students get ready for the SSAT test.
Upper Level SSAT
Students in grades 8-11 applying for high school admission will take the SSAT Upper exam.
Upper Level SSAT Practice Tests
SSAT Upper Level Test Prep Course
If you want to be fully prepared, Mometrix offers an online SSAT Upper Level Prep Course. The course is designed to provide you with any and every resource you might want while studying. The SSAT Course includes:
Review Lessons Covering all the Topics
750+ SSAT Practice Questions
Over 150 Video Tutorials
More than 200 Electronic Flashcards
Money-back Guarantee
Free Mobile Access
and More!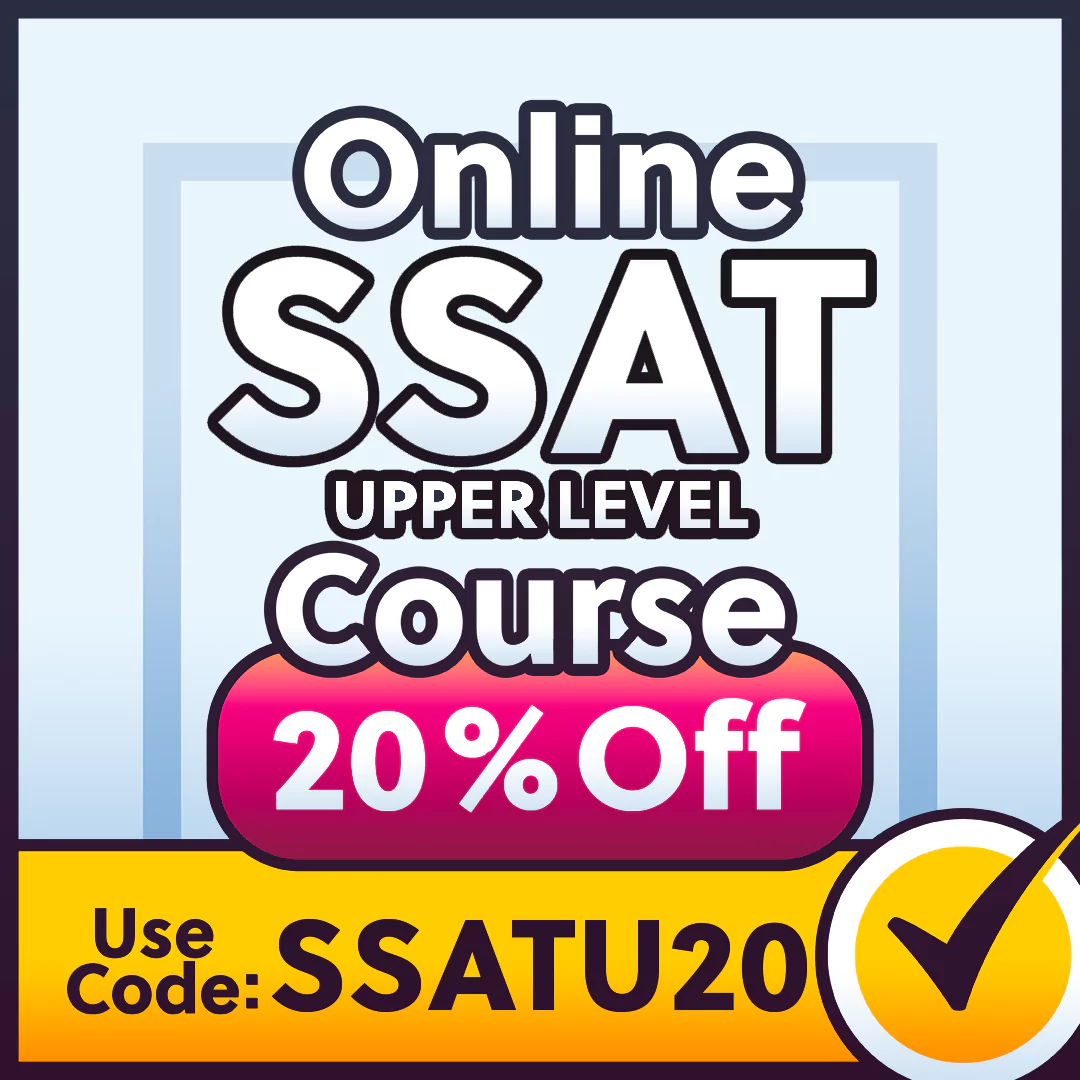 The SSAT Upper Level Prep Course is designed to help any learner get everything they need to prepare for their SSAT exam; click below to check it out.
Check out Mometrix's SSAT Study Guide
Get practice questions, video tutorials, and detailed study lessons
Get Your Study Guide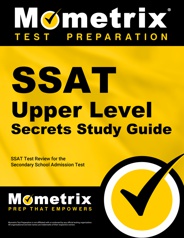 Middle Level SSAT
This test is for 5th, 6th and 7th graders applying for slots in Grades 6, 7, and 8.
Middle Level SSAT Practice Test
Elementary SSAT
3rd and 4th graders applying for Grade 4 and Grade 5 slots will take the Elementary SSAT.
SSAT Study Guide
Mometrix Academy is a completely free resource provided by Mometrix Test Preparation. If you find benefit from our efforts here, check out our premium quality SSAT study guide to take your studying to the next level. Just click the study guide link below. Your purchase also helps us make even more great, free content for test-takers.
Check out Mometrix's SSAT Flashcards
Get complex subjects broken down into easily understandable concepts
Get Your Flashcards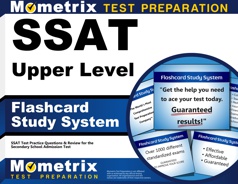 Upgrade your studying with our SSAT study guide and flashcards:
SSAT Study Guide
SSAT Flashcards
SSAT Online Course
SSAT Study Guide Customer Success Stories
Our customers love the tutorial videos from Mometrix Academy that we have incorporated into our SSAT study guide. The SSAT study guide reviews below are examples of customer experiences.
I love the sample questions along their detailed answer help. The secret tips are of great help.
SSAT Study Guide – Yu
The book is well considered and has the right mix of technique and practice. Very useful.
SSAT Study Guide – Lex
This study guide is everything it says it is. Look at what it claims and believe it. It's really real. The guide is comprehensive, which means it really does have all of the review information you need to study in order to do well on the real test. It's also concise and clear so that everything is easy to understand, even if it's a section you don't do well on. The guide also has researched test taking and study skill tips to share with you as well. There may be a lot of study guides out there for a lot of different tests, but there's not a guide that's better for this one.
SSAT Study Guide – Jim
My daughter scored 84% the first time she took the SSATs, but after studying this test guide she went up to 98%! This book really "debunks" this test.
SSAT Study Guide – J.R.
This could be a very useful for guide for anyone, specially for people who really have a tough time taking tests. This will ease your fears and stress so you are more relaxed on test day.
SSAT Study Guide – Steve
I ordered your Study Guide and Flashcards for my son which he's started studying to prepare for the exam sometime in the fall. The materials are very helpful in preparing for the SSAT test.
SSAT Study Guide – Sunee
This is a great study guide. There's a wide variety of examples to prepare a student for private school entrance exams.
SSAT Study Guide – Kelly