SPHR Practice Test
Human resources professional play a major role in any business. They help recruit and train employees, develop performance evaluation plans, study the market to make sure their workforce is compensated properly, and much more. Their important job focuses on dealing with people to make sure they are working in a professional environment while using their skills to further company goals. Taking — and passing — the Senior Professional in Human Resources certification can show that you have the skills to be a top-notch human resources professional. Obtaining the certification shows you've mastered the skills needed to be an expert in your field. But how do you get the certification? How do you prepare? This guide can help.
What are the eligibility requirements to seek the SPHR certification?
You have to meet one of the three following criteria:
Minimum of four years of work experience in a professional-level human resources position and hold a Master's degree
Minimum of five years of experience and hold a Bachelor's degree
At least seven years of experience with a high school diploma
Once I register for the exam, how long do I have to take it?
120 days.
What topics are covered on the SPHR exam?
There are seven functional coverage areas:
Business management and strategy (30%)

This section focuses on mission and values, vision, policy formulation, guiding and leading change, and other areas.
Human Resources development (19%)

The training and development portion of the exam focuses on performance appraisals, performance management, and more.
Workforce planning and employment (17%)

This focuses on the hiring and retention process, including, succession planning, orientation, recruitment, and more.
Employee and Labor Relations (14%)

This area focuses on maintaining strong workplace relationships
Compensation and benefits (13%)

Compensation and benefits packages are of the utmost importance to employees, and that what this area of the test is focused on.
Risk management (7%)

This area focuses on providing a safe, secure, working environment.
All questions test knowledge and comprehension, and the ability to recall information; application and problem-solving that tests the ability to solve real-life problems; and synthesis and evaluation, which tests the ability to solve complex problems.
Check Out Mometrix's SPHR Study Guide
Get practice questions, video tutorials, and detailed study lessons
Get Your Study Guide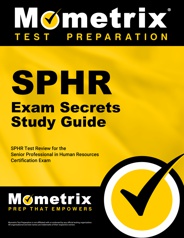 Where can I take the test?
There are hundreds of testing centers across the United States, making it likely a testing center is located within a reasonable commute from your location.
How long is the SPHR exam?
Three hours.
How many questions are on the exam?
There are 150, of which 125 are scored and the other 25 are unscored, pre-test questions. The questions are mostly multiple choice.
What does it cost to take the test?
$495 for the exam plus a $100 application fee.
What if I decide I don't want to take the test. Can I get a refund?
No, there's no refund if you decide not to take the test after you're approved to do so. Ineligible applications may qualify for a refund, minus the cost of a processing fee.
Can I cancel or reschedule my test?
Yes, as long as you do so 48 hours before your appointment, and you cancel within your 120-day eligibility period. There's a cancel or reschedule fee of $150 for each occurrence.
What will I need to bring to the testing center on the day I take the SPHR exam?
You will need to bring a government-issued ID in which the first and last name appear exactly as it does on the exam application. For example, if your photo ID has a name with a hyphen, your testing document must exactly match. Examples of an accepted ID include a valid, unexpired driver's license, passport, and military ID.
When should I arrive at the testing center?
You should arrive at least 15 minutes before the test. If you arrive more than 15 minutes late for the exam, you will not be allowed to take it, and you'll lose your testing fees.
Can I bring personal items into the testing room?
No. All personal items, including electronic devices, coats, hats, watches, and the like, must be stored in a locker outside the testing room.
What if I need to take a break?
While there are no scheduled breaks, you can take a break to, say, use the restroom. However, that time will count against the test time. Candidates who leave the test room cannot use cell phones.
Will I get a tutorial on how to use the computer to take the SPHR exam?
Yes. There's a 10-minute tutorial available before the start of the test.
When will I get my results?
You will receive your test results when you leave the testing center.
Can I retake the test if I fail?
Yes. But you have to wait 90 days before you can retake it, and you're only allowed to retake it three times within a 365-day period.
So, that's a lot to wade through. The most important questions might be — where can you get the help you need to pass the SPHR?
Mometrix has a number of tools that can help you study for the SPHR.
Our comprehensive study guide has been researched by a team of professionals with years of experience helping educators prepare for exams just like this one. The guide provides specifics on how to tackle the questions you'll be asked. And, if you're worried at all about buying the guide, don't worry. We offer a 100% risk-free, money back guarantee.
Our large, easy-to-read flashcards help you learn through repetition, and the questions cover every content area of the exam. Not only that, the cards make it easy for a friend or relative to help quiz you on the questions you'll need to know to pass the SPHR.
Check Out Mometrix's SPHR Flashcards
Get complex subjects broken down into easily understandable concepts
Get Your Flashcards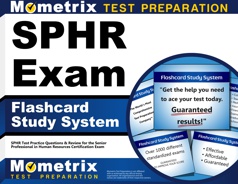 SPHR Study Guide
Mometrix Academy is a completely free SPHR test resource provided by Mometrix Test Preparation. If you find benefit from our efforts here, check out our premium quality SPHR study guide to take your studying to the next level. Just click the SPHR study guide link below. Your purchase also helps us make even more great, free content for test-takers.
SPHR Study Guide Customer Success Stories
Our customers love the tutorial videos from Mometrix Academy that we have incorporated into our SPHR test study guide. The SPHR study guide reviews below are examples of customer experiences.
This product meets my needs because it is concise and to the point, without wasting time on a lot of theory that will not be on the test. Love it!
SPHR Study Guide – Customer
It's a good reliable source. It's very detailed yet very easy to follow. I like the test at the end of the book, it gives you the feedback you need to be able to assess your strengths and weaknesses.
SPHR Study Guide – Customer
I purchased the SPHR study material because, although I've been in the HR field for 20+ years, I needed a resource that encapsulated topics that I don't deal with on a regular basis. The Mometrix Test Preparation material has it all! It's extensive, covering all areas of HR and it's easy to follow. I also purchased the flashcards because flashcards are a tried and true, highly effective method to assist in memorizing material. I'm confident that these resources will adequately prepare me to pass the SPHR exam in the spring.
SPHR Study Guide – Terri
I had been using a different guide up until 72-hours before the exam. In an effort to turn over every stone, I bought the Mometrix tests and studied this exclusively. I was shocked how well they were put together, and their claim that within a few hours you can dramatically improve your test scores. This was the case for me and I knew within the 1st hour of using the material that I had wasted 12 weeks and if I had only bought the Mometrix book and tests I could have spent 2 weeks tops. Not only is the Mometrix test material so well laid out, you will find that the pattern of their questions imitates what you will encounter on the actual SPHR exam. Don't hesitate to buy the Mometrix tools because you won't be disappointed and you won't waste any time - good luck!
SPHR Study Guide – Customer
It looks like this only contains the core information – not all the other fluff, so thank you. I was looking for something to give me the info I need not the long story of why such a law or practice came about. Easy to read and to the point - perfect for the professional who is already emerged in the daily life of Human Resources
SPHR Study Guide – Customer
The whole purpose of taking the exam and becoming certified is to demonstrate your competence in the HR field. It just makes sense to get this study guide, make use of it according to the guidelines and then go and pass the exam. It's to your benefit to prepare for the test in the most effective way possible, and without this study guide you can't do that. This guide is like having a mentor in the palm of your hand ... it cuts out a lot of the unnecessary fillers needed to master HR information in less time. It just makes sense.
SPHR Study Guide – Customer
Great book. I've used many study guides but this one is the most effective and more important, most efficient study guide. No need for lugging around a 10 pound book or multiple ones.
SPHR Study Guide – Robert
The SPHR Exam Secrets is exactly what I was looking for. Clear, concise, and with great examples. I'll be reading it throughout my study process for the SPHR exam!
SPHR Study Guide – Kathy
This is a great study tool-Extremely brief in explanation; to the point of what is need to be understood. It is well-written, succinct and freely moves from topic to topic while remaining completely organized. This is THE tool for the SPHR exam.
SPHR Study Guide – Lisa