SPHR Practice Test
The Senior Professional in Human Resources (SPHR) exam is administered by the Human Resource Certification Institute (HRCI) for those pursuing certification as a senior HR professional.
Click "Start Test" below to take a free SPHR practice test!
SPHR Exam Eligibility
To be eligible for the SPHR exam, you must meet at least ONE of the following requirements:
You must have at least a master's degree and a minimum of four years of professional HR experience.
You must have at least a bachelor's degree and a minimum of five years of professional HR experience.
You must have at least seven years of professional HR experience.
SPHR Exam Outline
The SPHR exam contains 140 questions, 25 of which are unscored, and you will have a time limit of 2.5 hours. The 25 unscored questions, known as "pretest" questions, are used to evaluate questions for future versions of the exam.
The questions on the exam are mostly multiple-choice, but there are a few other question types that may be used:
Multiple-select: Select two or more correct answers from four answer options.
Fill-in-the-blank: Complete a given sentence using a word, phrase, or numeral to fill in the blank.
Drag-and-drop: Drag specific pieces of information from their initial position to their intended position.
Scenarios: Read through the presented HR scenario and answer the related question(s).
The exam is split into five functional areas, each of which assesses you via a set of responsibilities and a set of knowledge points:
1. Leadership and Strategy (40%)
The questions in this area assess your ability to develop HR strategy, monitor risk, contribute to organizational strategy, and influence people-management practices.
Responsibilities

Contribute to the development of organizational planning and strategy
Establish and manage effective relationships with key stakeholders
Evaluate the applicability of federal laws and regulations to organizational strategy
Evaluate the credibility and relevance of external information
Develop and execute HR plans that are aligned with the organization's strategic plan
Interpret and use business metrics to achieve strategic goals
Design and manage effective change strategies to align performance with goals
Analyze and assess organizational practices that impact operations and people management
Contribute to organizational planning and strategy
Design and evaluate HR data indicators
Knowledge

Corporate governance procedures and compliance
Risk management
Change management techniques and processes
Strategic planning process
Methods for handling uncertain, unclear, or chaotic situations
Technology that supports HR activities
Vision, values, and mission of an organization
Budgeting
Accounting
Business elements of an organization
Qualitative and quantitative methods of analysis and interpretation
Third-party or vendor selection, contract negotiation, and management
Management functions
Methods and techniques for organizational design
Forecasting, planning, and predicting the impact of HR activities and programs
Project management
2. Talent Planning and Acquisition (16%)
The questions in this area assess your ability to develop strategies to attract and engage new talent and to forecast talent needs within an organization.
Responsibilities

Develop and monitor talent recruitment strategies
Evaluate and predict organizational needs throughout the business cycle
Develop and evaluate strategies for engaging new employees and managing cultural integrations
Knowledge

Negotiation techniques
Planning techniques
Methods of assessing staffing effectiveness
Recruitment strategies
Termination strategies
Employee engagement strategies
Interviewing and selection techniques
Transition techniques
Staffing alternatives
Impact of total rewards on retention
Due diligence processes
3. Learning and Development (12%)
The questions in this area assess your ability to develop employee training and retention strategies.
Responsibilities

Develop a succession plan for key roles
Develop employee retention strategies
Develop employee training strategies
Knowledge

Coaching and mentoring techniques
Adult learning processes
Employee retention strategies
Training program design
Instructional design principles
Methods of encouraging creativity and innovation
Techniques to assess training program effectiveness
Communication skills
4. Total Rewards (12%)
The questions in this area assess your ability to monitor the effectiveness of benefit and compensation strategies for rewarding and retaining talent.
Responsibilities

Evaluate compensation strategies that attract, reward, and retain talent
Evaluate benefit strategies that attract, reward, and retain talent
Knowledge

Job pricing and pay structures
Fiduciary responsibilities
Executive and non-cash compensation methods
Compensation strategies
Compensation philosophy
Benefits program strategies
Benchmarking techniques
External labor markets
Job analysis and evaluation methods
5. Employee Relations and Engagement (20%)
The questions in this area assess your ability to develop strategies that impact employee satisfaction and performance.
Responsibilities

Evaluate diversity and inclusion promotion strategies
Develop labor strategies
Design employee satisfaction strategies
Evaluate strategies for safety and security
Knowledge

Data security and privacy
Performance management strategies
Emergency response
Internal investigation and surveillance techniques
Methods for assessing employee attitudes and opinions
Workplace safety and security risks
Facilitation of positive employee relations
Collective bargaining
HR concepts and applications
Occupational injury and illness prevention
Ethical and professional standards
Check Out Mometrix's SPHR Study Guide
Get practice questions, video tutorials, and detailed study lessons
Get Your Study Guide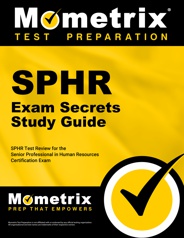 SPHR Exam Registration
To register for the exam, you must first create an online HRCI account and submit an application. Your application will include a $100 application fee.
Once your application is approved, you will receive an email confirming your approval and instructions on how to schedule your exam date with Pearson VUE. During this registration and scheduling period, you will need to pay the $495 examination fee.
Cancellation/Rescheduling
If you decide to cancel your exam and not reschedule it for another day, you will not receive a refund of your examination fee.
If you need to reschedule your exam appointment, you can do so at least 48 hours before and within your original 180-day eligibility period for a rescheduling fee of $150.
When you successfully reschedule your exam, you will receive an email notification confirming your new appointment date, time, and location (if applicable).
Test Day
On exam day, you must have one piece of government-issued, valid ID with a signature and a recent photograph. Resource materials, calculators, food and drink, and cell phones are not permitted in the testing center or at your desk if testing from home.
In-person Testing
You should arrive at the testing center at least 15 minutes before your exam is scheduled to begin. After storing all personal items (cell phone, bag, books, etc.) in a locker, your ID will be checked and take your photo and digital signature.
Before the exam begins, you will be given the option to take a quick tutorial to become familiar with the testing system.
You can take breaks throughout the exam as needed, but your time on break counts against your allotted testing time. Additionally, you must refrain from speaking to other test-takers or asking questions about the exam to the test facilitator. Deviation from the rules could result in your exam being canceled.
Remote Testing
You should begin running the exam software 15-30 minutes early by signing in to your HRCI account, which will then sign you on to the Pearson VUE system. From this point, you will be prompted to conduct a system test, after which you will connect with your assigned online proctor. The proctor will verify your identity using your government-issued ID.
The proctor will then ask you to scan your surroundings using your webcam and to turn off any additional monitors.
Once your exam begins, you cannot leave the webcam view, take breaks, talk to yourself, or look around the room. Your focus must be on the computer monitor, and other people must be out of your testing space while you take the exam.
How the SPHR Exam is Scored
The SPHR exam is scored using the modified-Angoff method, which takes your raw score (the number of questions you answered correctly) and converts it to a scaled score on a scale of 100-700. The passing score for this exam is 500.
You will receive your preliminary score report before you leave the testing center, and your official score report will be emailed to you within 24 to 48 hours. If you took the exam through the remote proctor option, you will receive your official score report in an email within 24 to 48 hours.
Check Out Mometrix's SPHR Flashcards
Get complex subjects broken down into easily understandable concepts
Get Your Flashcards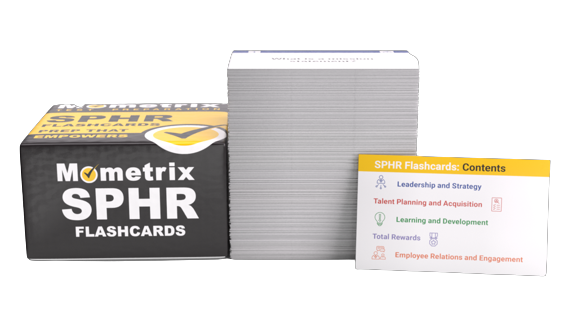 FAQs
How many questions are on the SPHR exam?
There are 140 questions on the exam.
How long is the SPHR exam?
The time limit for this exam is 2.5 hours.
What does SPHR stand for?
SPHR stands for Senior Professional in Human Resources.
What is the passing score for the SPHR exam?
To pass the exam, you must achieve a scaled score of at least 500.
How much does the SPHR exam cost?
The application fee is $100, and the examination fee is $495.