The Securities Industry Essentials (SIE) exam is available for candidates who are pursuing entry-level positions in the securities industry. The Financial Industry Regulatory Authority (FINRA), which is a non-profit organization, created the SIE exam to give candidates an opportunity to demonstrate basic security industry knowledge to potential employers.
Click "Start Test" above to take a free SIE practice test!
SIE Exam Eligibility
The Securities Industry Essentials exam is available to candidates and students who are at least 18 years old. Candidates are required to take the SIE exam before or after associating with a firm.
SIE Exam Outline
The SIE exam contains 85 multiple-choice questions, 10 of which are unscored, and you will be given a time limit of 1 hour and 45 minutes. The 10 unscored questions are scattered randomly throughout the exam and are unmarked, so you will not know which questions are scored or unscored. FINRA includes these questions in order to validate them for us in future exams.
The exam is split into four sections.
1. Knowledge of Capital Markets (12 scored questions)
The questions in this section, which makes up 16% of the exam, assesses your knowledge in four specific areas:
Regular Entities, Agencies, and Market Participants
Market Structure
Economic Factors
Offerings
2. Understanding Products and Their Risks (33 scored questions)
The questions in this section, which makes up 44% of the exam, assesses your knowledge in two specific areas:
Products
Investment Risks
3. Understanding Trading, Customer Accounts, and Prohibited Activities (23 scored questions)
The questions in this section, which makes up 31% of the exam, assesses your knowledge in three specific areas:
Trading, Settlement, and Corporate Actions
Customer Accounts and Compliance Considerations
Prohibited Activities
4. Overview of the Regulatory Framework (7 scored questions)
The questions in this section, which makes up 9% of the exam, assesses your knowledge in two specific areas:
SRO Regulatory Requirements for Associated Persons
Employee Conduct and Reportable Events
Check out Mometrix's SIE Study Guide
Get practice questions, video tutorials, and detailed study lessons
Get Your Study Guide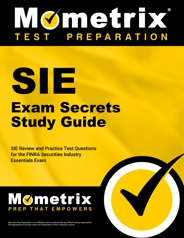 SIE Exam Registration
If you would like to self-enroll for the SIE exam, you must first create a FINRA account on their website. From there, you can enroll for the exam, pay the $80 examination fee, and schedule a test date.
Online Series SIE Prep Course
If you want to be fully prepared, Mometrix offers an online Series SIE Prep Course. The course is designed to provide you with any and every resource you might want while studying. The Series SIE Course includes:
Review Lessons Covering Every Topic
700+ Series SIE Practice Questions
More than 325 Digital Flashcards
Money-back Guarantee
Free Mobile Access
and More!
The Series SIE Prep Course is designed to help any learner get everything they need to prepare for their Series SIE exam. Click below to check it out!
Test Day
In-person Testing
You should arrive at the testing center 15-30 minutes before your exam is scheduled to begin. Arriving late will result in your exam being canceled. Once you arrive, you will be asked to show a valid, government-issued photo ID. If your ID is invalid or you forget to bring it, you will not be permitted to sit for the exam.
Once the check-in process is complete, you will be asked to leave all personal items (cell phone, books, papers, notes, food, jacket, hat, etc.) in a secure locker outside the testing room.
Once the exam begins, you are permitted to take breaks, but the timer will not be stopped while you are away.
Remote Testing
On the day before your exam, you should check your computer's audio, video, and webcam to ensure everything is working as expected. You will need to download and install an application that will perform a system check to ensure your laptop or desktop operating system meets the minimum requirements.
On the day of the exam, you will need to clear your testing area of your cell phone, reference materials, scratch paper, and food or drink containers. You will be asked to show your ID and to scan your testing area with your webcam.
You can launch the examination up to 30 minutes before your scheduled appointment. You cannot leave the webcam's view during your exam, use other monitors, or talk to anyone. If the proctor observes questionable behavior, your exam will be canceled.
How the SIE Exam is Scored
The SIE exam is scored using the modified-Angoff method, which means that your final score is determined based only on your performance on the examination.
You will need a scaled score of at least 70 to pass this exam.
Check out Mometrix's SIE Flashcards
Get complex subjects broken down into easily understandable concepts
Get Your Flashcards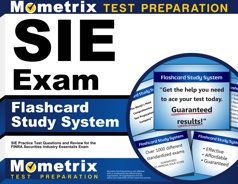 How to Pass the SIE Exam
How to Study Effectively
Your success on SIE test day depends not only on how many hours you put into preparing but also on whether you prepared the right way. It's good to check along the way to see whether your studying is paying off. One of the most effective ways to do this is by taking SIE practice tests to evaluate your progress. Practice tests are useful because they show exactly where you need to improve. Every time you take a free SIE exam practice test, pay special attention to these three groups of questions:
The questions you got wrong
The ones you had to guess on, even if you guessed right
The ones you found difficult or slow to work through
This will show you exactly what your weak areas are and where you need to devote more study time. Ask yourself why each of these questions gave you trouble. Was it because you didn't understand the material? Was it because you didn't remember the vocabulary? Do you need more repetitions on this type of question to build speed and confidence? Dig into those questions and figure out how you can strengthen your weak areas as you go back to review the material.
Answer Explanations
Additionally, many SIE practice tests have a section explaining the answer choices. It can be tempting to read the explanation and think that you now have a good understanding of the concept. However, an explanation likely only covers part of the question's broader context. Even if the explanation makes sense, go back and investigate every concept related to the question until you're positive you have a thorough understanding.
Comprehend Each Topic
As you go along, keep in mind that the SIE practice test is just that: practice. Memorizing these questions and answers will not be very helpful on the actual test because it is unlikely to have any of the same exact questions. If you only know the right answers to the sample questions, you won't be prepared for the real thing. Study the concepts until you understand them fully, and then you'll be able to answer any question that shows up on the test.
Strategy for SIE Practice
When you're ready to start taking practice tests, follow this strategy:
Remove Limitations. Take the first test with no time constraints and with your notes and SIE study guide handy. Take your time and focus on applying the strategies you've learned.
Time Yourself. Take the second practice test "open book" as well, but set a timer and practice pacing yourself to finish in time.
Simulate Test Day. Take any other practice tests as if it were test day. Set a timer and put away your study materials. Sit at a table or desk in a quiet room, imagine yourself at the testing center, and answer questions as quickly and accurately as possible.
Keep Practicing. Keep taking practice tests on a regular basis until you run out of practice tests or it's time for the actual test. Your mind will be ready for the schedule and stress of test day, and you'll be able to focus on recalling the material you've learned.
FAQs
Q
What is the SIE exam?
A
The Securities Industry Essentials (SIE) exam is used by FINRA to assess the knowledge of prospective securities industry professionals.
Q
How hard is the SIE exam?
A
This exam is considered to be difficult, but it can be made easier by adequately studying beforehand.
Q
How long is the SIE exam?
A
The time limit for the exam is 1 hour and 45 minutes.
Q
How long should I study for the SIE exam?
A
How long you spend studying for the exam will depend on a lot of factors, but it is generally recommended that you spend 1-2 months studying for the SIE prior to taking it.
Q
How many questions are on the SIE exam?
A
There are 85 multiple-choice questions on the exam, 10 of which are unscored.
Q
What is a passing score for the SIE exam?
A
To pass the exam, you must achieve a scaled score of at least 70.
Q
How much does the SIE exam cost?
Affiliate disclosure: As an Amazon Associate, we may earn commissions from qualifying purchases from Amazon.com.