Series 7 Practice Test
The Series 7 exam, also called the General Securities Representative Qualification exam, is administered by FINRA for individuals who wish to obtain a series 7 license to become an entry-level stockbroker.
Click "Start Test" below to take a free Series 7 practice test!
Series 7 Exam Eligibility
To be eligible to take the Series 7 exam, you must be associated with and sponsored by a FINRAFINRA is the Financial Industry Regulatory Authority. This organization is a private corporation designed to protect investors by keeping the United States securities industry operating fairly and honestly. Part of keeping the securities industry running fairly is ensuring that everyone who sells securities products is tested, qualified, and licensed. member firm or another self-regulatory organization member firm.
Series 7 Exam Outline
The Series 7 exam contains 135 multiple-choice questions, ten of which are unscored, and you will be given a time limit of 3 hours and 45 minutes.
The exam is split into four major job functions:
1. Seeks Business for the Broker-Dealer from Customers and Potential Customers
The nine scored questions under this function assess your ability to contact current and potential customers using various methods of communication as necessary, develop seek approval to distribute advertising materials, and describe investment services to customers with the intent of soliciting business.
These are the FINRA rules you must be familiar with for this section:
2210: Communications with the public
2211: Communications with the public about variable life insurance and variable annuities
2212: Use of investment companies rankings in retail communications
2213: Requirements for the use of bond mutual fund volatility ratings
2216: Communications with the public about collateralized mortgage obligations (CMOs)
2220: Options communications
2330: Members' responsibilities regarding deferred variable annuities
2360: Options
3160: Networking arrangements between members and financial institutions
3170: Tape recording of registered persons by certain firms
5110: Corporate financing rule — underwriting terms and arrangements
5121: Public offerings of securities with conflicts of interest
5130: Restrictions on the purchase and sale of initial equity public offerings
5131: New issue allocations and distributions
5141: Sale of securities in a fixed price offering
5160: Disclosure of price and concessions in selling agreements
5190: Notification requirements for offering participants
2. Opens Accounts After Obtaining and Evaluating Customers' Financial Profile and Investment Objectives
The 11 scored questions under this function assess your ability to inform customer of the types of accounts, provide disclosures about various account types, obtain and update customer information, make an effort to obtain customer investment profile information, and obtain supervisory approval to open accounts.
These are the FINRA rules you must be familiar with for this section:
2270: Day-trading risk disclosure statement
2130: Approval procedures for day-trading accounts
4512: Customer account information
4514: Authorization records for negotiable instruments drawn from a customer's account
4515: Approval and documentation of changes in account name or designation
408T: Discretionary power in customers' accounts
2090: Know your customer
3260: Discretionary accounts
2111: Suitability
2214: Requirements for the use of investment analysis tools
3110: Supervision
3120: Supervisory control system
3. Provides Customers with Information About Investments, Makes Recommendations, Transfers Assets, and Maintains Appropriate Records
The 91 scored questions under this function assess your ability to provide customers with investment strategy information, review and analyze customer investment profiles and product options, provide the required disclosures pertaining to investment products, and communicate with customers about their contact information and process requests.
These are the FINRA rules you must be familiar with for this section:
2114: Recommendations to customers in OTC equity securities
2121: Fair prices and commissions
2122: Charges for services performed
2124: Net transactions with customers
2310: Direct participation programs
2320: Variable contracts of an insurance company
2341: Investment company securities
2350 Series: Trading in index warrants, currency index warrants, and currency warrants
4210(f)(2): Definitions related to options, currency warrants, currency index warrants and stock index warrant transactions
2165: Financial exploitation of specified adults
409T: Statements of accounts to Ccustomers
2231: Customer account statements
2232: Customer confirmations
2273: Educational communication related to recruitment practices and account transfers
4510: Books and records requirements
11870: Customer account transfer contracts
4. Obtains and Verifies Customers' Purchase and Sales Instructions and Agreements; Processes, Completes, and Confirms Transactions
The 14 scored questions under this function assess your ability to provide current quotes, process and confirm customer transactions, identify discrepancies and errors, resolve disputes and complaints, and address margin issues.
These are the FINRA rules you must be familiar with for this section:
4320: Short sale delivery requirements
4551: Requirements for alternative trading systems to record and transmit order and execution information for security futures
5210: Publication of transactions and quotations
5220: Offers and stated prices
5260: Prohibition on transactions, publication of quotations, or publication of indications of interest during trading halts
5290: Order entry and execution practices
5310: Best execution and interpositioning
6100 Series: Quoting and trading in NMS stocks
6400 Series: Quoting and trading in OTC equity securities
6600 Series: OTC reporting facility
11860: COD orders
5330: Adjustment of orders
6000 Series: Quotation, order, and transaction reporting facilities
6140: Other trading practices
6700 Series: Trade reporting and compliance engine
7000 Series: Clearing, transactions and order data requirements, and facility charges
11000 Series: Uniform practice code
4513: Records of written customer complaints
4530: Reporting requirements
8000 Series: Investigations and sanctions
11892: Clearly erroneous transactions in exchange-listed securities
11893: Clearly erroneous transactions in OTC equity securities
12000 Series: Code of arbitration procedure for customer disputes
13000 Series: Code of arbitration procedure for industry disputes
14000 Series: Code of mediation procedure
Check Out Mometrix's Series 7 Printed Study Guide
Get practice questions, video tutorials, and detailed study lessons
Get Your Study Guide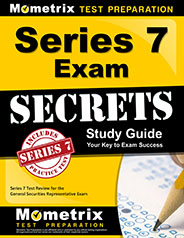 Series 7 Exam Registration
The firm you are connected with will need to register you with FINRA via the Central Registration Depository (CRD) Program to be able to take the Series 7 exam. An examination fee of $300 is due at the time of registration.
Test Day
In-person Testing
On the day of your exam, you should arrive at the testing center at least 15 minutes earlier than the scheduled exam time. If you arrive late, you will not be permitted to sit for the exam. Once you arrive, you will be asked to show a valid, government-issued photo ID. If your ID is invalid or you forget to bring it, you will not be permitted to sit for the exam.
Once the check-in process is complete, you will be asked to leave all personal items in a secure locker, such as your cell phone, books, papers, notes, food, jacket, and hat.
Once the exam begins, you are permitted to take breaks, but the timer will not be stopped while you are away.
Remote Testing
The day before your exam, you will need to check the compatibility of your computer's audio, video, and webcam. You will need to download and install an application that will perform a system check to ensure your laptop or desktop operating system meets the minimum requirements.
On the day of your exam, ensure that your testing area is clear of your cell phone, reference materials, scratch paper, and food or drink containers. Ensure you can move the webcam around for the proctor so they can view your area.
You can launch the examination up to 30 minutes before your scheduled appointment. You cannot leave the webcam's view during your exam, use other monitors, or talk to anyone. If the proctor observes questionable behavior, your exam will be canceled.
How the Series 7 Exam is Scored
The Series 7 exam is scored using the modified-Angoff method, which means that your final score is determined based only on your performance on the examination. Each version of the exam is different, so the number of correct responses needed to obtain a passing score will vary slightly.
A passing score for this exam is 72%.
Check Out Mometrix's Series 7 Flashcards
Get complex subjects broken down into easily understandable concepts
Get Your Flashcards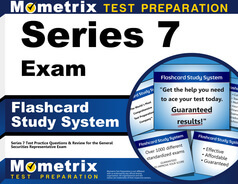 How to Prepare for the Series 7 Exam
How to Study Effectively
Your success on Series 7 test day depends not only on how many hours you put into preparing but also on whether you prepared the right way. It's good to check along the way to see whether your studying is paying off. One of the most effective ways to do this is by taking Series 7 practice tests to evaluate your progress. Practice tests are useful because they show exactly where you need to improve. Every time you take a free Series 7 exam practice test, pay special attention to these three groups of questions:
The questions you got wrong
The ones you had to guess on, even if you guessed right
The ones you found difficult or slow to work through
This will show you exactly what your weak areas are and where you need to devote more study time. Ask yourself why each of these questions gave you trouble. Was it because you didn't understand the material? Was it because you didn't remember the vocabulary? Do you need more repetitions on this type of question to build speed and confidence? Dig into those questions and figure out how you can strengthen your weak areas as you go back to review the material.
Answer Explanations
Additionally, many Series 7 practice tests have a section explaining the answer choices. It can be tempting to read the explanation and think that you now have a good understanding of the concept. However, an explanation likely only covers part of the question's broader context. Even if the explanation makes sense, go back and investigate every concept related to the question until you're positive you have a thorough understanding.
Comprehend Each Topic
As you go along, keep in mind that the Series 7 practice test is just that: practice. Memorizing these questions and answers will not be very helpful on the actual test because it is unlikely to have any of the same exact questions. If you only know the right answers to the sample questions, you won't be prepared for the real thing. Study the concepts until you understand them fully, and then you'll be able to answer any question that shows up on the test.
Strategy for Series 7 Practice
When you're ready to start taking practice tests, follow this strategy:
Remove Limitations. Take the first test with no time constraints and with your notes and Series 7 study guide handy. Take your time and focus on applying the strategies you've learned.
Time Yourself. Take the second practice test "open book" as well, but set a timer and practice pacing yourself to finish in time.
Simulate Test Day. Take any other practice tests as if it were test day. Set a timer and put away your study materials. Sit at a table or desk in a quiet room, imagine yourself at the testing center, and answer questions as quickly and accurately as possible.
Keep Practicing. Keep taking practice tests on a regular basis until you run out of practice tests or it's time for the actual test. Your mind will be ready for the schedule and stress of test day, and you'll be able to focus on recalling the material you've learned.
FAQs
How long is the Series 7 exam?
The time limit for the exam is 3 hours and 45 minutes.
What is the Series 7 exam?
The Series 7 exam is a certification exam for those wishing to obtain a credential as an entry-level stockbroker.
How hard is the Series 7 exam?
The exam is considered to be moderately difficult, with an estimated pass rate of 65%.
How many questions are on the Series 7 exam?
There are 135 multiple-choice questions on the exam, ten of which are unscored.
What is the passing score for the Series 7 exam?
To pass the exam, you must answer at least 72% of the questions correctly.
How much does the Series 7 exam cost?
The exam fee is $300.
Series 7 Study Guide Customer Success Stories
Our customers love the tutorial videos from Mometrix Academy that we have incorporated into our Series 7 test study guide. The Series 7 study guide reviews below are examples of customer experiences.
Excellent guide! I feel the material is organized and laid out very well. The information is easy to read and understand. Having taken the Insurance exam and the Series 65 exam, I have found much of the content written better than my previous exam guide books.
Series 7 Study Guide – Customer
Great book! As someone who is just getting into the field, there is a lot to learn. The study guide makes it easier by simplifying the process. The book has a great format, breaking it down into easy to understand sections.
Series 7 Study Guide – Kenneth
This guide has been extremely helpful during this process. It puts things in better perspective with examples and the way its worded more simplistic. The study tips provided were very helpful as well.
Series 7 Study Guide – Customer
I like that the book concisely focuses in on the important concepts that will be in the Series 7 test.
Series 7 Study Guide – Customer
I love this book and study guide, very realistic easy to read and goes through the steps very simply.
Series 7 Study Guide – Anthony
I'm finding this book to be an excellent training tool! It's easy to understand and is very well organized!
Series 7 Study Guide – Rebecca
It is an impressive looking product. The material is presented in an easy to understand format and the answer explanations of the questions are outstanding.
Series 7 Study Guide – Weaver
My issue with other study materials is that information is usually presented as a list of facts and figures to be memorized ... but the questions presented when being tested on the same material are almost always presented in a situational manner. So being shown how to essentially hack the test has been very helpful!
Series 7 Study Guide – Customer