Series 65 Practice Test
The free Series 65 practice test will assist you in passing the Series 65 exam, which is a test that is used to assess the test-taker's knowledge and ability to perform adequately as an investment advisor. The Series 65 exam is composed of 140 multiple-choice questions that cover four content areas. These content areas are as follows: Economic Factors and Business Information; Investment Vehicle Characteristics; Client Investment Recommendations and Strategies; as well as Laws, Regulations, and Guidelines, including Prohibition on Unethical Business Practices. The Series 65 practice test will address the same content. The exam should take three hours to complete.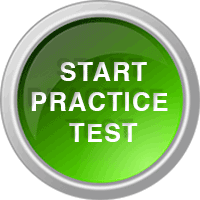 Series 65 – Uniform Investment Adviser Law Exam
This page focuses on the Series 65 Practice Test. The Series 65 Exam is a challenging test that test the minimum requirements for an Investment Advisor to perform the functions of the job. This three hour test, which includes one hundred and forty questions (including ten example questions), is designed to validate and assure that each advisor can perform all the minimum basic requirements and functions of an Investment Advisor. It is extremely critical to have working knowledge and experience of the terms and definitions associated with the questions on the Series 65 Exam. Due to the cost, detail and amount of information covered in the test, it is important to study and prepare for the Series 65 as early and as much as possible. The Series 65 Study Guide provided by Mometrix, as well as the Series 65 Flashcards, are specifically designed to help you obtain the very best test score possible. The passing score is a 72, which means you need to get 94 questions correct.
Series 65 Exam Practice Test
Series 65 Exam Practice Test
What Does the Series 65 Test Cover?
The Mometrix series 65 Practice test covers the exact same content as the Series 65 Exam. The focus of this exam is retirement planning, portfolio management strategies and fiduciary obligations. The breakdown and detail given to each specific topic can be mastered with daily study and diligent review of the Mometrix practice and test and flashcards. The detail and breakdown can be seen in the following overview of what the test covers:
Being able to study economic factors and understand business information. (19 questions – 15%)
Deciphering the difference in multiple investment vehicles and being able to explain their characteristics to clients. (31 questions – 24%)
Analyzing information to determine client investment recommendations and strategies (40 questions – 31%)
Memorize laws, regulations and guidelines, including prohibiting unethical business practices. (40 questions – 31%)
What is the Series 65 Exam?
The North American Securities Administration Association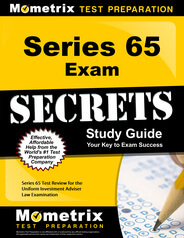 Check Out Mometrix's Series 65 Study Guide
The North American Securities Administration Association (NASAA) was organized in 1919, making it the oldest international organization devoted to protecting investors in the stock market. The Series 65 is just one of the tests administered by the NASAA to ensure that all Investment Advisors have obtained enough minimal knowledge to give solid investment recommendations to their clients. The Series 65 license allows Investment Advisors to be able to charge a fee for their services, if they feel it necessary to do so, although it is used as an option when it is ethical and a benefit to the client.
The Series 65 Exam
The Series 65 Exam is a way for NASAA to ensure that Investment Advisors is knowledgeable in economic and business cycles, as well as, the type of investment vehicle or vehicles that is appropriate for that client. The test also covers many methods and strategies that can be implemented to ensure that the most beneficial investment plans are being offered to the client.
The candidate does not need a sponser like the Series 7.
Each time you sit for the test, the fee is $165.00. If you do not pass (72%), there is a 30- day cooling off period for the first two attempts. The waiting period to take the test the third time is 180 days.
Series 65 Areas of Practice
Economic Factors and Business Information
Investment Vehicle Characteristics
Client Investment Recommendations and Strategies
Laws, Regulations, Guidelines, including Prohibition on Unethical Business Practices
The Series 65 Practice Test Content Detail
The Series 65 practice test, which mimics the actual Series 65 exam, covers in-depth analysis and knowledge that is required to become an Investment Advisor.
The First Content Area
The first area of content covered has 19 questions associated with general business flow. The importance of how to look at a company or business to see if it is financially stable to invest in and comparing it to other benchmark companies. A background in finance and statistics is very helpful in understanding these concepts. If you do not have this background to pull from, not to worry, the Mometrix Practice Test will also get you familiar with these concepts.
The candidate should know the following:
Business cycles during economic trends and how to recognize them.
Monetary and fiscal policy and how it effects businesses.
The value of the US dollar and how inflation/ deflation effects its fluctuation.
How interest rates and yield curves relate to economic indicators, such as, the Gross Domestic Product (GDP), employment indicators, trade deficit, Consumer Price Index (CPI).
How to decipher the important information from Business Financial Reporting, Statements, Ratios, SEC Filings, Annual Reports and prospectuses and how it effects your decision as an Investment Advisor to place or withdraw clients from investing.
Understand the basics of Quantitative methods, statistics, derivatives, price to earnings and how they all effect each business you are recommending as an investment.
Systematic verses unsystematic risk and how to explain the differences to the client.
Know how opportunity cost and capital structure effects the timing of investments.
The Second Content Area
The second section of review has 31 questions pertaining to different investment vehicles. The characteristic types of investment vehicles and their definition of each of the following:
Cash and cash equivalents – CDs, money markets, treasury bills and commercial paper.
Fixed income securities – Treasuries, FNMA, TIPS, Corporate Bonds, Convertible Bonds, Bond Ratings, Municipal Bonds, Foreign Bonds
Tax implications of each, risk and advantages of each, how to determine the value of the premium, discount, duration, maturity, yield to call, yield to maturity and coupon
Types of Equity Securities – common, preferred, restricted, foreign and convertible stocks, warrants, ADRs, employee stock options and shareholder rights.
The analysis of stocks and mutual funds, the difference between open and closed end, unit investment trusts, real estate investment trusts (REITs), determining the net asset value and the discount/ premium of each.
Definition of Types of Derivative Securities – Options, futures and forward contracts
Definition of Alternative Securities – hedge funds and limited partnerships
Know the difference between insurance based products – Variable, fixed, equity and life insurance annuities
The Third Content Area
The next section has 40 questions that covers recommendations and strategies for clients. Knowing what type of client and the corresponding account to match, as well as, the analysis and evaluation of the best investment vehicle or vehicles for each client. The overview of these questions are as follows:
Know the difference between Individual, joint, sole proprietorship, general and limited partnership, Limited liability company, C and S Corporation, trust and Estates
Determining Client profile and the financial goals and strategies they want to achieve by collecting the following information:
Current income, retirement expectations, planning for disability and time horizons
Current cash flow, balance sheet, existing investments, tax situation
Risk tolerance, values, attitudes, experience and demographics
Utilize the Capital Market Theory, the Capital Asset Pricing Model, Modern Portfolio Theory, Market Hypothesis and the category of which it falls. (Semi-strong, strong or weak)
Portfolio management styles and strategies – asset allocation, style, asset class, rebalancing, buy/hold, market timing, active verses passive, growth verses value and income verses capital appreciation
Portfolio management techniques – diversification, sector rotating, averaging, dollar cost or capital goal within a certain time-frame
Tax Analysis – capital gains, tax basis, tax deferral, business, gift and estate taxing
Retirement Plans – the difference between Traditional, Roth, Qualified, pension, profit-sharing, 401k, 403b, non-qualified plans
ERISA issues, investment choices, investment policy and prohibited transactions
Special types of accounts – such as, education 529s, UTMA/ UGMA, joint, payment on death, tenancy in common
Know the types of trades and their terminology available on the stock market like; bids, offers, quotes, market, limit, stop order, short sales, cash and margin accounts, principal or agency trades, role of Broker/Dealer, specialists and market-makers. You should also be able to determine the different stock exchanges, what type of security is traded on them and the cost of trading securities
Know how to determine performance of an investment, how to weigh it, annualize it and calculate the after tax or expected return/ yield for the client compared to the market benchmarks.
The Fourth Content Area
The final section of the test asks 40 questions regarding laws, regulations, guidelines and prohibition of unethical business practices.
Be aware of the State and Federal Laws that regulate Investment Advisors and the post-registration and registration requirements.
The regulation of Broker/Dealers, agents, securities and the issuers
Remedies and Administrative Provisions, actions, penalties and liabilities
Ethical practices and fiduciary obligations when communicating with clients and prospects
Contracts, guarantees, fees, commissions, performance based fees, disclosure of compensation, custody, discretion, trading authorization, standards and suitability
Conflicts of interest, excessive trading, loans to and from clients, sharing profits, confidentiality, insider trading, selling away and market manipulation.
As you can see, the Series 65 Examination covers a very broad, extensive, amount of information. It is a lot of information to retain, making it necessary to implement plenty of study time with your Mometrix Practice Test and Flash cards. This is an opportunity to excel in your career and promote your knowledge and skills to your peers. A client will feel more comfortable trusting you with their finances knowing that you have succeeded in passing the Series 65 Exam. Start studying early and get the best score possible the first time.
Series 65 Study Guide
Mometrix Academy is a completely free Series 65 study material resource provided by Mometrix Test Preparation. If you find benefit from our efforts here, check out our premium quality Series 65 study guide to take your studying to the next level. Just click the Series 65 study guide link below. Your purchase also helps us make even more great, free Series 65 exam prep content for test-takers.
Learn more about the Mometrix Series 65 Test Study Guide