The Sexual Assault Nurse Examiner-Adult/Adolescent exam is required for certification through the International Association of Forensic Nurses. This achievement demonstrates that you have the knowledge, skills, and education required for an ongoing professional commitment to this field of practice.
Click "Start Test" above to access free SANE-A exam practice questions, and check out our premium-quality SANE-A test prep resources by clicking the links below!
SANE-A Exam Eligibility
To be eligible for this exam, you must meet the following requirements:
You must hold a current and unrestricted RN or APRN license
You must have at least two years of RN practice
You must have completed at least 40 hours of a SANE didactic course
You must have completed a SANE clinical preceptorship
You must have accrued at least 300 hours of SANE-related practice within the last three years
SANE-A Exam Outline
The SANE-A exam contains 200 questions, 50 of which are unscored, and you will be given a time limit of 4 hours. The unscored questions are unmarked and scattered throughout the exam and are used to evaluate questions for future versions of the exam.
The exam is split into five content domains.
1. Assessment and Documentation (32%)
The questions in this domain assess your knowledge and skills in the following areas:
Identifying emergent and urgent medical problems
Assessing a patient's safety needs and implementing safety measures
Identifying the long-term and acute psychological and emotional responses to sexual assault
Obtaining and documenting a patient's health history and sexual assault history
Assessing a patient for indicators of alcohol- and drug-related sexual assault
Assessing a patient's level of development
Assessing a patient for sexually transmitted infections, pregnancy, and pregnancy risk
Assessing a patient's immunization status
Conducting a comprehensive physical assessment and documenting findings
Assessing orifices involved in the sexual assault for trauma via appropriate methods
Distinguishing trauma from normal and abnormal physical findings
Completing photographic documentation by using forensic photography principles
2. Evidence Collection (18%)
The questions in this domain assess your knowledge and skills in the following areas:
Identifying items for evidence collection based on certain circumstances and events
Collecting biological and trace specimens from involved orifices and other areas of contact via appropriate methods
Collecting reference samples for a patient's DNA
Preserving forensic sample integrity
Documenting clothing and biological and trace specimens
3. Patient Management (28%)
The questions in this domain assess your knowledge and skills in the following areas:
Utilizing appropriate communication resources
Providing crisis intervention to the patient and family members
Providing a patient with developmentally appropriate consent and control
Conducting a medical forensic exam by using trauma-informed care principles
Educating the patient about STIs, testing, prophylaxis, and treatment for STIs
Administering testing, prophylaxis, and treatment for STIs as indicated
Educating a patient on pregnancy risks and emergency contraception
Administering pregnancy testing and emergency contraception as indicated
Educating a patient about actions and side effects of prophylactic medications
Consulting with other healthcare providers about medical problems
Referring to a patient for follow-up counseling, support, and advocacy services
Creating discharge and safety plans
Conducting follow-up based on medical forensic needs
4. Legal Issues and the Judicial Process (10%)
The questions in this domain assess your knowledge and skills in the following areas:
Adhering to applicable mandatory reporting requirements as appropriate
Responding to subpoenas and court orders for judicial proceedings
Testifying as an expert or fact witness for the prosecution or defense
Providing ethical and professional testimony
5. Professional Practice (12%)
The questions in this domain assess your knowledge and skills in the following areas:
Implementing safety measures
Implementing principles of confidentiality
Implementing principles of informed consent and refusal
Participating in peer and case reviews and quality improvement processes
Evaluating and utilizing current evidence-based practices
Implementing strategies to collaborate with interprofessional team members
Identifying risks, prevention, and interventions for vicarious trauma
Incorporating ethical principles in professional practice
Check Out Mometrix's SANE-A Study Guide
Get practice questions, video tutorials, and detailed study lessons
Get Your Study Guide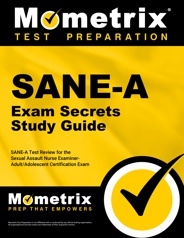 SANE-A Exam Registration
To register for this exam, you must first submit an application. This application must include the application fee, which varies depending on when you register and whether you are an IAFN member. For early registration, IAFN members pay $275 and non-members pay $425. For late registration, IAFN members pay $455 and non-members pay $605.
Once your application has been approved, you will receive an email with instructions on how to schedule your examination appointment.
Test Day
In-person Testing
On test day, you should arrive 30 minutes early and be prepared to show a valid form of ID. You should also have your confirmation email from Meazure Learning available in case it's asked for. You should also note that friends and family will not be allowed into the building.
Before you take the exam, you will be asked to leave your cell phone, food and beverages, smoking paraphernalia, and other personal items outside of the testing room. You will then be given a dry erase board or scratch paper and a pencil to take notes.
You will be permitted to take as many breaks as you need during the exam, but the timer will not be paused at any time.
Live Remote Proctoring
You must complete the check-in process within 15-30 minutes of your scheduled appointment time. Before your exam can begin, the proctor will ask you to download the secure browser, complete a system check of your computer, test your microphone and web camera, and scan your testing area using your computer's camera. Finally, you will present your ID and have your photograph taken.
Your camera and microphone must remain on during the exam. Your desk must be clean, with only two pieces of blank paper and a writing utensil accessible. You can only use one monitor during the exam; extra monitors need to be unplugged. Once your check-in is complete and your testing area meets approval, your exam will begin.
How the SANE-A Exam is Scored
The SANE-A exam is scored by taking your raw score (the actual number of items you answered correctly) and converting it to a scaled score. Your final scaled score will fall on a range of 200 to 800, with 500 being the minimum passing score.
Your score report will be delivered to you by mail within 6-8 weeks after your testing window has closed (late June or November). This will include your pass/fail status. If you fail the exam, your score report will also include information about your performance in each section of the exam.
Check Out Mometrix's SANE-A Flashcards
Get complex subjects broken down into easily understandable concepts
Get Your Flashcards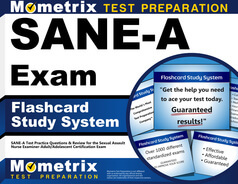 FAQs
Q
How many questions are on the SANE-A exam?
A
There are 200 questions on the exam.
Q
How long is the SANE-A exam?
A
The time limit for the exam is 4 hours.
Q
What is the passing score for the SANE-A exam?
A
To pass the exam, you must achieve a scaled score of at least 500.
Q
How much does the SANE-A exam cost?
A
The examination fee differs depending on when you register and whether you are an IAFN member.