SANE-A Exam
The Sexual Assault Nurse Examiner-Adult/Adolescent exam is required for certification through the International Association of Forensic Nurses. This achievement demonstrates that you have the knowledge, skills, and education required for an ongoing professional commitment to this field of practice.
Who is Eligible?
Those who wish to take the SANE-A certification exam must meet the following requirements:
Have an active, unrestricted RN license in the U.S. or have a first level general nursing license in the country of practice
Have at least two years of RN experience or have two years of first level general nursing experience in the country of licensure
Have completed an adult/adolescent sexual assault nurse examiner education program with at least 40 hours of accredited contact hours

Or have completed an adult/adolescent sexual assault nurse examiner education program with at least 40 hours of accredited coursework or national equivalent
Or have completed a combined adult/adolescent and pediatric sexual assault nurse examiner education program with at least 64 hours of accredited contact hours
Or have completed an adult/adolescent sexual assault nurse examiner education program with at least 64 hours of coursework or the national equivalent

Have completed a sexual assault nurse examiner clinical preceptorship
Have practiced as a SANE and/or have provided clinical instruction for SANEs for at least 300 hours within the last three years. At least 200 of those hours must be SANE related that focuses on the adult population.
Examination fees are due at the time of registration. They are as follows:
IAFN Member – $275
Non-members – $425
IAFN international members – $350
International non-members – $475
Those who file after the testing window application deadline will have a late filing fee of $150.
After your application and payment have been submitted you will receive a confirming receipt email.
Check Out Mometrix's SANE-A Study Guide
Get practice questions, video tutorials, and detailed study lessons
Get Your Study Guide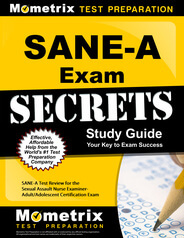 When and Where is it taken?
Testing windows take place in April and September. About 30 days before these open, you will receive a notification to schedule your exam. If you do not schedule within those 30 days, you will forfeit your examination fees.
You will be given a complete list of available dates, times, and locations during the scheduling process. It is important to note that you must schedule your exam at least seven days before your chosen testing date.
A confirmation letter will be sent to you by email after you have scheduled your exam including the date, time, and address of your exam. You will need to print this out and bring it with you to the testing site.
What Do I Need to Bring?
It is important that you arrive at least 15 minutes early to take your exam. Those who show up late will not be allowed to test and will have to reschedule. You may also forfeit all fees paid up to that point.
You will need to bring a current photo ID with you along with your confirmation letter. This must include your first and last name matching your application and confirmation information. Below are acceptable forms of identification:
Driver's license
Passport
Government issued ID card
This exam is taken by computer. This means that calculators, pencils, and study materials are not needed. Any personal items are not allowed in the testing area and will be kept in a designated locker during the exam.
What is Covered?
The SANE-A exam consists of 200 multiple choice questions. 150 are scored, while the other 50 are not scored and are used as pre-test questions. You are given four hours to finish the exam.
Below is a brief outline of the content tested, including the percentage of the exam each section covers:
Assessment and Documentation 32%
Evidence Collection 18%
Patient Management 28%
Legal Issues and the Judicial Process 10%
Professional Practice 12%
How is Scored?
Your score report will be delivered to you by mail within 6-8 weeks after your testing window has closed (late June or November). This will include your pass/fail status. If you fail the exam, your score report will also include information about your performance in each section of the exam.
Check Out Mometrix's SANE-A Flashcards
Get complex subjects broken down into easily understandable concepts
Get Your Flashcards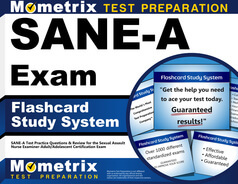 Preparation Tips
To help you prepare for this career enhancing exam, Mometrix has designed a study guide, flashcards, and some sample questions for you. These study materials will allow you to better understand the content covered in the exam and how that content will be structured. The sample questions will be worded and formatted just like the questions on test day.
Take advantage of these materials to make sure you are prepared for your upcoming exam.
SANE-A Study Guide
Mometrix Academy is a completely free SANE A test resource provided by Mometrix Test Preparation. If you find benefit from our efforts here, check out our premium quality SANE-A Study Guide and SANE-A Flash Cards to take your studying to the next level. Just click the SANE A study guide link below. Your purchase also helps us make even more great, free test content for test-takers.
SANE-A Customer Success Stories
Our customers love the tutorial videos from Mometrix Academy that we have incorporated into our SANE-A study guide. The SANE-A study guide reviews below are examples of customer experiences.
I have enjoyed using this study guide because it is very organized and easy to use. I don't feel overwhelmed with information. The print is larger on each page making it easier to get through the information.
SANE-A – Michelle
The book is a good evaluation of my weakness where I can concentrate more of my study.
SANE-A – Customer