RHIT Practice Test
The Registered Health Information Technician (RHIT) exam is available for health information professionals who would like to earn their Registered Health Information Technician certification. The RHIT certification is administered by the American Health Information Management Association (AHIMA), which is a nationwide organization dedicated to maintaining and improving health information management practices and standards.
Click "Start Test" below to take a free RHIT practice test!
RHIT Exam Eligibility
Health Information Technicians who are interested in taking the RHIT exam must meet one of the following eligibility requirements:
Have at least an associate's degree, completing the academic requirements of a Health Information Management (HIM) program. The HIM program must have Commission on Accreditation for Health Informatics and Information Management Education (CAHIIM) accreditation.
Complete an HIM program approved by a foreign association. AHIMA must have a reciprocity agreement with the association.
For verification, you may be required to provide supporting documentation, such as official school transcripts or a letter of attestation.
Early Testing
If you are enrolled in your final term in a CAHIIM-accredited program, you are eligible to take the exam early. To do so, you must meet one of the following requirements:
You have graduated from the program but are waiting for official transcripts
You have completed the coursework but have not yet graduated
You are currently enrolled in your last term
RHIT Exam Outline
The RHIT is a computer-based exam that contains between 130 and 160 questions and is timed at 3.5 hours.
Each question on the exam will be further categorized into one of three levels of complexity:
Recall (RE): The ability to recall or recognize specific information
Application (AP): The ability to comprehend, relate or apply knowledge to new or changing situations (the majority of the exam is comprised of application-level questions)
Analysis (AN): The ability to analyze and synthesize information, determine solutions, and/or evaluate the usefulness of a solution
The questions are split into six domains.
1. Data Content, Structure, and Information Governance (19%-25%)

Create and maintain EHR reports
Create and maintain functionalities of the EHR
Apply healthcare standards
Coordinate document control
Navigate patient portals
Provide patient education and support
Identify and maintain a designated record set
Apply health information guidelines
Educate clinicians on content and documentation
Understand and maintain the data workflow
Audit the content and completion of the health record
Maintain the integrity of the health record
Assess and maintain the integrity of the Master Patient Index (MPI)
2. Access, Disclosure, Privacy, and Security (14%-18%)

Apply guidelines for record retention
Use laws, guidelines, and regulations to manage PHI
Mitigate privacy and security risks
Determine the right of access to the health record
Identify and correct identity issues within the EHR
Educate customers on privacy, disclosure, and access
3. Data Analytics and Use (12%-18%)

Extract, analyze, and report patient data
Analyze common data metrics that evaluate Health Information functions
Identify common data sources
Compile healthcare statistics using reports, charts, and graphs
4. Revenue Cycle Management (19%-25%)

Identify common inpatient and outpatient billing issues
Code medical record documentation
Collaborate with CDI staff
Recall utilization review processes and objectives
Describe various payment methodologies
Ask clinicians to clarify documentation
Analyze the case mix
Describe various types of health insurance plans
Manage denials
Improve the integrity of coded data by demonstrating the proper use of clinical indicators
Review and maintain a CDM
Understand payer requirements and guidelines
Monitor DNFB
Conduct documentation and coding audits
Provide documentation and coding education
5. Compliance (13%-17%)

Monitor regulatory changes for accurate and timely implementation
Monitor Health Information compliance
Report any Health Information non-compliance
Perform quality assessments
Maintain Health Information standards
6. Leadership (9%-12%)

Collaborate with other departments
Develop and revise procedures and policies
Provide Health Information education regarding regulations and laws
Establish Health Information standards
Provide Health Information expertise
Understand the guidelines and principles of project management
Review Health Information processes
Check Out Mometrix's RHIT Study Guide
Get practice questions, video tutorials, and detailed study lessons
Get Your Study Guide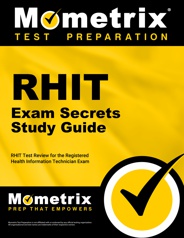 RHIT Exam Registration
You can submit an application on the AHIMA website or mail in a paper application. The application fees are as follows:
AHIMA Member Price: $229
Non-member Price: $299
AHIMA Premier Member Price: $217.55
If you are ineligible for the exam or request to withdraw your application, you will receive a refund of your application fees minus a $75 processing fee.
After your application is approved, you will receive an Authorization to Test letter (ATT). The ATT states that you have a four-month window to schedule your exam appointment. If you fail to schedule your exam within the four-month window, you will forfeit your exam fee.
Test Day
The RHIT exam is offered at qualifying Pearson VUE testing locations. You should arrive 30 minutes prior to your scheduled appointment time, and be ready to present two valid forms of identification. The first ID must have a photograph and your signature, while the second ID is only required to have your signature.
Before you can enter the testing room, you will be asked to leave behind all personal items, including your cell phone, jacket, books, bags, pencils, paper, and watch. There will be a secure locker outside the testing room to place these items in.
Once the proctor has determined you are ready, you will be led into the testing room, and the exam will begin shortly after.
As you take the exam, remember that there is no penalty for guessing! No points are taken away for choosing incorrect answers.
How the RHIT Exam is Scored
The passing score is determined through a process known as "standard setting." A panel of subject matter experts provides feedback on how a candidate who is minimally qualified would perform on the exam. The experts then utilize the standard-setting methodology to determine the passing scores.
The score is reported on a range of 100 to 400, with a score of 300 being required to pass the exam.
As of December 1, 2022, you will be given a preliminary score report immediately following the exam, so you will know whether or not you passed before leaving the testing center.
Check Out Mometrix's RHIT Flashcards
Get complex subjects broken down into easily understandable concepts
Get Your Flashcards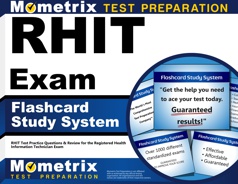 How to Study for the RHIT Exam
How to Study Effectively
Your success on RHIT test day depends not only on how many hours you put into preparing but also on whether you prepared the right way. It's good to check along the way to see whether your studying is paying off. One of the most effective ways to do this is by taking RHIT practice tests to evaluate your progress. Practice tests are useful because they show exactly where you need to improve. Every time you take a free RHIT exam practice test, pay special attention to these three groups of questions:
The questions you got wrong
The ones you had to guess on, even if you guessed right
The ones you found difficult or slow to work through
This will show you exactly what your weak areas are and where you need to devote more study time. Ask yourself why each of these questions gave you trouble. Was it because you didn't understand the material? Was it because you didn't remember the vocabulary? Do you need more repetitions on this type of question to build speed and confidence? Dig into those questions and figure out how you can strengthen your weak areas as you go back to review the material.
Answer Explanations
Additionally, many RHIT practice tests have a section explaining the answer choices. It can be tempting to read the explanation and think that you now have a good understanding of the concept. However, an explanation likely only covers part of the question's broader context. Even if the explanation makes sense, go back and investigate every concept related to the question until you're positive you have a thorough understanding.
Comprehend Each Topic
As you go along, keep in mind that the RHIT practice test is just that: practice. Memorizing these questions and answers will not be very helpful on the actual test because it is unlikely to have any of the same exact questions. If you only know the right answers to the sample questions, you won't be prepared for the real thing. Study the concepts until you understand them fully, and then you'll be able to answer any question that shows up on the test.
Strategy for RHIT Practice
When you're ready to start taking practice tests, follow this strategy:
Remove Limitations. Take the first test with no time constraints and with your notes and RHIT study guide handy. Take your time and focus on applying the strategies you've learned.
Time Yourself. Take the second practice test "open book" as well, but set a timer and practice pacing yourself to finish in time.
Simulate Test Day. Take any other practice tests as if it were test day. Set a timer and put away your study materials. Sit at a table or desk in a quiet room, imagine yourself at the testing center, and answer questions as quickly and accurately as possible.
Keep Practicing. Keep taking practice tests on a regular basis until you run out of practice tests or it's time for the actual test. Your mind will be ready for the schedule and stress of test day, and you'll be able to focus on recalling the material you've learned.
FAQs
How hard is the RHIT exam?
The RHIT exam is not considered to be very difficult. The pass rate as of 2022 is 69%.
How many questions are on the RHIT exam?
There are between 130 and 160 questions on the exam.
How long is the RHIT exam?
The time limit for the exam is 3.5 hours.
What is the passing score for the RHIT exam?
To pass the exam, you must achieve a scaled score of at least 300.
How much does the RHIT exam cost?
The cost of the exam depends on your AHIMA membership status. Members pay a fee of $229, while non-members pay $299.