RHIA Exam
Registered Health Information Administrators (RHIA) are required all across the healthcare industry. In order to begin your career as an RHIA, you will first need to take and pass the RHIA exam. It measures your core competencies across all the most important concepts and skills required for the job.
Who Can Take the RHIA Exam?
To be eligible you have to meet just one of the following five criteria:
You have successfully completed an accredited, baccalaureate-level program in Health Information Management.
You have successfully completed an accredited, master's level program in Health Information Management.
You have successfully completed an accredited, post-baccalaureate degree program in Health Information Management.
You have successfully completed a foreign degree program in Health Information Management that is approved by a foreign association with which the American Health Information Management Association (AHIMA) has a reciprocity agreement.
You are a registered health information technician (RHIT) who meets the proviso conditions approved by the CCHIIM.
Check out Mometrix's RHIA Study Guide
Get practice questions, video tutorials, and detailed study lessons
Get Your Study Guide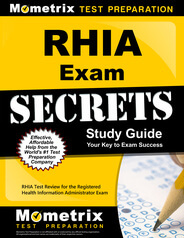 How Should I Prepare for Test Day?
The entire exam will last four hours and there are no scheduled breaks. So it's extremely important that you make sure you are comfortable, well rested, and well-nourished before you arrive at the testing center. Here are a few tips to make sure you are ready to perform your best:
Try to get a full night of sleep before the test.
Wake up early enough that you can eat a full breakfast, get ready, and go to the testing center without having to rush.
Bring a light jacket or sweater that you can easily take off or put on while you're taking the test so that you can adjust as necessary to the temperature in the exam room.
Make sure to hydrate earlier in the morning but avoid drinking anything within the last 45 minutes to an hour before your appointment to avoid the need for restroom breaks after the exam starts.
What Subjects Will Be Covered on the RHIA Exam?
The 180 multiple choice questions on the RHIA exam will be divided across five domains as follows:
Data Content, Structure, and Standards – 33-40 Questions

Classification systems
Health record content & documentation
Data governance
Data management & secondary data sources
Information Protection: Access, Disclosure, Archival, Privacy and Security – 43-49 Questions

Health law
Data privacy, confidentiality, and security
Release of information
Informatics, Analytics, and Data Use – 40-47 Questions

Health information technologies
Information management strategic planning
Analytics and decision support
Healthcare statistics
Research methods
Consumer informatics
Health information exchange
Information integrity and data quality
Revenue Management – 22-29 Questions

Revenue cycle and reimbursement
Regulatory
Coding
Fraud surveillance
Clinical documentation improvement
Leadership – 22-29 Questions

Leadership roles
Change management
Work design and process improvement
Human resources management
Training and development
Strategic and organizational management
Financial management
Ethics
Project management
Vendor and contract management
Enterprise information management
Of these 180 questions, 20 are trial questions that don't count toward your final score. They are being tested for inclusion on future versions of the exam. Since the trial questions aren't identified in any way, it's still a good idea to treat all 180 questions as if they counted toward your score.
How Is the RHIA Exam Scored?
You will be given a scaled score ranging from 100 to 400. In order to pass, you will need a minimum of 300. You will not find out how you did until your receive your score report four to eight weeks after the date of the exam. If you need your results by a certain date, you should factor this wait time in when deciding on an appointment to take the exam.
Check out Mometrix's RHIA Flashcards
Get complex subjects broken down into easily understandable concepts
Get Your Flashcards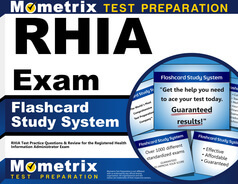 Do I Need to Study for the RHIA Exam?
While you will be familiar with much of the material thanks to your training and education, it's highly recommended that you still spend a few weeks reviewing everything and working on fundamental test-taking skills like memory, recall, speed, and accuracy.
To do that, pick up the Mometrix Study Guide. In addition to a complete overview of all five domains covered in the test, you'll get lots of extra tools like practice questions, a proven study schedule to follow, and test-taking strategies that will help you ace even the trickiest of questions.
For even better results, add Mometrix Flashcards to your toolkit. These flashcards are beautifully made and super portable. So you'll be able to get in a few extra study sessions no matter where you are. Plus, they are a great way to review the material you need to know for the test in a more interactive and engaging way.
RHIA Study Guide
Academy is a completely free RHIA test resource provided by Mometrix Test Preparation. If you find benefit from our efforts here, check out our premium quality RHIA Study Guide and RHIA Flash Cards to take your studying to the next level. Just click the RHIA study guide link below. Your purchase also helps us make even more great, free test content for test-takers.
Upgrade your studying with our RHIA study guide and flashcards:
RHIA Study Guide Customer Success Stories
Our customers love the tutorial videos from Mometrix Academy that we have incorporated into our RHIA test study guide. The RHIA study guide reviews below are examples of customer experiences.
So far the RHIA has been a very effective and useful study guide. Im using this guide to prepare for the exam in a few months and I feel confident that I will be able to pass. This exam guide helped me brush up on my health care knowledge. I would absolutely recommend to anyone who needs test preparation.
RHIA Study Guide – Taneisha
I should've added this book as a study guide a while ago. It condenses everything you need to know into one booklet. Definitely satisfied with this purchase.
RHIA Study Guide – Customer
Plenty of content, excellent for review. This book contains all of the information you need for the RHIA exam. You dont have to bounce around from chapter to chapter like other large textbooks. Its all sequenced in order for you. Definitely a must have.
RHIA Study Guide – Alejandro
I loved this book. I just got it and so far, it is extremely informative and easy to understand. Great purchase and worth it!
RHIA Study Guide – Customer
I have bought several products and have loved them all. They are easy to use and great quality books. The information is spot on. It has made my life easier with these study guides. Thank you for making a great product.
RHIA Study Guide – Lizzy
This studying tool was the best decision I made for preparation for my RHIA exam. The flashcards that I received were very in depth and covers a wide range of areas that I feel will most definitely be on the exam. I love how they not only have the answers but some have in depth explanations on the answer which helps me to better understand the concepts. As fas as the book goes, I love how it first explains 5 secrets to success for test taking before we even dive into the studying part. I think that the book also covers a lot of the main areas regarding healthcare which these areas tie into the flashcards that I bought so I think that by purchasing both the flashcards and the book together, I am going to have no problem passing this exam.
RHIA Study Guide – Jessica
This material is very informative, user friendly, and the topics within the study guide are written well and makes it easy for one to understand and comprehend.
RHIA Study Guide – Michele
The format of the study guide allows for easy maneuvering through the material. I find the material a very informative review. I'm able to give myself a quick a quiz as I'm studying & I really like that. I fell like I'm able to retain a lot of the information much quicker than other study guides I've used in the past. The love the flashcards! My life is so busy; the flashcard really make it so easy to just grab them & study on the go. My anxiety level is already through the roof since I only have a few weeks to prepare for my exam, but I find the material such a breeze to understand that I really look forward to studying!
RHIA Study Guide – Nay
Mometrix Academy – Home