Taking and passing the Registered Health Information Administrator (RHIA) exam is required in order to begin your career as an RHIA. The RHIA exam measures your core competencies across all the most important concepts and skills required for the job.
Click "Start Test" above to take a free RHIA practice exam!
RHIA Exam Eligibility
To be eligible for the exam, you must meet ONE of the following requirements:
You must complete an accredited baccalaureate-level program in Health Information Management
You must complete an accredited master's level program in Health Information Management
You must complete an accredited post-baccalaureate degree program in Health Information Management
You must complete a foreign degree program in Health Information Management that is approved by a foreign association with which the American Health Information Management Association (AHIMA) has a reciprocity agreement
You must be a registered health information technician (RHIT) who meets the proviso conditions approved by the CCHIIM
RHIA Exam Outline
The RHIA exam contains 150 multiple-choice questions, 20 of which are unscored, and you will be given a time limit of 3.5 hours. The unscored "pretest" questions are used to validate questions for future versions of the exam.
Each question on the exam will be further categorized into one of three levels of complexity:
Recall (RE): The ability to recall or recognize specific information
Application (AP): The ability to comprehend, relate or apply knowledge to new or changing situations (the majority of the exam is comprised of application-level questions)
Analysis (AN): The ability to analyze and synthesize information, determine solutions, and/or evaluate the usefulness of a solution
The exam is split into five content domains, and each domain contains a set of task items.
1. Data and Information Governance (17%-20%)

Manage health record documentation and content
Process the required clinical data elements for quality reporting
Manage data standards based on organizational policy
Evaluate the integrity of health data
Understand and apply data dictionary standardization policies
Develop policies and procedures for data management and information governance
Complete data analysis to inform management
2. Compliance with Access, Use, and Disclosure of PHI (15%-18%)

Monitor access to PHI within the organization
Ensure compliance with security initiatives
Monitor organizational compliance with health laws, regulations, or standards
Comply with retention and destruction policies for healthcare information
Manage patient access to their health information
Monitor the release of information workflows
Advocate for patients and families in the process of obtaining health information
Process healthcare information requests according to legal and regulatory standards
Ensure compliance with privacy initiatives
Follow breach of information protocols
3. Data Analytics and Informatics (23%-26%)

Provide summary reports based on trends
Examine clinical, administrative, and specialty service applications
Prepare to support end users in EHR applications
Create visual representations of data for decision-making
Optimize health information technology to improve workflow
Support health information exchange solutions
Use database management techniques
Manage the integrity of the master patient index
Audit documentation using a focused tool
Validate healthcare statistics for organizational stakeholders
Develop productivity reports
4. Revenue Cycle Management (20%-23%)

Educate providers on value-based care programs and guidelines
Conduct revenue integrity activities
Validate coding accuracy
Verify the claims management process
Assign diagnoses and procedure codes and groupings according to official guidelines
Conduct clinical documentation improvement
Monitor health plan clinical documentation requirements
Perform fraud prevention
5. Management and Leadership (23%-26%)

Implement strategies to support organizational initiatives
Assist with entity accreditation, licensing, or certification processes
Facilitate training and development
Collaborate on contract management
Perform work design and process improvement activities
Assist with the preparation of budgets
Perform human resource management activities
Check out Mometrix's RHIA Study Guide
Get practice questions, video tutorials, and detailed study lessons
Get Your Study Guide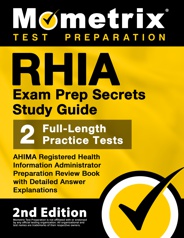 RHIA Exam Registration
To register for the RHIA exam, you must submit an application via the AHIMA website. Along with your application, you will need to submit the $299 exam fee ($229 for AHIMA members).
Once your application is approved, you will receive a confirmation email with your authorization to test (ATT) and information on how to schedule your examination appointment with Pearson VUE.
Test Day
In-person Testing
On the day of the exam, you should arrive at the Pearson VUE testing center 30 minutes earlier than the scheduled time. When you arrive, you will be asked to sign in and present a valid form of photo ID. You will then be photographed and asked to sign a roster and rule forms.
Personal items, such as your cell phone, keys, wallet, and bags, are not allowed in the testing room, so you must leave them in a secure locker outside the testing area.
Just before the exam starts, you will be given a brief tutorial on the testing system and will be given an NDA to sign.
Remote Testing
Before the day of the exam, you should ensure your equipment meets the minimum requirements. You must have a desktop or laptop computer with a working webcam, microphone, and speakers. The exam cannot be taken on mobile devices, smartphones, or tablets.
On the day of your exam, you will be asked to show the remote proctor your testing space and submit a valid form of photo ID. The proctor will walk you through the examination process after the check-in process is complete.
It is important to ensure that your testing area is private and that no one will enter the room while you are taking the exam. If someone does enter, you must immediately ask them to leave.
How the RHIA Exam is Scored
The passing score for the RHIA exam is determined through a process known as "standard setting." A panel of subject matter experts (SMEs) provides feedback on how a candidate who is minimally qualified would perform on the exam. The panel then utilizes the standard-setting methodology to establish the passing scores.
The score is reported on a range of 100 to 400, and a minimum scaled score of 300 is required to pass the exam.
You will be given a preliminary score report immediately following the exam, so you will know whether or not you passed before leaving the testing center.
Retaking the RHIA Exam
If you failed the exam and wish to retake it, you may do so after a 90-day waiting period. After the waiting period, you must submit a new application and pay the examination fee in full.
Check out Mometrix's RHIA Flashcards
Get complex subjects broken down into easily understandable concepts
Get Your Flashcards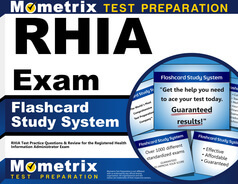 How to Pass the RHIA Exam
How to Study Effectively
Your success on RHIA test day depends not only on how many hours you put into preparing but also on whether you prepared the right way. It's good to check along the way to see whether your studying is paying off. One of the most effective ways to do this is by taking RHIA practice tests to evaluate your progress. Practice tests are useful because they show exactly where you need to improve. Every time you take a free RHIA exam practice test, pay special attention to these three groups of questions:
The questions you got wrong
The ones you had to guess on, even if you guessed right
The ones you found difficult or slow to work through
This will show you exactly what your weak areas are and where you need to devote more study time. Ask yourself why each of these questions gave you trouble. Was it because you didn't understand the material? Was it because you didn't remember the vocabulary? Do you need more repetitions on this type of question to build speed and confidence? Dig into those questions and figure out how you can strengthen your weak areas as you go back to review the material.
Answer Explanations
Additionally, many RHIA practice tests have a section explaining the answer choices. It can be tempting to read the explanation and think that you now have a good understanding of the concept. However, an explanation likely only covers part of the question's broader context. Even if the explanation makes sense, go back and investigate every concept related to the question until you're positive you have a thorough understanding.
Comprehend Each Topic
As you go along, keep in mind that the RHIA practice test is just that: practice. Memorizing these questions and answers will not be very helpful on the actual test because it is unlikely to have any of the same exact questions. If you only know the right answers to the sample questions, you won't be prepared for the real thing. Study the concepts until you understand them fully, and then you'll be able to answer any question that shows up on the test.
Strategy for RHIA Practice
When you're ready to start taking practice tests, follow this strategy:
Remove Limitations. Take the first test with no time constraints and with your notes and RHIA study guide handy. Take your time and focus on applying the strategies you've learned.
Time Yourself. Take the second practice test "open book" as well, but set a timer and practice pacing yourself to finish in time.
Simulate Test Day. Take any other practice tests as if it were test day. Set a timer and put away your study materials. Sit at a table or desk in a quiet room, imagine yourself at the testing center, and answer questions as quickly and accurately as possible.
Keep Practicing. Keep taking practice tests on a regular basis until you run out of practice tests or it's time for the actual test. Your mind will be ready for the schedule and stress of test day, and you'll be able to focus on recalling the material you've learned.
FAQs
Q
How many questions are on the RHIA exam?
A
There are 150 multiple-choice questions on the exam.
Q
How long is the RHIA exam?
A
The time limit for the exam is 3.5 hours.
Q
What is the passing score for the RHIA exam?
A
To pass the exam, you must achieve a scaled score of at least 300.
Q
How much does the RHIA exam cost?
A
The examination fee is $229 for AHIMA members and $299 for non-members.