Quality Auditor Certification Exam
Quality Auditor Certification is required to become a Certified Quality Auditor. To become a Certified Quality Auditor, or CQA, you must first take a written examination through the American Society for Quality (ASQ). CQAs are professionals who work to ensure a high standard of quality auditing, including determining and ensuring systems' adequacy, judging systems' adherence to industrial management criteria, and evaluating control systems. Becoming a CQA gives a Quality Auditor the mark of professionalism that many organizations value. CQAs are able to demonstrate their breadth of knowledge and expertise in quality auditing, including examining, evaluating, questioning, and reporting, and are highly valued in an ever-developing technological world.
What are the eligibility requirements to become a Certified Quality Auditor (CQA)?
If you want to become a CQA, you must first take the CQA exam through ASQ. This exam can be taken as either a computer-administered test or a paper and pencil test. In order to qualify to take the exam, you must demonstrate at least eight years of experience in at least one area within the CQA body of knowledge. This means you can use experience as a certified Software Quality Engineer, Quality Engineer, Quality Manager, Reliability Engineer, or another related area to help satisfy the 8-year requirement. Additionally, at least three years of your experience must have been within a decision-making capacity, which means that you were tasked with defining, controlling, and/or executing projects and processes, and you were responsible for the outcomes.
Importantly, if you have completed a degree or certification, which includes a career and technical certificate, associate's degree, bachelor's degree, master's degree, or doctorate, you can use your education to fulfill some of the 8-year requirement. For a career and technical certificate or diploma, you can waive one year; for an associate's degree, you can waive two years; for a bachelor's degree, you can waive four years; and for a master's or doctorate degree, you can waive five years.
How much does the exam cost?
The CQA exam costs $348 for ASQ members and $498 for non-members. If you need to retake the exam, you will pay $298. The price of the exam includes a $70 non-refundable fee. To apply to take the exam, you will need to download an application from the ASQ website.

Check Out Mometrix's CQA Study Guide
Get practice questions, video tutorials, and detailed study lessons
Get Your Study Guide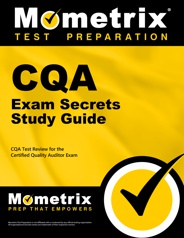 What does the exam cover?
The computer-based test consists of a single part containing 165 multiple-choice questions. You will be given 5.5 hours to complete the exam. Of the 165 questions, only 150 are scored. The remaining 15 are used as pretest measures; although, you will not know which questions are scored and which are not, so make sure to do your best on each question. The paper and pencil test consists of a single part containing 150 multiple-choice questions. You will be given 5 hours to take the paper and pencil exam. Below are the exam's content areas and questions per topic:
Auditing Fundamentals, 27 questions:

Types of quality audits, including methods, auditor-auditee relationships, purpose, and common elements across audits
Purpose and scope of audits, including elements of audits and benefits
Criteria to audit against, including distinguishing between various audit criteria
Roles and responsibilities of participants, including functions of auditors and auditees
Professional conduct and auditors' consequences, including legal consequences and audit credibility

Audit Process, 42 questions:

Audit preparation, including elements of the planning process, auditor selection, documentation, logistics, tools, and strategies
Audit performance, including on-site auditing, opening meetings, data collection and analysis, objective evidence, and closing meetings
Audit reporting, including report development, content, effectiveness, and final reporting steps
Audit follow-up and closure, including corrective action processes and planning, verification of corrective action, follow-up, and audit closure

Auditor Competencies, 25 questions:

Auditor characteristics, including interpersonal skills, problem-solving, etc.
On-site audits, including techniques and management
Conflict resolution, including various types of disagreements and solutions
Techniques of communication and presentation, including opening and closing audits, etc.
Interviewing techniques, including question types, active listening, recognizing non-verbal cues, and appropriate responses
Team dynamics, including team-building, facilitation, and team development

Audit Business Applications and Program Management, 30 questions:

Audit program management, including senior management support, resource management, staffing, training, evaluation, risk management, etc.
Business and financial impact, including auditing as a tool of management, business interrelationships, cost of quality (COQ) principles, and auditors' emerging roles

Quality Tools and Techniques, 26 questions:

Quality and problem-solving tools, including charts, histograms, etc.
Process improvement, including Six Sigma and Lean
Basic statistics, including central tendency, dispersion, and qualitative and quantitative analyses
Process variation, including common and special causes, performance metrics, and outliers
Sampling methods, including sampling plans, types of sampling, and sampling terms
Change control and configuration, including management, hardware and software applications, etc.
Verification and validation, including defining and distinguishing between various methods and processes
Risk management, including tools, methods, hazards (HACCP and HHA), critical to quality (CTQ), etc.
Test Preparation
Now that you have a better understanding of the eligibility criteria, structure, and content of the CQA exam, it's time to prepare. Safeguard your success on the CQA exam by employing the most comprehensive test preparation materials you can buy. Mometrix Test Preparation's standardized test researchers have developed just the test preparation materials for you: the Certified Quality Auditor Exam Secrets study guide  and the Certified Quality Auditor Exam Flashcard Study System.

Check Out Mometrix's CQA Flashcards
Get complex subjects broken down into easily understandable concepts
Get Your Flashcards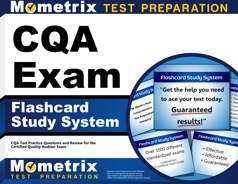 Certified Quality Auditor Study Guide
Mometrix Academy is a completely free resource provided by Mometrix Test Preparation. If you find benefit from our efforts here, check out our premium quality CQA study guide to take your studying to the next level. Just click the CQA study guide link below. Your purchase also helps us make even more great, free content for test-takers.