PTCB Practice Test
The Pharmacy Technician Certification Board (PTCB) has created a Pharmacy Technician Certification Exam (PTCE) for those wishing to become certified pharmacy technicians. With this credential, pharmacy technicians show that their knowledge of medication safety and effective patient care across pharmacy settings is up to the standards of any employer.
The board uses the terms "PTCB exam" and "PTCE exam" interchangeably, so take note that these terms refer to exactly the same exam: the Pharmacy Technician Certification Exam.
To help you practice for the PTCB exam, we've gathered all of the information you need to know right here on this page. To take a free PTCB practice test, click the "Start Test" button below.
Good luck with your studying!

About the PTCB Exam
Here are a few statistics regarding the PTCE:
According to the Pharmacy Technician Certification Board, in 2021, 71% of test-takers passed the certification exam.
Pharmacy technicians are growing high in demand at an above-average rate of 12% by 2026.
In the last decade, there has been a significant 49% increase in the number of pharmacy technicians.
Pharmacy technicians are 14% more likely to stay in their career if they are PTCB-certified rather than uncertified
As of January 2020, PTCB candidates need to first finish a PTCB-Recognized Education/Training Program OR have equivalent, eligible work experience:
Option 1: A PTCB-Recognized Education/Training Program (or be expected to complete within 60 days). There are currently more than 1,400 approved education and training programs.
Option 2: Minimum of 500 work hours as a pharmacy technician. This secondary option provides a path to certification for experienced technicians who cannot attend a PTCB-Recognized program. The PTCB accepts work experience from a wide variety of pharmacy practice settings.
PTCB Exam Format
Questions
The test consists of 90 multiple-choice questions that are divided into four knowledge domains and areas.
Time Limit
During the exam, you are given a total of two hours to answer each of the 90 questions (ten of which are unscored). Ten minutes are allotted for both a PTCE practice exam tutorial and post-exam survey. The majority of the time, one hour and 50 minutes, is given to respond to the pharmacy tech exam questions. For each PTCB review question, you will be asked to select the best answer from four given possible answer choices.
Exam Delivery
The PTCB certification exam is a computer-based examination administered nationwide. When you go to register for the PTCB exam, you will be asked to select a convenient location from a list of available Pearson VUE test centers.
During the pharmacy tech certification tutorial, you will have the opportunity to learn the pharm tech exam format and how to navigate the testing screen. It is recommended to take pharmacy technician practice tests to familiarize yourself with this format prior to testing day as well.

Check Out Mometrix's PTCB Study Guide
Get practice questions, video tutorials, and detailed study lessons
Get Your Study Guide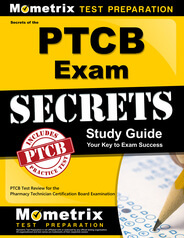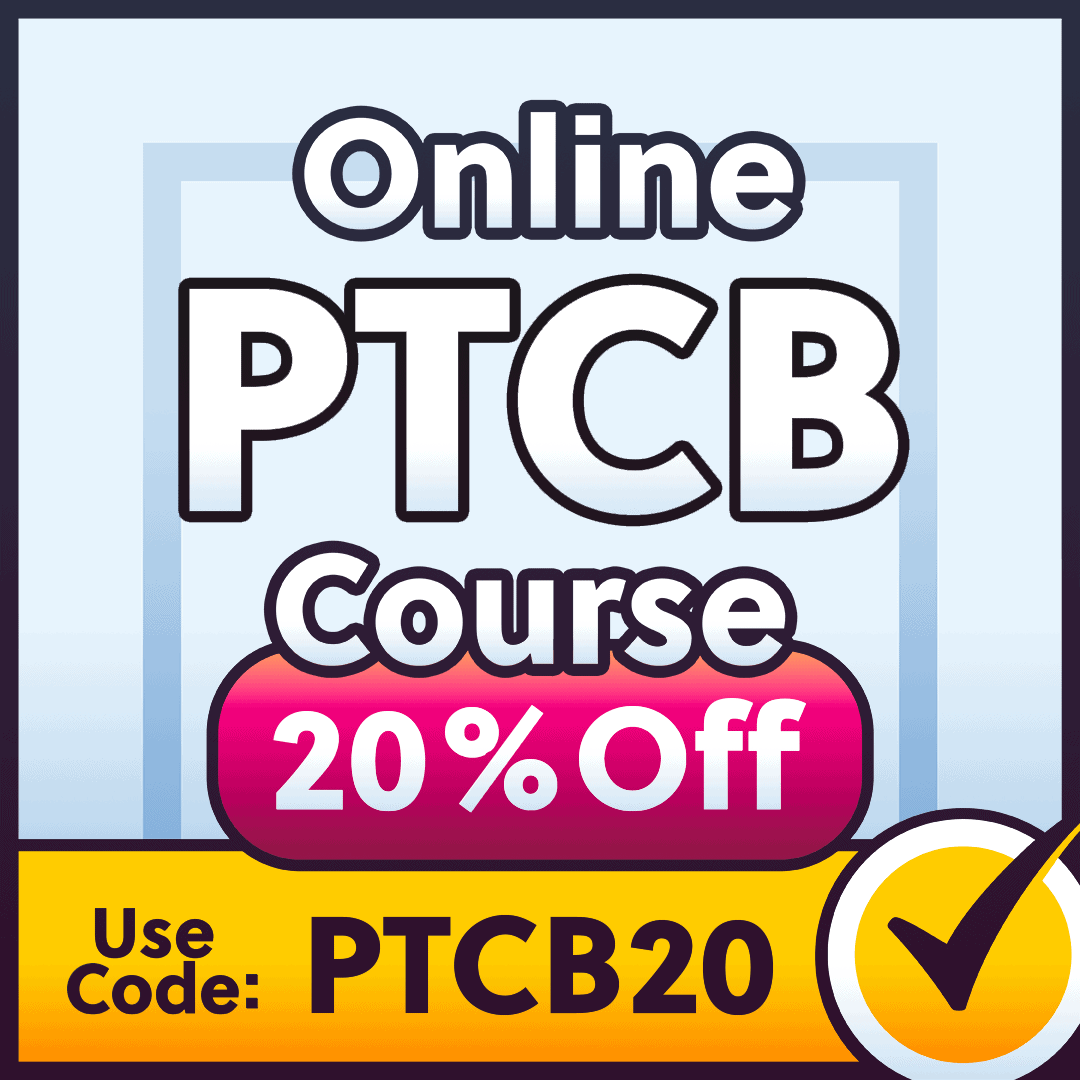 PTCB Exam Outline
The PTCB exam questions are divided into four different knowledge domains that have been designed by pharmacy content experts to test potential candidates on the skills required for the position of pharmacy technician.
Medications (40%)

Generic and brand names of medications, as well as their classifications
Therapeutic equivalence
Life-threatening drug interactions and contraindications
Dosage forms, routes of administration, instructions for special handling and administration, and duration of drug therapy
Medication side effects, adverse effects, and allergies
Indications of dietary supplements and medications
Drug stability
NTI medications
Incompatibilities pertaining to reconstitution and non-sterile compounding
Proper medication storage

Federal Requirements (12.5%)

Handling of hazardous, non-hazardous, and pharmaceutical substances
Prescriptions for controlled substances and DEA controlled-substance schedules
Receiving, storing, dispensing, ordering, and labeling controlled substances
Restricted drug programs and processing pertinent medication
Recall requirements from the FDA

Patient Safety and Quality Assurance (26.25%)

Medications that are high-risk and high-alert, as well as medications that look alike/sound alike
Strategies to prevent errors
Issues that require the intervention of a pharmacist
Procedures for reporting events
Prescription errors
Standards for cleaning and hygiene

Order Entry and Processing (21.25%)

Compounding products that are non-sterile
Sig codes, formulas, proportions, alligations, conversions, ratios, and calculations
Drug administration supplies and equipment
NDC numbers, expiration dates, and lot numbers
Identifying and returning supplies and medication which have expired, are dispensable, or are non-dispensable
During the exam, you are able to leave comments to challenge any questions that you feel may be inaccurate. You are also given 30 days following your examination date to submit a challenge in writing to the Certification Appeals Procedures.
During scoring, a panel of content experts will review your responses and comments. In rare situations, these reviews may result in different preliminary and official score reports.
PTCB Scores
Scored Questions vs. Unscored Questions
Of the 90 multiple-choice certified pharmacist technician questions, only 80 are scored. Ten of the questions are unscored, but these unscored questions are not identified. They are also randomly distributed throughout the PTCB exam to prevent identification of the unscored PTCB questions.
Your final score will not be influenced by these unscored questions but will be based on your answer selections for the remaining 80 scored exam questions. To get a feel for how the examination will be set up, be sure to test yourself with a PTCB practice test before your test date.
PTCB Scores
A passing score is 1400 or above, with a range of possible scores between 1000 and 1600.
This score has been established by a panel of content experts based on a modified-Angoff method. Through this method, the panel of experts is required to evaluate each individual test item to determine what percentage of already qualified pharmacy technicians would be capable of correctly responding to the question. These estimates were then averaged to come up with the passing score.
All scores are scaled to compensate for ranging difficulties on the exam from year to year.
Receiving Your Exam Score
Your PTCB exam score report will reveal score information for each of the four knowledge domains. This information should be used to evaluate your strengths and areas for improvement. In the event that you do not receive a passing score, you will have the opportunity to retake the examination. In this case, you should carefully review your exam scores to identify which knowledge domains were more difficult so you can revisit these topic areas in your pharmacy technician study guide.
Retaking the Exam
You will be able to retake the exam 60 days after your testing date for your second and third attempts but will be required to wait six months for each retake thereafter. If you do not successfully pass the PTCB exam after four attempts, you will not be able to apply until you complete and provide evidence of preparation activities.

Check Out Mometrix's PTCB Flashcards
Get complex PTCB/PTCE subjects broken down into easily understandable concepts
Get Your Flashcards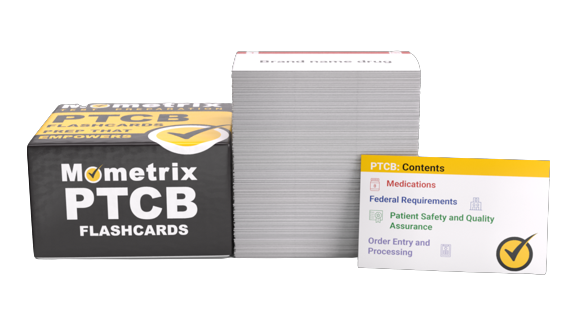 PTCB Online Prep Course
If you want to be fully prepared, Mometrix offers an online PTCB Prep Course. The course is designed to provide you with any and every resource you might want while studying. The PTCB Course includes:
60 Lessons Covering Every Topic
500+ PTCB Practice Questions
30+ Video Tutorials
More than 300 Electronic Flashcards
Money-back Guarantee
Free Mobile Access
and More!
The PTCB Prep Course is designed to help any learner get everything they need to prepare for their PTCB exam; click below to check it out.
Registration
In order to register to take the examination, you will need to have your application approved. Once you have been approved, you will be authorized for 90 days to schedule to take the PTCE. To schedule an appointment time, you can either register online or call Pearson VUE. The examination is administered by Pearson Professional Centers throughout the nation. You will receive a confirmation once your appointment time has been sent.
There is a $129 application fee for the exam.
Exam Cancellation
After you have scheduled to take the exam, if you need to cancel or reschedule your appointment you will need to contact Pearson VUE. There are no fees for canceling or rescheduling, but you must do so at least 24 hours prior to your appointment time. If you fail to do so or do not appear for your appointment time, you will forfeit all exam-related fees.
What to Expect on Test Day
On your designated testing day, you should plan to arrive 30 minutes prior to your appointment time. You will need to bring an approved form of identification with you to the pharmacy certification exam site. You will not be permitted to take the examination without proper identification that matches your name as it is written within your PTCB Account, so be diligent in checking your identification when you register.
Most personal items must be kept in a locker and will not be permitted within the testing room. You may not bring a personal calculator as one is built into the examination; however, a testing center staff member may be able to provide a physical calculator at your request. Bringing prohibited items into the testing room will result in your dismissal from the testing site and forfeiture of all fees.
Before you begin the examination, you will be asked to read and agree to all National Pharmacy Technician Certification policies, such as the Code of Conduct and Test Center Rules. You will then be presented with an optional tutorial. If you are not familiar with the layout of the PTCB exam, this is your opportunity to become accustomed to how the test navigates and how selecting an answer choice works. However, it is recommended to familiarize yourself with the test format prior to taking the exam by taking PTCB practice tests.
Preparing for the PTCB Exam
Mometrix Academy is a completely free pharmacy tech test resource provided by Mometrix Test Preparation. If you find benefit from our efforts here, check out our premium quality PTCB study guide to take your studying to the next level. Just click the pharmacy technician book link below. Your PTCB book purchase also helps us make even more great, pharmacy technician practice test content for test-takers.
FAQs
How many questions are on the pharmacy tech exam?
The PTCB exam contains 90 multiple-choice questions. This includes 80 scored questions and 10 unscored questions. Each question will contain four possible answers.
Are you allowed to use a calculator on the PTCB national certification exam?
You are allowed to use a calculator on the PTCB exam. However, you will not be allowed to bring in your own calculator. You will be provided an erasable board and a handheld calculator.
How much does it cost to take the PTCB exam?
The application fee for the PTCB certification and to take the PTCB exam costs $129.
How many times can you fail the PTCB?
You are given up to four chances to pass the PTCB exam. If you fail the PTCB, you can reapply and pay for the exam for the second or third try 60 days from your most recent attempt. If you fail the third attempt, you will be required to wait 6 months before attempting the exam again.
How long does it take to get the PTCB results?
After taking the PTCB exam, it takes about three weeks for you to receive your office score report. You will receive your certificate and wallet card four to six weeks after the exam.
How do you become a pharmacy technician?
To become a pharmacy technician, a high school diploma and pharmacy technician certification is usually required. Many pharmacy technicians learn through on-the-job training. Many states may also require a pharmacy technician to have a license or certification.
How long does it take to become a pharmacy technician?
If you decide to attend classes to become a pharmacy technician, some schools may have programs that can take as little as 15 weeks or up to two years if you wish to obtain an associates degree.
How much do pharmacy technicians make?
According to the PTCB, the average hourly rates for pharmacy technicians are as follows: