Property & Casualty Insurance License Practice Test
In most states, this exam is the second step in obtaining a license is your Property & Casualty License Exam. Some states require a licensing course before qualifying to take the exam. Even after obtaining a license, all states require a continuation of education to fully prepare each agent as they enter the field.
Take our Property & Casualty Insurance License practice test to be prepared for this exam.
Requirements for the Exam
The qualifications for taking the Property & Casualty Insurance Exam depend on many factors including the state's regulations, and whether the applicant is applying for a state license outside their residency. An example is a Maryland resident applying for a non-resident Florida insurance license.
In many states, passing the Property & Casualty Insurance Exam is only one of the requirements for applying for a license. Each state has a different set of qualifications for taking the exam, including the completion of a Pre-Licensing Course, a background check, and training. After passing the exam and completing the other requirements, candidates may apply for the license. Interestingly, Arizona has the highest passing rate of 66% on the Property & Casualty License Exam.
Check Out Mometrix's Property & Casualty Printed Study Guide
Get practice questions, video tutorials, and detailed study lessons
Get Your Study Guide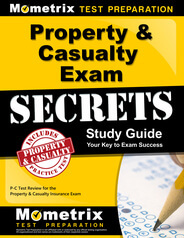 Exam Outline Review
The topics covered on the Property & Casualty Insurance Exam depend on the state board. Below are some possible categories for this exam.
Types of Policies, which includes limited-pay, single-premium life, and ordinary whole life.
Parts of a Policy, which includes declarations, agreements, conditions, and exclusions.
Policy Riders and Provisions, which includes waiver of premium, accidental death dismemberment, insurance clause, owner's rights, and payor benefits.
Completing the Application, which includes underwriting, warranties, replacement, insurable interest, and the Fair Credit Reporting Act.
Insurance Concepts, which includes life insurance, business insurance, retirement plans, and social security.
Marketing Practices, which includes claims methods, false advertising, rebating, fraud, and misrepresentation.
Basics of Third Party Coverage, which includes liability policies, negligence, and "No Fault" benefits.
Specialty Policies, which includes Fair Plan Coverage, Personal Watercraft, and flood insurance.
Commercial Crimes, which includes extortion, theft, and robbery.
Licensing Laws, which includes limited lines, types of producers, fees, and commissions.
Applicants are encouraged to contact their state insurance board to find out what topics are on the Property & Casualty Insurance License Exam.
Applying for the Exam
The application process for the Property & Casualty License Exam is different for each state. Typically, applicants have the option to fill out the application online or mail it in. To find out how to apply for the Property & Casualty Insurance Exam, contact that state's insurance board. For example, if you are seeking licensure in Texas, you can contact the Texas Department of Insurance. If you do not know the name of the state board, it may be helpful to search the state's name with titles like "Office of Insurance" or "Department of Insurance." For example, California's state insurance board is called California Insurance Code and Department of Insurance. Candidates are also encouraged to stay up-to-date with renewal fees and requirements, if applicable.
Cost
Property & Casualty Insurance Exam fees depend on the state. For more information on examination fees, please contact the state insurance board.
Test Day
Applicants across the country can expect different test-taking experiences because each state adopts different protocols. Below are some common rules and procedures.
Applicants are required to bring at least one form of identification with a photograph and a signature.
Prohibited items typically include cellular devices, iPads, music players, study materials, and handbags. Some testing locations offer personal lockers for the duration of the exam.
At many testing locations, test-takers receive a printed copy of their results at the end of the test.
Check Out Mometrix's Property & Casualty Flashcards
Get complex subjects broken down into easily understandable concepts
Get Your Flashcards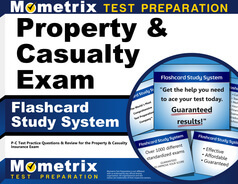 How to Study for the Property & Casualty Exam
It is normal to experience anxiety when preparing for an exam – especially an exam that can advance your career. Understanding the test topics and structure in advance will not only decrease your anxiety but help you earn a higher score. We understand that this is easier said than done, so our expert test researchers developed the Mometrix Property & Casualty Insurance Study Guide. This comprehensive guide is designed to help you thoroughly understand and review the topics found on the Property & Casualty Insurance Exam. Our experts understand that practice before the examination is only half of the battle, so this in-depth study guide includes well-researched test-taking strategies that will help you effectively answer the test questions. For example, when you are taking a test, have you ever felt like you were answering the questions too slowly or too quickly? This study guide will help with that and so much more!
Research shows that repetition is one of the most effective test-taking strategies, so our test-taking experts also developed the Mometrix Property & Casualty Flashcards. Designed with professional-quality material, these flashcards feature thorough, yet easy-to-read explanations of all the major topics on the test, like Broad Theft Coverage and Endorsements for BOP. The Mometrix Property & Casualty Flashcards are ideal for quizzing and studying and on the go!
We look forward to assisting you with passing the Property & Casualty Insurance License Exam. We know you will knock this out of the park!