The Praxis Teaching Reading: K-12 (5206) exam is designed to evaluate the knowledge and understanding that prospective teachers have of reading and writing development in students from elementary to secondary school levels. Some teacher education programs require this exam as a part of the application process, and 46 states and the District of Columbia require the exam for teachers pursuing licensure in teaching reading.
This page will cover the Praxis (5206) exam, what information the examination covers, the number and type of questions you can expect, the score you need to pass, and everything you need to register for the assessment.
Praxis (5206) Exam Outline
The questions are designed to test your ability to analyze and respond to situations involving individual students, as well as the class as a whole. This includes English-language learners and students with diverse needs and backgrounds.
The exam contains 93 questions in total and has a time limit of 150 minutes (2.5 hours). The questions are split into two formats: selected-response (90 questions) and constructed-response (3 questions).
Selected-response
questions include single-answer, selecting more than one choice from a list, numeric response, using a graph to respond to the question, reading passages, dragging and dropping, and selecting the appropriate answer from a drop-down menu.
Constructed-response questions ask you to demonstrate your knowledge and understanding by writing your response to the topic. These questions can include short answers and essay format.
There are six content categories on the exam.
I. Phonological and Phonemic Awareness
The 13 questions under this category cover various strategies for teaching oral language and literacy development. Specifically, you will be tested on your knowledge of the following:
Receptive and expressive components associated with oral language development
Cultural, environmental, and linguistic factors that may impact literacy development
Instructional methods for teaching phonological and phonemic awareness
How to recognize difficulties throughout various age groups in grasping phonemic awareness
Instructional methods to teach beginners the basic concepts of print, such as the parts of a book and directionality
Instructional strategies to help emergent readers identify letter names and sounds fluently
II. Phonics and Decoding
The 16 questions under this category cover various strategies for teaching phonics, word patterns, and general phonetic rules, including blends and word families. Specifically, you will be tested on your knowledge of the following:
How decoding skills impact literacy development across grade levels
Instructional methods for teaching phonics and decoding systematically, explicitly, and recursively across grade levels
Instructional methods for teaching common phonics patterns and rules
Instructional methods for teaching morphological analysis
Instructional methods for teaching syllable types for multisyllabic words
Multisensory approaches for supporting student recognition of irregularly spelled words
III. Fluency and Vocabulary
The 20 questions under this category cover various strategies for teaching reading fluency, teaching word-solving methods, and using direct instruction to increase students' exposure to words. Specifically, you will be tested on your knowledge of the following:
Instructional methods to support students' fluency
Methods to support fluent reading behaviors at various stages of the reading process
Instructional methods to build expressive and receptive vocabulary systematically and explicitly
Multiple approaches to teaching word-solving strategies
Pairing instructional methods with particular word complexities
Developing direct instruction to guide students' understanding of a wide variety of words
Multiple instructional methods for second-language-learners' vocabulary
How grammatical functions and punctuation affect fluency and meaning
How fluency, vocabulary, and comprehension are connected
IV. Comprehension of Literary and Informational Text
The 27 questions under this category assess how well you understand the relationship between listening and reading comprehension, language structure in a text, and how background experiences and culture affect comprehension. Specifically, you will be tested on your knowledge of the following:
How to support students' listening comprehension
How listening comprehension relates to reading comprehension
Applying knowledge of child development to teaching literary and informational texts
How to differentiate instruction that is appropriate and culturally responsive to a wide variety of learners
Using measures of text complexity to select appropriate texts for instruction
Guiding students in selecting texts to increase motivation and engagement
Using technology to critically examine online resources
Fostering digital literacy
Integrating speaking and active-listening skills into the reading process
Activating and scaffolding students' background knowledge to increase comprehension
How students' experiences influence their interpretation of a text
Using various methods to build comprehension skills
Guiding students to make inferences and cite relevant evidence from a text to support comprehension
Supporting readers as they construct literal and inferential meaning
The role of a text's language structures in reading comprehension
How an author's word choices, tone, style, and format create a desired effect
Modeling metacognitive strategies to support students' self-monitorization of text comprehension
Using graphic organizers to support comprehension
How to teach the recognition and understanding of literary and informational text, as well as literary devices
Demonstrating how source material can be shown in multiple media and can be interpreted in multiple ways
V. Writing
The 14 questions under this category assess how well you understand writing development, incorporating writing into reading activities, and using a recursive process to teach writing. Specifically, you will be tested on your knowledge of the following:
Teaching writing as a recursive process
Systematic, explicit, and responsive methods to support and build understanding of the writing process
Integrating reading and writing in various contexts across grade levels
Instructional methods to support English learners' writing development
Supporting the use of multiple digital and print tools for research, communication, and all steps of the writing process
Defining characteristics, appropriate audience, instructional methods, and purpose for teaching various types of writing
Developing skills in selecting credible sources
Teaching proper citation and quotation
Modeling an author's use of craft for effect to develop written language skills
Using mentor texts to support and motivate students
Editing and revising a piece of writing
Connecting decoding and encoding as reciprocal skills
Taking a systematic, explicit, recursive, and multisensory approach to spelling development
The structure of written language, including grammar mechanics
VI. Assessment and Instructional Decision-making
These 3 questions are the only constructed-response questions on the exam, which assess your ability to assess reading skills in elementary learners, secondary learners, and diverse learners. Diverse learners include gifted English learners, students struggling with reading and writing, and students with learning disabilities.
Check Out Mometrix's Teaching Reading (5206) Study Guide
Get practice questions, video tutorials, and detailed study lessons
Get Your Study Guide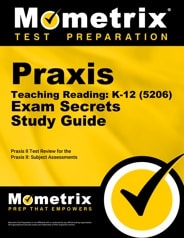 Test Day
The Praxis Teaching Reading: K-12 (5206) exam is available in person at a testing center or online via a remote proctor.
In-person Testing
You will need to bring two things with you to the testing center:
Your admission ticket
A valid photo ID
You are not allowed to bring any other personal items into the testing room.
At-home Testing
If you want to take the exam from the comfort of your home, equipment and environment requirements must be met before registering for the at-home delivery method.
You must use a laptop or desktop computer for the exam (you cannot use a Chromebook, tablet, or mobile phone). Your computer will need a speaker, microphone, and camera. Earbuds and headphones are not permitted.
You will need to download and install the ETS Secure Test Browser on the computer you will use to test. Your environment must be private, with no traffic in and out of your testing area. The desk where you take the exam must be clear of everything besides a keyboard, mouse, and dry-erase board you will use as scrap paper. The proctor will ask you to move the camera around so that your testing area can be observed, and at the end of your exam, the proctor will watch as you erase any notes you made.
Before you register for at-home test delivery, make sure you meet all the requirements listed, and run a test of the secure browser to ensure your computer can function smoothly.
Praxis (5206) Exam Registration
If you are required to take the exam for a teacher education program or state certification, you need to have an account with Educational Testing Service (ETS). Once you have established your account, you can apply to take the exam.
You can register online, by mailETS–Praxis
PO BOX 382065
Pittsburgh, PA 15251-8065, or over the phone (1-800-772-9476). The fastest way to register is online. If you chose to register over the phone, there is an additional charge of $35.00. Regardless of your registration method, ensure the name you use for registration matches your primary identification.
During the exam registration, select the test format (online or at a testing center), test location (if you are taking the test at a testing center), and test date.
Fees
The registration fee for the Praxis Teaching Reading: K-12 (5206) is $156.00. The registration fee is payable by credit/debit card, money order, personal check, eCheck, bank check, or PayPal.
There is a $40.00 fee to change your test location or test date after your initial registration.
How the Praxis (5206) Exam is Scored
Each selected-response question answered correctly is worth one raw point. Incorrect and unanswered questions are not penalized. Constructed-response questions receive a raw score of 0 to 3. A score of 3 indicates a thorough understanding of the reading and reading instruction elements relevant to the question. A score of 2 indicates a general knowledge pertinent to the question, a score of 1 indicates a weak or limited understanding relevant to the question, and a score of 0 indicates no understanding relevant to the question. A score of 0 is also assigned to unanswered questions, off-topic answers, or answers not written in English.
Your raw score is converted to a scaled score, and you will receive an official score report about five weeks after you complete the exam. Your results are also sent to the states you identified as recipients when you registered. Four score reports are sent on your behalf free of charge, and additional score reports are $50.00 each.
The passing score for each participating state is 156. The only exception is New Jersey, which requires a score of 159.
You can take the exam as often as needed to pass with a 28-day waiting period between attempts.
Check Out Mometrix's Teaching Reading (5206) Flashcards
Get complex subjects broken down into easily understandable concepts
Get Your Flashcards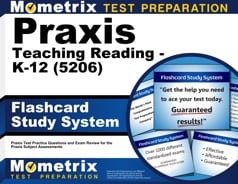 FAQs
Q
How many questions are on the exam?
A
There are 93 questions on the Praxis (5206) exam.
Q
How long is the exam?
A
There is a time limit of 2.5 hours for the Praxis (5206) exam.
Q
What type of questions are on the exam?
A
There are two types of questions on the Praxis (5206) exam: selected-response and constructed response.
Q
How much does the exam cost?
A
The Praxis (5206) exam costs $156.00.
Q
What is a passing score?
A
A passing score for the Praxis (5206) exam is 156 in every state except New Jersey, in which the passing score is 159.
Q
Can I retake the exam?
A
Yes, you can retake the exam if you did not pass the first time. There must be a waiting period of 28 days before each retest.