Praxis World and U.S. History: Content Knowledge (5941) Practice Test
The Praxis World and U.S. History: Content Knowledge exam is used by many states to assess an individual's knowledge and skill to effectively teach world and United States history at the secondary level.
Test design
Consisting of 120 selected-response questions, the two-hour, computer-delivered exam will assess your knowledge of historical facts and processes in world and United States history. The test consists of four content categories:
World History to 1450 C.E. – 30 questions
World History: 1450 C.E. to the Present – 30 questions
United States History to 1877 – 30 questions
United States History: 1877 to the Present – 30 questions
The content categories include historical thinking skills questions that will assess your ability to:
Formulate historical questions
Evaluate primary and secondary sources
Construct and support historical arguments
Make connections across time and geography
Assess historical causation
Place historical events in a global context
The questions utilize maps, written passages, charts graphs, tables, cartoons, diagrams, and photographs to test your ability to analyze and utilize provided information in a teaching environment.
Check Out Mometrix's Praxis World and U.S. History: Content Knowledge (5941) Study Guide
Get practice questions, video tutorials, and detailed study lessons
Get Your Study Guide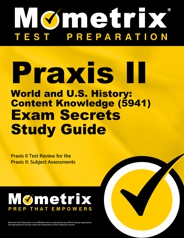 Registration, cost, and dates
The exam is $120.00, and you may register online with credit/debit or PayPal or by mail with a personal check or money order. Registration by phone is available for an additional $35.00. Fee waivers exist for individuals who meet eligibility requirements.
Official exam centers are located nationwide with international centers available for those meeting specific requirements. The World and U.S. history exam is offered in specific testing windows, and when you register, you will select the location and assessment time most convenient for you.
If required, accommodations for a disability are arranged six weeks before the testing date and made through the testing facility. The exam is conducted in English and your testing time may be extended if your native language is not English.
Test Day
An admission ticket is emailed to you after you register. Your test date, time and location are listed on the ticket. Confirm the information, and print the ticket, so you have it available when it's time for you to check in. Testing facility staff may ask for the printed ticket.
Arrive 30 minutes before your scheduled appointment so that you have time to park and complete the required paperwork at check-in. Leave all personal belongings in your vehicle and only take with you the required identification and admission ticket. No items are allowed in the testing facility, and a secure location for your belongings cannot be guaranteed.
After you complete the check-in process, the test center staff will escort you to your station. All materials needed for the exam are provided, and you will return all supplies at the conclusion of your exam. Before the time starts for your test, a practice tutorial is available to familiarize yourself with the delivery method. Your time will start once you finish the tutorial. Breaks are not included in your testing period.
Test center rules are strictly enforced, and it is your responsibility to understand and follow them. Negligence on your part may result in the cancellation of your exam and a forfeiture of your registration fees.
Exam results and scoring
Before you submit your scores, review your test and make sure that you have answered every question to the best of your ability. You are given the option to report or cancel your scores. Neither selection is retractable so make sure you are confident in your selection.
Passing requirements vary state to state, and if your state has an arrangement with the testing facility, your results are transmitted at the conclusion of your exam. You may be able to view an unofficial score report at the testing center, and two to three weeks after your testing window closes, you will receive your official report in your online account. You may indicate up to four recipients or agencies to receive your score report. Credit is awarded for each correct answer, and incorrect or unanswered questions do not count against you.
Preparing for the Praxis World and U.S. History: Content knowledge exam
The World and U.S. History exam is utilized by state agencies to assess your comprehension of pedagogical theories and concepts, as well as your grasp of the content knowledge. You have worked very hard at grasping the knowledge of your field; do not let one exam dictate whether you will succeed.
Mometrix has experts that continually research the content and the question format of the Praxis exam. Put their experience to work for you. With the study system consisting of the Praxis Exam Secrets Study Guide and the flashcards, you can rest assured that you will knock the exam out of the park.

Check Out Mometrix's Praxis World and U.S. History: Content Knowledge (5941) Flashcards
Get complex subjects broken down into easily understandable concepts
Get Your Flashcards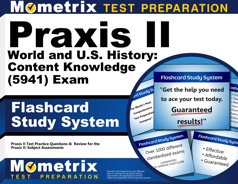 Praxis World and U.S. History: Content Knowledge Study Guide
Mometrix Academy is a completely free resource provided by Mometrix Test Preparation. If you find benefit from our efforts here, check out our premium quality Praxis World and U.S. History: Content Knowledge (5941) study guide to take your studying to the next level. Just click the Praxis World and U.S. History: Content Knowledge (5941) study guide link below. Your purchase also helps us make even more great, free content for test-takers.
Praxis Study Guide
Praxis Flashcards