The Praxis Theatre exam is designed to measure the knowledge and skills that are essential for entry-level theatre/drama teachers in junior and senior high schools.
Click "Start Test" above to take a free Praxis Theatre practice test, and check out our premium-quality Praxis test prep resources by clicking the links below!
Praxis (5641) Exam Outline
The Praxis Theatre exam contains 120 selected-response questions, and you will be given a time limit of 2 hours.
The exam is split into four content categories, which are designed to cover the various competencies and points of knowledge that a theatre teacher should possess.
I. Curriculum, Instruction, and Classroom Practices (35 questions)
The questions in this category assess your knowledge and skills pertaining to the following:
Selecting appropriate materials and activities
Planning instruction for various theatre subject areas
Selecting, creating, and modifying appropriate assessments for evaluating instructional effectiveness and student learning and progress
The scope and sequence of curriculum development in theatre
Providing students with learning experiences that:

Enhance theatre skills and knowledge
Make theatre personally meaningful and relevant
Demonstrate ways in which theatre can help you explore human nature and the human condition
Foster creativity
Foster independence, responsibility, and self-direction
Foster critical thinking and problem-solving

Selecting and differentiating teaching methods and materials to address student needs
Appropriate uses of competition and cooperation in the development of theatrical productions
Using current technologies to support theatre instruction
Theatre as a collaborative art form
The relationship between theatre and the other arts
Creating learning activities that place theatre in a social and historical context
Interdisciplinary connections between theatre and other academic subjects
Legal and ethical issues related to theatre education and practice
Creating a safe and supportive learning environment
Current theatre-related trends, possible career paths, and other opportunities
II. Creating and Performing (35 questions)
The questions in this category assess your knowledge and skills pertaining to the following:
Various methods for creating performance material
Teaching students to select, create, or devise appropriate performance material
Major theoretical approaches to acting
Common approaches, techniques, and basic steps involved in creating a performance
Basic principles of vocal production and technique
Basic principles of movement, physicality, and expression
Basic elements of the audition process
Importance of considering the audience when selecting and creating performance material
The role of the audience in various performance contexts
Using performance material and theatrical exercises to develop and refine students' skills and knowledge
Observing student performances and providing constructive feedback
III. Production (30 questions)
The questions in this category assess your knowledge and skills pertaining to the following:
Standard theatre terminology used in acting, directing, stage management, and theatre technology
Various roles in theatre production
Key elements of production
Processes of theatre operations/management
The production of works in a variety of theatre genres and styles
Key elements of the directing process
Design and technical skills required for a variety of theatre productions and spaces
Current safety guidelines for various spaces, classrooms, and productions
Key elements of lighting and sound design
Using a variety of current technologies to produce theatrical works
Script analysis in regards to the technical and design aspects of theatre
Key elements of scenic and property design and construction
Key elements of costuming a production
Stage makeup design and application
IV. History, Literature, and Criticism (20 questions)
The questions in this category assess your knowledge and skills pertaining to the following:
Responding to, analyzing, and evaluating theatrical works in a variety of styles and genres
The importance of theatre and its impact on history and society
The principles of theatre etiquette as a participant and a spectator
Theatre traditions and conventions
Development of theatre and theatrical conventions in key historical periods
Current developments in theatre
Responding to, analyzing, and evaluating key works of dramatic literature from different cultures and historical periods
Check Out Mometrix's Praxis Theatre (5641) Study Guide
Get practice questions, video tutorials, and detailed study lessons
Get Your Study Guide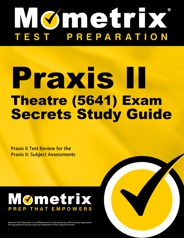 Praxis (5641) Exam Registration
To register for the Praxis Theatre exam, you will need to create an online account with ETS. Through this account, you can submit an application to take the exam.
During registration, you will be asked to select the test-taking format (remote or at a testing center), test location (if you are taking the test at a testing center), and test date. You will also need to pay the $130 exam fee.
Test Day
In-person Testing
You should arrive at the testing center 15-30 minutes before the scheduled testing appointment on test day. For this process, you will be asked to provide a printed copy of your admission ticket and two forms of valid identification.
You will also be asked to store all personal items (such as your cell phone, wallet, keys, and accessories) in a secure locker before entering the testing area.
Once the check-in process is complete and you are fully approved for testing, you will be led to the testing station and given a brief tutorial on the testing system.
Remote Testing
To take the exam remotely, you must use a laptop or desktop computer that has the ETS Secure Test Browser downloaded and installed on it. This is the browser you must use to take the exam. You will also need a functioning webcam, speakers, and a microphone.
When you check in to take the exam, the remote proctor will ask you to show proof of identification and to move your webcam around the room so that your testing area can be observed. Once the proctor has approved your testing area, they will walk you through the testing process and begin your exam.
How the Praxis (5641) Exam is Scored
Your Praxis Theatre exam score is based on the number of questions you answer correctly (your raw score). Your raw score is converted to a scaled score. The scaled score you need to obtain differs slightly depending on which state you take the exam in.
You should receive an official score report about five weeks after testing.
Check Out Mometrix's Praxis Theatre (5641) Flashcards
Get complex subjects broken down into easily understandable concepts
Get Your Flashcards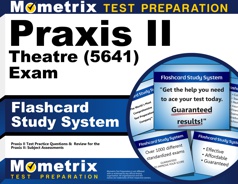 FAQs
Q
How many questions are on the Praxis Theatre exam?
A
There are 120 selected-response questions on the exam.
Q
How long is the Praxis Theatre exam?
A
The time limit for the exam is 2 hours.
Q
What is the passing score for the Praxis Theatre exam?
A
There is no set passing score for this exam. Each state determines its own passing score requirements.
Q
How much does the Praxis Theatre exam cost?
A
The examination fee is $130.