Praxis Speech-Language Pathology (5331) Practice Test
This information will help you prepare for the Praxis® Speech-Language Pathology (5331) exam. This article will give you a better sense of what the assessment will cover, along with other things you can do to prepare for success.
Exam Purpose and Background
The Praxis Speech-Language Pathology (5331) exam assesses your readiness as you prepare for an independent practice as a speech-language pathologist in the complete range of settings, including hospitals, clinics, private practice, schools and more.
Normally those who sit for the exam have either completed their master's degree or are in the process of pursuing it. Successful completion of the exam is also one of the steps needed to receive the Certificate of Clinical Competence from the American Speech-Language-Hearing Association.
Required Prerequisites
The prerequisite requirements for the Praxis test vary by individual state or agency. You will need to check your local state's requirements to determine if you meet the prerequisites needed to take the Praxis test.
Costs/Payment Options
The Praxis exam testing fee is $120 and is due when you complete your registration. You can pay via American Express®, MasterCard®, VISA®, Discover®, JCB®, money order, U.S. Postal Service money order, bank check in U.S. dollars from a U.S. bank, PayPalTM, or eCheck.

Check Out Mometrix's Paxis II Study Guide
Get practice questions, video tutorials, and detailed study lessons
Get Your Study Guide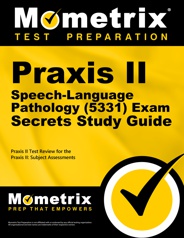 Times and Locations
You'll learn the specific time and location for your exam when you register online.
Test Duration
The Speech-Language Pathology exam is scheduled to take two and a half hours.
What to Bring
A form of Identification, showing your name, signature and photo (including IDs such as a passport, a driver's license, state/province ID, national ID or military ID)
An approved calculator if one is needed or required for your specific exam. For more direction on calculator use, visit this site: https://www.ets.org/praxis/test_day/policies/calculators
What Not to Bring
In general, avoid bringing any personal items with you. While some test locations may have a locker to store items while you're taking the exam, this is not guaranteed.
Any type of bag, portfolio, knapsack, etc.
Cell phones or any electronic device
Pencils or pens
Any study materials, notes, scrap paper or books
Food or drinks
Format/Number of Questions
You'll take the exam on a computer. The test consists of 132 selected-response questions.
Content Categories
Here are the three categories of content that you'll be tested on during the exam, along with the relative weight each category will have as part of the overall exam.
Category 1: Foundations of Professional Practice (About 33%) – Includes typical development and performance, factors affecting communication, feeding and swallowing, characteristics and epidemiology of typical swallowing and communication maladies, prevention and wellness, linguistically and culturally ideal service, collaboration, counseling, documentation, ethics, client advocacy, legislation and evidence-based practice.
Category 2: Screening, Assessment, Evaluation and Diagnosis (About 33%) – Assesses knowledge on communication disorders, swallowing and feeding maladies, case history development, appropriate instruments, materials and procedures, assessing elements affecting communication and swallowing disorders, anatomy and physiology assessment, speech sound production, fluency, resonance, motor speech and voice, expressive and receptive language, pragmatics, cognitive communication, alternative and augmentative communication, hearing, swallowing/feeding, plus a review of different aspects of etiology, including developmental, genetic, auditory problems, disease processes, structural and functional, neurological and psychogenic etiology types.
Category 3: Planning, Implementation and Evaluation of Treatment (About 33%) – Covers treatment planning elements such as evaluation, prioritizing treatment, developing goals, determining treatment details, prognosis, communicating recommendations and broad treatment procedures and principles. Also covers treatment evaluation concepts, including monitoring progress of treatment and post-treatment recommendations. This section also assesses knowledge on elements of treatment, including fluency, speech sound production, expressive and receptive language, resonance, voice and motor speech, cognition impairments, social aspect of communication, alternative and augmentative treatment, aural and hearing rehab, along with feeding and swallowing.
Check Out Mometrix's Paxis II Flashcards
Get complex subjects broken down into easily understandable concepts
Get Your Flashcards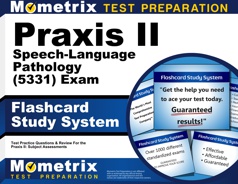 Calculating Your Passing Score
The score needed to pass each exam varies by association, institution and state. These entities set their own passing score thresholds.
Praxis Speech-Language Pathology Study Guide
Mometrix Academy is a completely free resource provided by Mometrix Test Preparation. If you find benefit from our efforts here, check out our premium quality Praxis Speech-Language Pathology (5331) study guide to take your studying to the next level. Just click the Praxis Speech-Language Pathology (5331) study guide link below. Your purchase also helps us make even more great, free content for test-takers.
Praxis Study Guide
Praxis Flashcards