Praxis Physical Education: Content Knowledge (5091) Practice Test
This information is designed to help you get ready to take The Praxis® Physical Education Content Knowledge (5091) exam. Through this article, you get an idea of what you'll be assessed on, plus other things you can do to prepare for a successful test.
Exam Purpose and Background
The Praxis exam assesses your professional aptitude as a prospective physical education teacher for elementary through high school levels. In general, those who sit for the test are in the process of completing, or have already completed, their bachelor's degree in physical education, exercise science or some other, similar area of study. The Praxis exam ensures that those taking the test have the competencies and knowledge needed as a beginning-level physical education instructor.
Required Prerequisites
Prerequisite requirements before taking the Praxis test are different, depending on individual state or agency. You can learn which prerequisites you'll need to fulfill before registering for the test by visiting www.ets.org/praxis/states.
Before Your Test
Prior to arriving for your test, be sure to register online at www.ets.org/praxis.
Costs/Payment Options
The cost to take the Praxis exam is $120 and is due when you make your application. You can pay via American Express®, MasterCard®, VISA®, Discover®, JCB®, money order, U.S. Postal Service money order, bank check in U.S. dollars from a U.S. bank, PayPalTM, or Check.

Check Out Mometrix's Praxis Physical Education: Content Knowledge (5091) Study Guide
Get practice questions, video tutorials, and detailed study lessons
Get Your Study Guide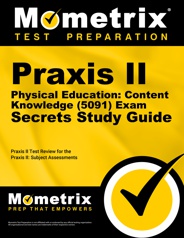 Times/Locations
When you register online for your test, you'll learn the time and location of your exam.
Test Duration
You'll have up to two hours to complete your exam.
What To Bring
A form of Identification, showing your name, signature and photo (including IDs such as a passport, a driver's license, state/province ID, national ID or military ID).
An approved calculator if one is needed or required for your specific exam.
What Not To Bring
While some test location may have a locker available for you to store valuables and other items not allowed during the exam period, please make arrangements to bring only those items allowed or needed during your test.
Cell phones
Your own scratch paper
Food or drinks
What To Expect During the Praxis Exam
Format/Number of Questions
The Praxis test is delivered via computer and is made up of 120 selected-response questions.
Content Categories
Here's an overview of the four categories of content that you'll be tested on during the Praxis exam, along with the relative weight each category will have as part of the overall exam.
Category 1: Content Knowledge and Student Growth and Development (30%)
Includes core concepts, such as terminology, basic science applications, principles of biomechanics, concepts in movement, physiology, anatomy, trends, movement strategies, liability and legal aspects, developmentally appropriate learning, individual performance monitoring, development readiness, motor develop perception, and use of appropriate support services.
Category 2: Management, Motivation, and Communication (25%)
Covers concepts such as classroom management, psychological and social factors, organization, motivation, positive relationships, effective behavior management, verbal and nonverbal communications, instructional feedback, communicating learning objectives to students in multiple ways and communicating with respect and consideration.

Check Out Mometrix's Praxis Physical Education: Content Knowledge (5091) Flashcards
Get complex subjects broken down into easily understandable concepts
Get Your Flashcards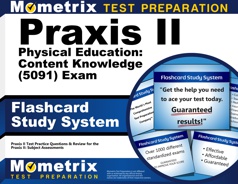 Category 3: Planning, Instruction, and Student Assessment (25%)
Teaching skilled movement, activity and fitness in a number of ways, sequencing motor skill activities, using feedback to enhance skill development, improving health and skills, trends, developing and implementing instructional goals, developing unit and lesson plans, learning strategies, teaching resources, effectively demonstrating activities, safety, injury prevention, skill performance assessment, and assessing student learning.
Category 4: Collaboration, Reflection, and Technology (20%)
Includes educational issues that affect multiple subject matter areas, integrating diverse skills, establishing relationships to support student growth, promoting activity in school and the community, reflection techniques to enhance teacher performance and student learning, capitalizing on available resources and the use of technology to aid overall goals.
Passing Score Calculation
Each association, institution and state set their own passing score thresholds. To learn the passing score in your area for the Praxis exam, please visit www.ets.org/praxis/states.
Praxis Physical Education: Content Knowledge Study Guide
Mometrix Academy is a completely free resource provided by Mometrix Test Preparation. If you find benefit from our efforts here, check out our premium quality Praxis Physical Education: Content Knowledge (5091) study guide to take your studying to the next level. Just click the Praxis Physical Education: Content Knowledge (5091) study guide link below. Your purchase also helps us make even more great, free content for test-takers.
Praxis Study Guide
Praxis Flashcards