The Praxis Music: Content Knowledge exam is geared toward undergrad students in a music education program and assesses the knowledge and understanding of music and music education of the beginning teacher.
Click "Start Test" above to take a free Praxis Music practice test!
Praxis (5113) Exam Outline
The Praxis Music exam contains 120 selected-response questions and has a 2-hour time limit.
The exam is split into two sections: a listening section and a non-listening section. In the listening section, you will listen to musical excerpts and answer the related questions, while the non-listening section just contains normal questions to answer without any audio components.
The questions on the exam are grouped into four content categories. Below, you will see how many questions are in each category, as well as how many of those questions appear in each section of the exam.
I. Music History and Literature (18 questions)
Section 1: 9 | Section 2: 9
The questions in this category assess your knowledge of the following:
History of major musical style developments
Significant characteristics of important musical styles and historical periods
Various world music styles
Functions of different styles of music in the culture of origin
Various print and electronic sources of music history information and literature
II. Theory and Composition (19 questions)
Section 1: 9 | Section 2: 10
The questions in this category assess your knowledge and skills in the following areas:
Understanding and analyzing music in aural and written form
Demonstrating aural skills through melody, harmony, and rhythm recognition
Timbre of instruments and voices
Musical dynamics
Basic music theory concepts that apply to composing, arranging, and orchestrating
III. Performance (27 questions)
Section 1: 12 | Section 2: 15
The questions in this category assess your knowledge and skills in the following areas:
Identifying errors in rhythm, pitch, balance, blend, dynamics, intonation, and articulations
Basic conducting techniques
Interpretation of notation and expressive elements for performance
Basic accompaniment techniques
Strategies for preparing music for rehearsal and performance
Instrumental and vocal warm-ups
Techniques for instrumental and vocal tuning and intonation
Concert etiquette for audiences and performers
Techniques for communicating with an audience in a performance setting
Relationship between performance and acoustics
IV. Pedagogy, Professional Issues, and Technology (56 questions)
Section 1: N/A | Section 2: 56
The questions in this category assess your knowledge and skills in the following areas:
Pedagogy

Instructional strategies for different class settings
Incorporation of national, state, and local standards
Classroom management techniques
Planning and differentiating instruction
Incorporating diverse learning modalities
Accommodating students' needs by modifying instruction
Assessment strategies that inform the instruction process
Selecting appropriate repertoire for the classroom
Teaching vocal production and performance techniques
Instrumental techniques
Common vocal and instrumental performance challenges
Preparation and organization of concert programming
Care and maintenance of materials and instruments
Common pedagogical approaches
Developing sight-reading skills
Improvisational techniques
Basic arranging and composition techniques
Teaching various musical concepts through performance literature
Fostering musically expressive experiences
Integrating concepts used in other disciplines in music instruction
Professional Issues

Professional ethics and legal issues
National Core Arts Standards
Professional organizations and resources in music education
Current music education trends and issues
Major historical and philosophical contributions to music education
Philosophical reasons for the inclusion of and advocacy for music in the curriculum
Importance of collaboration with colleagues
Two-way communication with parents/guardians
Basic administrative responsibilities
The effect of external influences on the music program, curriculum, and student participation
Career opportunities available in music
Physically healthy performance practices
Technology

Current performance and recording production technologies
Incorporating technology and instructional software in the classroom
Desktop music publishing software
Safe, ethical, and appropriate uses for music software and internet technology
Check Out Mometrix's Praxis Study Guide
Get practice questions, video tutorials, and detailed study lessons
Get Your Study Guide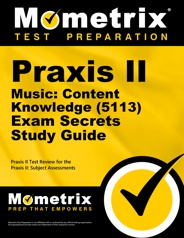 Praxis (5113) Registration
To register for the Praxis Music exam, you will need to create an online ETS account. Once this account is created, you can apply to take the exam.
During the exam registration, you will be asked to select the test-taking format (remote or at a testing center), test location (if you are taking the test at a testing center), and test date. You will also need to pay the $130 exam fee.
Test Day
In-person Testing
On the day of your exam, you should arrive at the testing facility about 30 minutes before the scheduled appointment to allow time for the check-in process. During the check-in process, you will be asked to present two forms of valid identification, one of which must be a photo ID.
Personal items will not be allowed into the testing center, so you will be asked to leave things like your phone, wallet, bags, and food items at home or in your car.
After you have been checked-in and your personal items have been stored, you will be led to the testing area and given a brief overview of the testing system before starting your exam.
Remote Testing
To take the exam remotely, you must use a non-touchscreen laptop or desktop computer, and you must have a working speaker, microphone, and camera hooked up. Before test day, you will need to download and install the ETS Secure Test Browser on your computer, which is what you will use to take the test.
Your environment must be private, with no traffic in and out of your testing area. The area where you take the exam must be clear of all personal items, and you will not be allowed to wear headphones. The proctor will ask you to move the camera around so that your testing area can be observed.
How the Praxis (5113) Exam is Scored
Your Praxis Music exam score is calculated using a scaled scoring system that takes your raw score (the number of questions you answered correctly) and turns it into a scaled score from 100 to 300.
The score you need in order to pass the test is different depending on the state you take it in.
Check Out Mometrix's Praxis Flashcards
Get complex subjects broken down into easily understandable concepts
Get Your Flashcards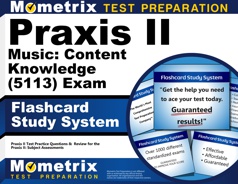 FAQs
Q
How many questions are on the Praxis Music exam?
A
There are 120 selected-response questions on the exam.
Q
How long is the Praxis Music exam?
A
The time limit for the exam is 2 hours.
Q
What is the passing score for the Praxis Music exam?
A
The score you need to pass the exam will be different depending on which state you take the exam in.
Q
How much does the Praxis Music exam cost?
A
The examination fee is $130.