Praxis Middle School: Science (5440) Practice Test
The Praxis Middle School: Science (5440) Exam is required in all states for any candidate who wishes to become a certified teacher of middle school science. The test measures your knowledge of the core content included in the standardized curriculum of a middle school science class.
When Should I Register for this Test?
Most candidates take this test after completing their Bachelor's degree or when they are very near finishing. This is because you need to meet certain eligibility criteria in order to be allowed to take the test.
The specific criteria is decided by the state where you are taking the test. You can register for the test as soon as you have established eligibility and received an authorization to test. Make sure you schedule the exam as soon as you receive your authorization to test so that you can pick a date within your test-taking window that best fits your schedule and gives you your desired amount of preparation time.
What Do I Need to Take with Me On Test Day?
The most important thing you need to remember is your valid, government-issued ID. This could be either a driver's license, state ID, passport, or military ID. It must show the same name that you registered with.
Beyond ID, you don't need to bring anything else, and you won't be permitted to bring any personal items with you into the exam room so it's best to just leave everything at home.
You will not need a calculator for this test as there won't really be any math involved. During the exam, you will have access to supplementary test-taking aids like a copy of the periodic table and a table of various other scientific principles and physical constants that will be useful to reference during the exam.
What Scientific Knowledge Will I Be Tested On?
The 125 multiple choice questions on the Praxis Middle School Science Exam are divided into six distinct content areas. The six categories are as follows:
Scientific Inquiry, Methodology, Techniques, and History – 15 Questions
Basic Principles of Matter and Energy – 15 Questions
Physical Sciences – 28 Questions
Life Sciences – 30 Questions
Earth and Space Sciences – 22 Questions
Science, Technology, and Society – 15 Questions
The number of questions is an approximation. The actual number may vary slightly, but this is more or less how the questions will be divided across the different content areas. You will have 2 ½ hours total to complete all six sections.
Check Out Mometrix's Praxis Study Guide
Get practice questions, video tutorials, and detailed study lessons
Get Your Study Guide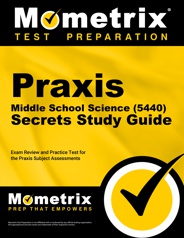 How Is the Praxis Middle School Science Exam Scored?
You will be given a score based on a scale of 100 to 200. Most test-takers score somewhere between 146 and 171. However, the exact minimum cutoff you will need to pass depends on the individual state requirements where you intend to teach.
While each state sets their own standard score requirements, your results will be valid across all states. As long as your existing score meets the minimum standards of the state you are moving to, you are good to go. You will only need to take the test again if your score doesn't meet the minimum of the new state.
You will see your results on screen immediately after finishing the test but you'll need to wait two to three weeks for the official report to be delivered.
How Long Should I Study for this Test?
If you are eligible to take the test, that means you have probably already taken all or most of the college level science courses from which the material on the test is taken. Nevertheless, you still need to give yourself at least a couple of weeks to review all the material and prepare for the test.
To make the most out of those few weeks, make sure you're using the right study aids. The Mometrix Study Guide, for example, will provide the perfect all-in-one overview of what you need to know. It has a carefully constructed breakdown of the core concepts across the life sciences, physical sciences, and other types of science that you will need to know for the test.
You can make your study sessions even more effective by including a set of Mometrix Flashcards. This set of flashcards was created by experts and includes all the terminology and key facts you will need to have a firm grasp of in order to breeze through the test.
Flashcards are a great way to make studying more interactive and engaging. You can make up studying games; get your friends to quiz you (even if they know very little about science); or just whip them out for a quick study session when you find yourself in a waiting room, standing in line, or on the bus!
Check Out Mometrix's Praxis Flashcards
Get complex subjects broken down into easily understandable concepts
Get Your Flashcards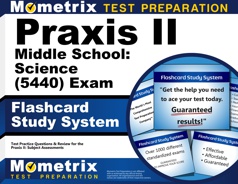 Praxis Middle School: Science Study Guide
Mometrix Academy is a completely free resource provided by Mometrix Test Preparation. If you find benefit from our efforts here, check out our premium quality Praxis Middle School: Science (5440) study guide to take your studying to the next level. Just click the Praxis Middle School: Science (5440) study guide link below. Your purchase also helps us make even more great, free content for test-takers.
Praxis Study Guide
Praxis Flashcards