Praxis Middle School: Content Knowledge (5146) Practice Test
The Middle School: Content Knowledge exam from Praxis test the general knowledge of those who are seeking a teaching license at the middle school level. Many states and education programs require a passing score on this exam to be accredited. This exam covers science, social studies and history, English language arts, and mathematics.
Who is Eligible?
Praxis exams are typically required for those seeking a teaching license in many states. As such, you will want to check with your specific program and/or state licensing agency to understand all eligibility requirements.
There is a fee of $120 to take this exam. This should be paid for at the time of application. Some states may also charge extra surcharge fees for such exams. Check to make sure you won't need to.
When and Where is it Offered?
All Praxis exams are taken through ETS and are computer administered. This specific exam is offered continuously throughout the year. A complete list of dates and times will be made available to you during registration.
Testing sites are located throughout the country with the opportunity to choose the closest one to you. Space may be limited so make sure to schedule your exam as soon as possible.
At the end of registration, you will be sent an admission ticket including the date, time, and place of your exam. You will need to bring this with you to take your exam so make sure to print this out.
Check Out Mometrix's Praxis Middle School: Content Knowledge (5146) Study Guide
Get practice questions, video tutorials, and detailed study lessons
Get Your Study Guide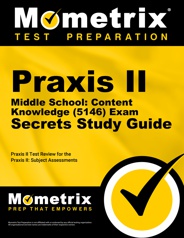 What Should I Bring?
On the day of your scheduled exam you will need to bring at least one valid form of identification with you along with your admission ticket. This ID should be current and contain at least your correct name that matches your application information, your signature, and a recent photo. Should this ID be questioned you will be asked to show another form of ID containing the missing information.
Computer administered exams, such as this one, do not require any personal belongings to be brought. This includes pencils, electronic devices, and any study materials. You are allowed to bring a four-function calculator for this exam, however, graphing calculators are not permitted. Any other items will not be allowed to enter the testing area.
You should plan on arriving at least 30 minutes early for your exam. You may have to wait in line to be checked in and you do not want to be late. Those who are late will not be allowed to take the test that day.
What is Covered?
The Middle School: Content Knowledge exam consists of 120 multiple-choice questions. Non-scored pretest questions may be included throughout the exam. These will not affect your score.
You are expected to complete the exam in two hours or less. The following is a brief outline of the exam with an approximate number of questions included in each section:
Literature and Language Studies – 30 questions

Literature
Language and linguistics
Oral and written communication
Mathematics – 30 questions

Number sense and numeration
Geometry
Measurement
Algebraic concepts
Number theory
The real number system
Probability and statistics
History/Social Studies – 30 questions

United States history
World history
Nonhistorical perspective
Government and politics
Geography
Economics
Anthropology and sociology
Science – 30 questions

Life science
Earth and space science
Physical science
Questions do not coincide with any certain curricula but are designed by recommendations for national studies on standards of teacher preparation.
How is it Scored?
Many ETS testing centers show your score on the computer at the end of your exam. However, your official score report will not be available until two to three weeks after your test date. These scores will be accessible through your My Praxis account for up to a year.
Your score report will include your score and pass/fail status as well as the passing score requirements for each state you are sending your result to. Your report will also show a breakdown of your raw scores in each category of the exam.
Check Out Mometrix's Praxis Middle School: Content Knowledge (5146) Flashcards
Get complex subjects broken down into easily understandable concepts
Get Your Flashcards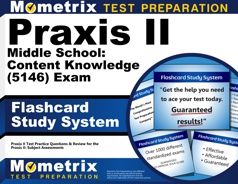 How Should I Prepare?
As with any exam, the right preparation is crucial to your success. Here at Mometrix Test Preparation, we have designed a study guide and a set of flash cards to make sure you make the most of this opportunity.
The Praxis Middle School: Content Knowledge exam study guide and flash cards includes all information that is covered on the exam as well as sample questions to really get you ready. These are structured to mimic those found on the actual exam, ensuring you know what to expect. With these tools at your fingertips you can make this exam a success.
Praxis Middle School: Content Knowledge Study Guide
Mometrix Academy is a completely free resource provided by Mometrix Test Preparation. If you find benefit from our efforts here, check out our premium quality Praxis Middle School: Content Knowledge (5146) study guide to take your studying to the next level. Just click the Praxis Middle School: Content Knowledge (5146) study guide link below. Your purchase also helps us make even more great, free content for test-takers.
Praxis Study Guide
Praxis Flashcards