Praxis Health and Physical Education: Content Knowledge (5857) Practice Test
The Praxis Health and Physical Education Exam is required for teaching candidates across the United States and its territories who want to teach health or physical education. The requirements regarding eligibility to take the test and minimum scores needed to pass differ from state to state.
Am I Eligible to Take the Praxis Health and Physical Education Exam?
The eligibility requirements will differ from state to state so you need to consult your state's specific criteria to find out if you are able to take the test. If you do meet the criteria, you can apply for an authorization to test by submitting an application along with proof of your eligibility.
Once you have been authorized to take the test, you can register for your exam. At this point, you'll need to pay an exam fee of $120. This is also when you should also make any arrangements for special accommodations that you might need.
What Do I Need to Bring with Me on Test Day?
You should show up at least 15 minutes early on the day of your test in order to check in. All you need to bring with you is a valid, government-issued photo ID such as a Driver's License, State ID, or a Passport.
Beyond that, don't bring anything else to the testing center. You won't be allowed to take bags, beverages, electronics, or any other personal items into the room with you so it's better to leave them at home. The test will last 130 minutes so just make sure to eat a good meal beforehand to avoid the need for a snack break in the middle of it.
What Will I Need to Know to Pass the Praxis Health and Physical Education Exam?
There are 130 questions on this test, split between topics in health education and topics in physical education. See a more detailed breakdown of the questions you'll answer below:
26 questions about Health education as a discipline/health instruction
32 questions about Health education content
22 questions about Content knowledge and student growth and development
29 questions about Management, motivation, and communication/collaboration, reflection, and technology
21 questions about Planning, instruction, and student assessment
The numbers of questions listed above is an approximate estimate. The exact number of questions for each content area might vary slightly, but this is more or less the distribution that you can expect to see.
It's important that you are prepared to deal with both multiple choice and constructed response questions in both sections. So, in some cases, you'll have a fixed number of possible responses and in others, you'll have to write in your own answer.
You will be able to skip questions and come back to them later, so you should definitely take advantage of this option to skip over any tricky ones so that you can breeze through the ones that are easy and reserve as much time as possible at the end for the ones that will require more work.
Check Out Mometrix's Praxis Study Guide
Get practice questions, video tutorials, and detailed study lessons
Get Your Study Guide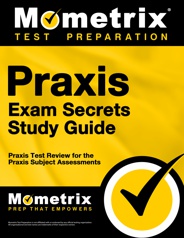 How Is the Praxis 5857 Scored?
The test is scored on a scale of 100 to 200. This is not a raw score reflecting the number of questions answered correctly. Instead, it's a weighted score reflecting the average difficulty level of the questions you answered. The average results for test takers ranges from 159 to 172.
Remember that average is not necessarily the minimum cutoff you need to pass. The score you need will depend on the state where you are taking the test since each state sets its own requirements.
With that said, your test results will be valid across all states. As long as your score satisfies a state's minimum requirements, you won't need to retake the test just because you've moved.
How Should I Study for this Exam?
You need to work not just on memorizing information but also on determining the best strategies for teaching that information. The Mometrix study guide can help you develop both of these skills. You'll be able to read through clear and detailed explanations of all the core concepts that will be on the test.
Then, you'll be able to practice applying that knowledge to a series of practice questions which are designed to use the same kind of phrasing and structure as those you'll encounter on the exam.
For even more effective study results, get a set of Mometrix flashcards. These will help you run through all the material you need to know in a more engaging and interactive way. Plus, they are super portable so just through them in your bag and pull them out for a quick study session whenever you're standing in line or waiting for a bus.
Check Out Mometrix's Praxis Flashcards
Get complex subjects broken down into easily understandable concepts
Get Your Flashcards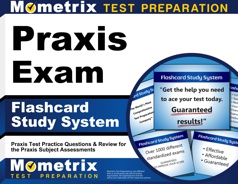 Praxis Health & Physical Education: Content Knowledge Study Guide
Mometrix Academy is a completely free resource provided by Mometrix Test Preparation. If you find benefit from our efforts here, check out our premium quality Praxis Health and Physical Education: Content Knowledge (5857) study guide to take your studying to the next level. Just click the Praxis Health and Physical Education: Content Knowledge (5857) study guide link below. Your purchase also helps us make even more great, free content for test-takers.
Praxis Study Guide
Praxis Flashcards